Feature
Kathman-do it!
If you're tired of the usual dinner, why not try Nepalese? Reasonable prices, exotic spices and a menu that's very veggiefriendly.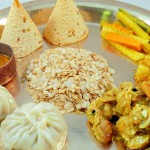 When we talk about our favourite world cuisines we mention Italian, Indian, Chinese, Mexican, even American for all the fast-foodies, but Nepalese isn't usually one that comes up. Nepaliko Chulo in Daikokucho, Osaka aims to change all that, by providing this somewhat still off-the-radar food at very reasonable prices. Feeling hungry and ready to take a gustatory gamble on the unknown? I was, and the outcome was delicious.
The cosy establishment, which sits on a side street just off the main drag, radiates authenticity from the moment I walk through the door. My eyes take in the Nepalese décor of homemade lampshades and pennant flags, which line the room above photos taken by the owner, Suzen Mainali. Over the ambient Nepalese instrumental music playing in the background and a cup of Nepalese tea, which is to die for I might add, Mainali explains the ethos behind his restaurant.
"Here, we focus on traditional Nepalese cooking, exactly as it would be cooked and served at home in Kathmandu. We want to spread the word and prove just how good Nepalese food is."
Time for the food then. I am served a traditional Dal Bhat, which Mainali informs me is the staple meal of the Nepalese, with differing variations being served every day in his home country. In this case the dish, consisting of a ball of white rice at its centre and a pot of soup at the side, is surrounded by four different kinds of lentils, mixed seasonal vegetables, sautéed spinach called Saag Buteko, two different kinds of pickled vegetables referred to as achar; all complimented by a separate portion of mango yogurt. But how to eat this herbivorous victual?
I learn that the traditional way, as with all Nepalese fare, is with the hands; and Mainali generously gives me a crash course in the art. However, after floundering my food around the plate a few times with only limited success in actually getting it into my mouth, I decide to revert back to the trusty knife and fork. The taste is a mixture that from a first-time-trying westerner's standpoint is vaguely reminiscent of the spices used in Indian cuisine. But make no mistake; this food is refreshingly unique, intensely delicious and in spite of this particular dish's absence of meat, leaves me feeling satiated enough to sprint up to the summit of Mount Everest… maybe. As Mainali explains: "Good vegetarian cuisine can be hard to find in Kansai. Here we pride ourselves on providing great vegetarian food cooked with passion that one can enjoy in a relaxing, authentic atmosphere."
But have no fear meat lovers, for Nepaliko Chulo caters for you too. Resident chef Buddi Man Tamang, who has no less that forty years experience in the field, is kind enough to cook me up a sample of their chicken Takari, which is sort of like a Nepalese chicken curry and is every bit as mouthwatering as the Dal Bhat. As well as a comprehensive menu that concentrates on both mains and starters, they also serve four kinds of Nepalese beer, the award-winning Nepalese Khukri rum, plus all the usual suspects one might expect to find in a restaurant setting. What's more is that with lunch starting at ¥590, starters from as low as ¥290 and all-you-can-eat-and-drink party courses from ¥3,000 per person (call beforehand for larger groups), Nepaliko Chulo is reasonable to say the least. So wait no more, go and experience genuine Nepalese food at its best, right on your doorstep
[box]
Nepaliko Chulo
• Address: 556-0015 Osaka, Naniwa-ku, Shikitsu-nishi 2-9-7
• Open: Lunch 11am–3pm, dinner 5–11pm
• Closed: Every 2nd and 4th Weds
• Tel: 06-6636-5131
• Website: oasiscafejapan.com
• Access: Daikokucho Sta, Exit 2
[/box]