Feature
The proof is in the pretzels
Combine a love of German culture and some superb locally-trained skills with dough and you get the tasty bakery of Kirschblute.
Bakeries are everywhere in Kansai, but not so many of them are German craft bakeries. Introducing Kirschblute, literally meaning cherry blossom in German, in Nishinagahori, Osaka, where German-style baking is the order of the day. KS took a trip there to get an insight into what it means to be one of the few artisans in the region who takes such an approach to bread and sweet baking.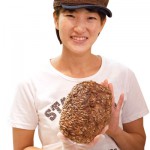 At 19, an inquisitive Kimiko Ikeda left for Germany to study the distant land's language and culture, and ever since her trip she has been enamoured with all things German. Ten years ago, following her return to Japan, she became a baker's apprentice in Kansai's baking capital, Kobe, where she learned and mastered her trade. It was about two years ago, after graduating from under her master's doughy bosom, that she was able to open up an establishment of her own, and being the teutophile that she is, the decision on how to theme her bakery was pretty easy: "Baking and Germany are two things that I love, so Kirschblute for me is a great combination of the two."
So what exactly makes Kirschblute's German-style baking different from that of your more run-of-the-mill bakeries dotted about the side streets and corners of Kansai? Well for starters, let's have a gander at the ingredients she uses. Although her plain flour is from Hokkaido, her rye and graham flours, which she uses as equally staple ingredients, are imported exclusively from Deutschland itself. As well as lemons, apples and tomatoes used to tart up her crumbly concoctions, she also employs a plethora of seasonal nuts and seeds.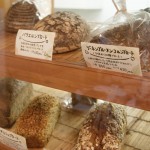 To name just those in her arsenal during our visit: walnuts, almonds, chestnuts, sunflower seeds, poppy seeds, flax seeds. Her bread dough is prepared by adding a Beethovenian symphony of savoury ingredients plus water to one of the flours and then dunking the soggy lump, along with an additional dash of hot water and olive oil, into the seemingly-perpetually gyrating dough mixer until it reaches just the right consistency. Following this, the dough balls are sat to chill (usually overnight) to allow them to expand as the yeast works its magic. Upon retrieving her plumped spheres from the fridge it's time for a good kneading to reactivate the dough's elasticity, which she does with firm hands and a technique such that if her baking days ever came to an end, I'm positive she'd make it as a masseuse. The next step differs depending on the type of bread, and beware, this is where it gets technical: for loaves, the reinvigorated dough balls are moulded into rectangular baskets made from wicker called bannetons.
These imprint the dough with a distinctive Germanic design and also draw out moisture to make for a crusty… well, crust. The dough is then popped into a proofer – a chamber that encourages the dough to rise through warm temperatures and controlled humidity – for exactly 40 minutes. For some of the smaller breads, the dough is left under a couche – an unwashed linen cloth that collects yeast and flour and encourages rising – before being sent for further proofing or going straight to the oven where the bread is left to bake for around 15 minutes. In the case of her kaiser rolls, Ikeda takes a freshlyproofed dough ball and cuts it into 80 gram segments. She shapes each one by hand before smattering it with oil and an array of different seeds and nuts, depending on their seasonal availability… then it's time for the oven and that heavenly smell that almost makes one want to put on a lederhosen and start dancing in circles while downing beer from a stein.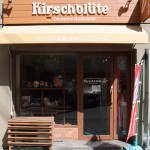 Despite Kirschblute's primary focus being on bread, Ikeda has opted to extend her range by baking other delicacies such as Danish pastries and pretzels. The Danish pastry dough, fresh from the fridge, is flattened into a rectangular sheet and then rolled up into a cylinder before being dissected down the middle with German-like precision. With a dough rope now in each hand, she can begin plaiting to create a spirally, twisty lock of decadence that, after being topped with everything from sugar to chocolate to walnuts to fruit jam, will go in the oven and bake until crumbly and utterly delectable.
If the Danish pastries border on the dangerously delicious, then the pretzels are downright deadly; literally… hear me out. KS was shocked and exhilarated to learn that before baking, each pretzel is glazed with none other than sodium hydroxide; that's caustic soda to you and me. However, judging from what we've seen already, it doesn't take Einstein to figure out that there's probably method in the madness here… and there is. After Ikeda turns down the Berlin radio station she's savvily tuned into via her iPhone and that blasts out of the connecting portable speakers, she says that as long as she takes precautions like wearing rubber gloves, caustic soda is actually a baker's friend, being responsible for creating that shiny crispiness that makes pretzels the moreish treat they are. Just don't eat raw, shiny-looking pretzel dough and you'll be fine.
We move from the kitchen to the storefront and from stainless steel to an authentically-decked out Bavarian beer hall-esque setting with tables and benches, cabinets and shelves, walls and floor; all done in knotty pinewood to give it a truly alpine feel. To compliment the theme, Ikeda also displays a suitcase full of souvenirs from her various visits to Germany. To name but a few: beer steins, books, German toys, even prominently placed Bayern Munich memorabilia to ward off any evil Manchester United fans, such as myself, who might be lurking with intentions to eat bread for free.
As our visit draws to an end, Ikeda reveals that she offers classes seven times a month, consisting of six people in each session, where one can learn to bake like a pro. For details, call Kirschblute directly (see info box) one month in advance for availability. Oh, and don't be alarmed by the fact that she always wears a face mask in the kitchen. Over her years of baking she has become allergic to flour, which apparently, is common among bakers after an extended period of regular inhalation of the stuff. Kirschblute: delicious and educational.
[box]
Kirschblüte
• Address: Osaka, Nishi-Ku, Minamihorie 3-11-1
• Tel/fax: 06-6541-8585
• Opening Hours: 10am–7pm
• Website: baeckerei-kirschbluete.com
[/box]