Feature
All Hail The Beer Gods!
The 5th annual Kansai Beer Olympics is your call to greatness, will you answer it?
Since time immemorial, the idea of pushing one's limits to achieve greatness has been a fundamental part of human nature. The time-honored tradition of pitting the best of the best against one another for bragging rights and the chance at everlasting glory, stretches back thousands of years to the ancient Greeks and the first Olympic games in 776 BCE, which were held to honor Zeus and the Gods on Mount Olympus. This human drive to compete resulted in the first modern Olympic games in the summer of 1896 in Athens. And, since the first nationally televised games held in Italy in 1956, we the spectators have enjoyed the time-honored tradition of kicking back on the couch with a beer watching it all happen before our eyes.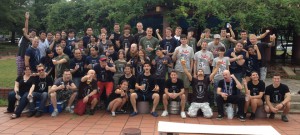 While the 5th annual Kansai Beer Olympics has admittedly much humbler origins than the ancient games, the story is no less fascinating. While founder Josh Gautreau was backpacking through a remote part of southern China he came across a hostel with a very unusual offer. If you could beat the owner, a seventy-something-yearold Chinese woman, at a game called "beer pong" you got a free room. It was just five dollars to play. Beer pong, for those unaware, is a classic college drinking game where two teams of two set up a table and at opposite ends, fill six cups with beer, and line them up in a triangle shape. The players take turns shooting ping pong balls in their opponents' cups, and for every shot made, the other team drinks that cup and clears it from the table. First team to clear all the other team's cups wins. Seventy dollars later, with a dizzy head and no success, Josh's brainchild was born.
This year the Beer Olympics is bigger and better than ever. It has grown steadily with many of the sponsors being a part of the fun since day one. Josh attributes the success of the games to the sponsors' generosity and willingness to see a bigger picture. It is not just about getting drunk and playing some games, its about fostering a sense of community in Kansai and making new friends from around the globe.
Each four-person team must include at least one girl, and two different nationalities. Can't find a team? Don't worry. Individuals can sign up solo and be placed on one. There are eight events planned throughout the day, not including the unofficial halftime waterballoon fight. The show will go on, rain or shine, with an alternative undercover location secured if the heavens decide to open.
Spectators are encouraged to come and check out the action, and join the fun at the official after party at the newly-renovated L&L bar in Shinsaibashi, where guests can enjoy the brand new outdoor patio area complete with plenty of comfortable seating to relax, soak up the warm weather, cold beverages, and good company. There, the official awards ceremony will take place. The champion team will take home a $100 bar tab for each member to be used at one of the official sponsors' bars. Various other awards including the prize for best team chant, best sportsmanship, and more will be given out.
This year's event is looking to be the biggest yet so register your team now and don't miss out! You've likely been in training all year long anyway. So come on Kansai get out there, the beer gods will be watching!
More details
• Register: kansaibeerolympics@gmail.com
• Entry: ¥5000 per person
(includes an event t-shirt, 6 hours of games, all you can drink beer or chuhai, after party snacks, and a chance to win some awesome prizes)
• Date: Sunday June 15
• Time: 12:00 noon for a 12:30 start
• Location: Naniwanomiya-ato Park
• Access: Meet at 12:00 at Tanimachi-4-Chome Subway Stn • Exit 10
• After Party: L&L • Housen Building 1F 2-16-13 Nishi- Shinsaibashi
2014 Beer Olympics
Program of Events
1. Team Chant Competition
Best team chant wins a prize.
2. Flip Cup
Teams face each other with full beers. At the whistle the first person on each team chugs their drink and then attempts to flip the cup to land on its bottom. Once it has, the next player does the same. The first team to have all cups flipped wins.
3. Beer Pong
Each team will nominate 2 players to battle it out. Each team has 6 cups lined up in front of them, and must attempt to get a ping pong ball into the opposing team's cups. Each cup contains beer and must be drunk by the owner if a ball is sunk. First team to sink all cups wins.
4. Spinny Bat Relay
Each team member will chug a drink, run to a bat, spin around it 10 times, and then run back to tag their partner. First team to get all members past the finishing line wins.
Intermission
Either a water balloon game, or an alternative non-drinking game will be played, depending on weather.
5. Five-legged Race
First team member chugs a drink and runs to a second team member. He then ties himself to the second member while the second member chugs their drink. Together they race to the third member and the fourth member following the same rules. First team past the finish line wins.
6. Limb
Anyone who wants to try can play. Every attempt under the limbo stick requires a gulp of beer. Kwame wins every time. Beat him and there will be a special prize.
7. Tug of War
A female member on each team begins on the rope and pulls after the whistle. First male member can only join in on the rope to help pull when he has chugged his drink. After the first male has finished, the second can chug and join, and so on. The name of the game is chug fast and pull hard!
8. No-hands Relay
The points tallied from previous games will decide the starting time for each team. Each team will have a 5-second starting delay. The teams will have to pass beer from one container to another, passing it through each teammate with small cups and without using hands. Once the second container is full, the team will bring the container to a judge and chug the container through straws. First team to finish their bucket will be the winner of the day.