Food & Drink
Foodspotting
Three food spots worth checking out in Shinsaibashi, in the heart of downtown Osaka.
Trendy & Tasty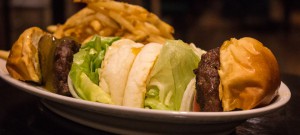 Conveniently located on Midosuji street is Brooklyn Parlor, a trendy, new, all-in-one restaurant, bar, and café. This very large, open-plan space still maintains an intimacy conducive to conversation and relaxation. Settle in with a good book and a latte or organic tea on one of the many cozy couches, or prepare for a night on the town with one of their distinct house cocktails or unique import beers. The menu boasts a well-priced and delicious appetizers selection – try the buffalo wings (¥800 for 10 pieces). Main dishes include salads, steaks, pastas and burgers, with notable standouts such as the foie gras burger that comes drizzled in a delectable house-made honey mustard sauce and a side of fries for ¥1,700. Just make sure to save room for something off the delicious dessert menu. If you're having trouble deciding, go for the classic New York cheesecake – you'll be glad you did.
Brooklyn Parlor
Open: 11:30am–11:00pm every day • Price Range: ¥1,200–¥4,500 • brooklynparlor.co.jp/osaka • Access: Midosuji Subway Line, Shinsaibashi Stn, Exit 7, 5-min walk
Pancake Panache
You may have noticed the plethora of gourmet pancake restaurants popping up lately, each with their own unique spin on the classic breakfastbrunch- dessert treat. Nestled in the heart of Shinsaibashi is Elk, a laid-back café where the pancakes are made from scratch and served all day. For something hearty, try the eggs benedict pancake with bacon, smothered in hollandaise sauce for ¥1,400. For something sweet, go for the chocolate, nuts and banana brulee pancake, topped with whipped cream, nuts and a special chocolate syrup. Purists will be happy with the classic take, plain with butter or maple syrup, and even happier with the all-you-can-eat special for ¥1,000 between 10am–12pm daily. If you go on a weekday, you can order your cappuccino to come with an adorable 3D foam bear or rabbit peeking out from the mass of froth at the top.
Elk
Open: 10am–11pm (Breakfast Special 10am–12pm, Pancakes 10am–10pm) • Price Range: ¥800-¥2,000 • cafe-elk. com • Access: Midosuji Subway Line, Shinsaibashi Stn, Exit 7, 5-min walk
Perfect Pit Stop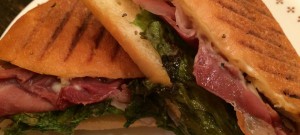 Quaint coffee shop Banco has all the allure of a rustic Italian café tucked away in the lively streets of Nishishinsaibashi. This cosy and enticing space is perfect for a shopping day lunch break, or for unwinding altogether and carrying on drinks and conversation late into the night.
Sit yourself down at one of their street-side tables, or let the fresh coffee bean aroma carry you inside, and choose from their wide selection of coffees, cocktails, beers, reds and whites.
There is an assortment of snack foods like pizzas and panini, with a daily ¥550 panini special. If your sweet tooth gets the best of you, the dessert menu will surely fix that – try the ¥500 tiramisu or an Italian cookie for ¥380. For a charming evening on the town, be sure to check out their live jazz events the second and fourth Sundays of each month starting at 8:30pm.
Banco
Open: 11am–2am (lunch time 11am–3pm) • Price Range: ¥500-¥2,000 • tabelog.com/osaka/A2701/A270201/27042441 • Access: Midosuji Subway Line, Shinsaibashi Stn, Exit 7, 2-min walk