Feature
Leafing Through the Wilderness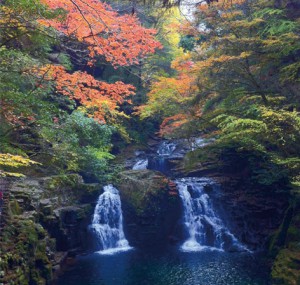 There is nothing quite like kouyou (colorful autumn leaves) in Kansai. When the leaves change to their fiery reds, golds and oranges, the already gorgeous architecture of the temples come alive, the mountains look like they've been freshly painted, and it is easy to spend a whole day just admiring your surroundings. Unfortunately, more often than not, autumn is also associated with hordes of people also trying to enjoy the leaves, and obstructing your view and cramping your style as they do it. Finding a peaceful location with enough personal space to simply admire nature can be a challenge.
Luckily, far from the crowds of Kiyomizudera, there are many quiet escapes outside of the big cities where you can take a break. One such place is Koochidani (香落渓). Located near Nabari-shi in Mie Prefecture, this location is not only stunning, it is also not well trafficked. While you may run into a few photographers trying to capture the spirit of the season and some tourists taking in the sights, you will be able to appreciate the leaves at your own pace.
The leaves themselves are well worth the extra journey time, but to make a day trip out of it, arrive early to allow yourself plenty of wandering time. Continue walking up the road from the station until you reach a sign that reads 赤目滝近道 akametaki chikamichi or "Shortcut to the Akame 48 Waterfalls". Although it claims to be a shortcut, the path to the famous waterfalls of Mie Prefecture is actually quite a long hike. Press on, however, and you will not be disappointed. The path winds in and out of Japanese cedar forests. Each breath rejuvenates your next step, and the green above acts as a shade from the sun.
By the time you make it to Akame 48 Waterfalls, you may admittedly be quite tired. But this should not put you off visiting one the most popular strings of waterfalls in Japan. As the name suggests, this trail takes you down a path with no fewer than 48 waterfalls of all different shapes and sizes. At the very end there is a zoo-like exhibit featuring multiple Japanese giant salamanders. The only downside to Akame 48 Waterfalls is that it can draw large crowds, the same crowds you might have been hoping to avoid. But after a day of leaf-viewing and hiking in forests, it might be a nice transition from nature to the city before you head back home.
[box]
• When to go: Peak kouyou season for Koochidani is November 10–20.
• How to get there: Take the Kintentsu Osaka Line to Nabari Stn. A Kintetsu bus departs from Nabari Stn – Get off at Koochidani (about 25 minutes)
• Stay: Alternatively, you can stay at Shorenji Lake Hotel the night before. This ryokan features an onsen overlooking mountains and Shorenji Lake. They will happily drop you off at Koochidani.
• shorenjilake.com
[/box]