Feature
Gritty Street Art With Grind
From rogue graffiti bombing to high-profile commissioned street art, Kansai artist Grind Pencil is making a name for himself off the beaten path.
Japanese artist Grind Pencil arrives for the interview on a skateboard in the middle of suit-clad Hommachi. Refreshingly open and devoted to pursuing his craft, 30-year-old Motofumi 'Hei-chan' Mori is making a name for himself around Kansai and beyond. His commissioned artwork at JR Noda station, representing the nearby Central Wholesale Market is big and bold, and dramatically transforms the whole area making it vibrant and charismatic. Giant-sized pillars of juicy watermelon, succulent eggplants, tuna, octopus and king crab that not only depict the 'food of Osaka', but delight the eye and uplift the spirit. His dazzling Seven Lucky Gods street art under JR Fukushima station that so perfectly matches the energy of this bustling entertainment area, is another distinct example of how art can deliberately infuse public spaces with colorful expression. Needless to say, Motofumi's way of life and artistic visions are splashed all over this creative identity, and the unorthodox journey he has walked to honor his innate talents.
At 16 Motofumi was invited to paint an inner city Deadhead shop shutter. "The combination of this incredible Grateful Dead culture, mixed with my first live paint, has made a deep and lasting impression on me," he said.
The thrill of drawing in this style and the magnetic pull of peer culture, quickly turned into a love for graffiti bombing. The comradery, adrenaline of danger, and teenage bravado are all factors in how seductive this subculture is, but these same friendships have remained an important source of inspiration and encouragement for Motofumi throughout the years. Graffiti writing was a necessary part of his growing up.
Eventually though, he was caught by police and jailed. Convicted of three separate graffiti offenses that cost his family ¥600,000.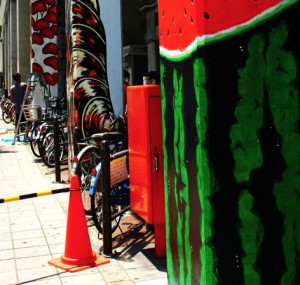 "I caused my family great stress and shame. It was then that I finally realised I had to stop," he said. Despite this experience, however, he credits it as essential to his foundational skills as an artist now.
"Graffiti taught me to paint big, paint fast, and paint cheaply. Because of graffiti, I can now make real art."
At around 22 years of age, it was skateboarding that caught his attention after he gave up graffiti bombing. Although he had no experience, he still believed he could become a pro skater.
"I thought if I only just got a sponsor, I could really make a living from it," he said.
So he started from zero, learned quickly, and put all of his energy into it.
However, it was around this time that he graduated from Osaka University of Arts. The reality of adult life eventually hit, and Motofumi decided to become a salaryman at age 27 (which he stuck with for 18 months).
"I saved money any way I could; by cycling to work, making my own lunch and giving up my cell phone. I used all my spare time and money on making art."
What really fired him up to pursue his passion more concretely, was a yearning he felt as a Father. "My son had to write about what his Dad did for summer homework, and I really wanted him to say that I was an artist, so I fought even harder for this reality. I started thinking about what I truly wanted to leave for my kids."
"Graffiti is like a war. People love it, people hate it."
Hard work, dedication, and talent all then combined to forge the future he now embodies. Skate parks, shutters, shop interiors and vending machines highlight some of Motofumi's work, and big building murals are in the pipeline. Street art in Kansai is gaining momentum.
The street art subculture of Japan was explored in creative talent Remo Camerota's 2008 book Graffiti Japan. After years of photographing graffiti and urban art in his Melbourne hometown, a chance opened up for a trip to Japan.
"I wanted to document the Japanese style and show the world the real art graffiti as it is very different to western graffiti. There's a twist on it due to knowledge of manga and other visual arts. The lettering is mixed together in a very unique way.
"In Tokyo, huge art pieces are commissioned, but the good graffiti is secretive. Many artists do it because they love it; not to make money. They have a steady ego, and are not looking for fame. There is some really great talent out there."
One such master is Osaka graffiti writer Very One who started his career in 1996 after watching Wild Style. He works at an art studio and as a DJ, publishes graffiti magazine HSM, and travels extensively worldwide to create graffiti and photograph graffiti culture. He collaborates with children's art workshops, and gets invited to do live painting.
"I struggled with the illegality of graffiti as many writers do, but I worked it through with a local monk. I choose locations carefully. I want to create art that makes people happy, not to damage."
On the local Osaka street scene, it is obvious how widespread throw ups and sticker graffiti have become. Talking with various shop owners whose shutters have been vandalized, there was a strangely distinct cultural acceptance of it.
"It's not that it's a good thing, but as long as no more is added" said one, and "It is what it is. Can't be helped" was another reply.
Away from the inner-city energy of youth culture where graffiti is more commonplace, encountering local neighbourhood graffiti in inappropriate locations can be very confronting. "Graffiti is like a war. People love it, people hate it. There's no one answer," said Motofumi.
"I still have the longing to go bombing, as it is a fun thing to do, but I understand the repercussions to my family and reputation. My family, friends and wife have always supported me to reach my dreams. I'm basically doing the same thing I did ten years ago, except I'm now painting in different locations with permission. I'm very grateful."
[box]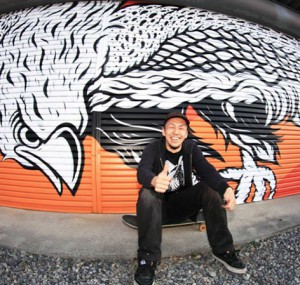 • Grind Pencil official website: grindpencil.com
• Remo Camerota Blog: graffitijapan.blogspot.jp
• Very One Blog: ameblo.jp/cmkosaka
• Photographer Jackie Hadel Blog: jacquelinemhadel.wordpress.com/category/japan-2/osakastreet-art
[/box]