News
Come join our party!
Next month we're inviting all of Kansai to come to Onzieme and have a chortle and a shimmy with us to celebrate our 15th anniversary! We've roped in some special guests to keep you amused, and have you dancing through the night.
Pirates!
Kansai's longest-running bilingual comedy troupe the Pirates of the Dotombori will be lining up to tickle your funny bone and what a treat they are indeed. A diverse, improvisational comedy group, this gang of jokesters is almost 10 years old since being called together by Captain Mike Staffa in December of 2005. Since then they have recruited members from all over the world to provide the best bilingual entertainment in English and Japanese.
What makes this flight of funnymen and women so great is that they completely make everything up on the spot using your ideas. Their Who's Line?-style (or for the Aussies among us Thank God You're Here-style) skits become a hilarious, mishmash narrative of audience requests and quick thinking. They're so unpredictable that even they have no idea what's coming next! And it's belly-laugh inducing.
Now led by Captain Bill Reilly, the Pirates of the Dotombori is the staple of the Kansai improvisational scene. Their high-energy, short-form shows are the result of years of training, performances, and a shared love for improvisational comedy.
Find out more about Bill, Kwame, Baz, Brooke, Simon, Tony, Dan, Zach, and Chaka – the Pirates of the Dotombori – and their monthly shows at piratesofthedotombori. com
DJs!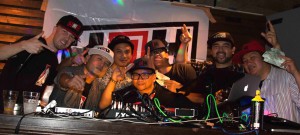 "Trying to make the world better, one party at time." That's the mantra of Kansai Beatz Krew who have been holding down the Kansai party scene since 2013. Founded by an international group of friends from an array of backgrounds, they all saw a common need for something fresh in the local club scene.
"We felt there was something lacking from the party scene in Kansai. It seemed all of the events and parties around Kansai were the same, they all had the same vibe."
So they got together and formed the legendary Kansai Beatz Krew with members DJ Dawang, GTO, DJ AdoboMix, DJ Arom, DJ Flight, DJ Lef_T, and DJ Nedtek. Each brings their own unique style and flavor to the turntables in Hip Hop, RnB, Classic House, Old School, Funk, and even Alternative Rock styles. The tracks they spin are as eclectic as the members' backgrounds.
"We provide an international party atmosphere that is safe, fun, and fresh, as many partygoers can hear great music they may have never heard before, as well as some of the standard party tracks."
You can find KBK every weekend at various hot spots around Kansai or catch their latest mixes on Blackan Radio. Kansai Beatz Krew DJs have several monthly and weekly events – search Kansai Beatz Krew on Facebook for more details.
[box]
Kansai Scene 15th Anniversary Party
• Date: June 20, 2015
• Time: 5:30–9:30pm*
• Where: Live&Bar 11 (Onzieme), Shinsaibashi
• Entry: ¥1,500 (w/1d)
• Access: Shinsaibashi Stn *Guests can stay at Onzieme free of charge from 9:30 onwards and enjoy their regular club night.
[/box]