Feature
Osaka Tram Hopping
The Hankai trams have been a part of Osaka life for more than 100 years, and there is much eating, shopping, exploring, and discovering to do along this retro railway.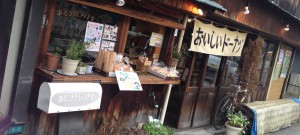 There is something very nostalgic about riding the trams of Osaka. Transporting you with their classic storybook 'gatan goton' rhythms, they can take you to places that allow for a glimpse of quaint, older neighborhoods and a slower way of life in this city. Nicknamed chinchin densha, the Hankai trams have been a part of Osaka for over 100 years. There are new models and old, and the colourful exteriors of the older trams often depict current events, the season, or nearby attractions, like the Tennoji Zoo. You can even hire them out for parties! The 4.6km Uemachi Line runs from central Tennoji toward the splendid Sumiyoshi Shrine, and the 14.1km Hankai Line begins at the Ebisucho stop in Shinsekai and runs to the expansive Hamadera Park. Buy a day ticket for only ¥600 and your capacity to explore is endless.
Traveling only three stops from the Tennoji-ekimae stop to Higashi Tengachaya, and the frenetic city life quickly dilutes to a gentler pace. Visit the lovely Otsuji family who have beautifully renovated and transformed an 80-year-old tobacco shop into the tranquil, low-key organic cafe Kome Day No. 1. Grab one of their signature bento (Japanese lunch box) for a picnic in the park, or have their luscious plate lunch for ¥1,240. "What we eat is deeply connected to our health, so we try to provide wonderful choices to make you feel happy," Yukiko Otsuji says. Their cafe is close to two shrines and the homemade donut shop Atarikisharikidou (あたりきしゃりき堂) with delectable ¥70 treats. Take a soak in the retro Harima bathhouse near the Oji-cho arcade, and stop by the shop Animo Zakka for crafty handmade accessories. Cafe Nico is all about waffles if you need a pick-me-up after hours of backstreet meandering.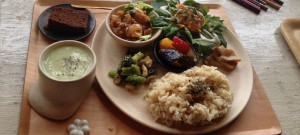 Further along the line, on the corner of the intersection at Himematsu is Dolce & Poire, a dazzling building, with a glitzy, glamorous interior, and a decadent sweets and cake history spanning more than 40 years from 1969.
They have a casual, eat-in gelateria, and the bread shop is next door with barista- made coffee from 7am. Continue on to snap some photographs at the ancient and photogenic Sumiyoshi Grand Shrine, which is near the wonderful Sumiyoshi Park and the old Kohama shopping arcade, before arriving at the tram depot at Abikomichi.
Crossing over the Yamato River, you reach the historic area of Sakai, renowned for producing high-quality knives. The Sakai Knife Museum is near the Myokokujimae tram stop and has free entry. Proceed to Ayanocho for more knife browsing at the Sakai Yusuke Knife Shop, and then have a complimentary tea and rest at the old Hoshokan townhouse right by the Hankai line, that is run by helpful volunteers, but only open only on weekends.
Shukuin tram stop is the location of two well-known and long-running shops that embody the Sakai experience well. Chikuma soba shop was established over 300 years ago, and is a much-loved place for locals. Don't be fooled by the less-than-fancy exterior – the soba is top notch. Afterwards, try Tsuboichi teahouse for some authentic green-tea delights. Originally a fish market, the 300-year-old building has been beautifully recreated to promote a calm, peaceful atmosphere. "We repurposed the old stones to symbolize a 4.5 tatami-mat tea room," the staff explain of their unique garden. For something more modern, visit the 868 Bldg (八六 八ビル) near the Terajicho stop for quality coffee, homemade cakes, and tram spotting Friday to Sunday.
Goryomae is the central city area of Sakai, with many appealing attractions. For something spiritual, visit Nanshuji Temple, which is linked with legendary tea master Sen-no-Rikyu, and features a Zen-style sculpted rock garden; perfect with tea and quiet contemplation. Close by is the famous sweet shop Kanbukuro; another Sakai institution established in 1329. Their traditionally flavored walnut rice cakes covered with sweet bean paste, or shaved ice in summer are less than ¥400, and sell fast.
If you are interested in exploring Sakai more thoroughly, purchase the ¥700 Hankai tram and Nankai bus combination ticket that allows you to ride the city loop bus on weekends and holidays. You can then visit the historic 1877 Sakai Lighthouse in the port, the oldest western style lighthouse in Japan, and see the mythical keyholeshaped tombs of the Mozu Tumulus Cluster from the observation lobby on the 21st floor of the city office. Nearby is Daisen Park which has a lovely Japanese garden, uniquely designed to showcase Sakai history. Slow down in the tea room with views over the pond, and enjoy seasonal flowers throughout the year. Drop in at Wingtip Pizzeria for a sizzling stone-oven pizza with Minoh beer, or their refreshing homemade gelato next door.
The final stop on the tramline does not disappoint. Hamadera-ekimae is adjacent to the classic 1907 Nankai train station, and opposite the oldest park in the prefecture. Hamadera Park dates back to 1873, and features outstandingly creative playground areas for children including a massive outdoor pool and slide (summer only), a mini railway and giant, majestic pine trees.
If you still have energy after your day of tramming, go and explore the grungy neon labyrinth of Shinsekai with cheap, delectable kushikatsu and beer as your reward, as well as dozens of touristy shops selling limited-edition Osaka goods. You can visit the classic Tsutenkaku Tower, or stop by the newest Abeno Harukas Tower in Tennoji. Many sparkly, new shops and restaurants are abound there.
[box]
Useful Websites
• Hankai Tramway website for details of routes, fees and party rentals
hankai.co.jp
• Organic Cafe Kome Day No.1
komeday.com
• Public bathhouses near Matsumushi and Higashi Tengachaya Stns
iiofuro.com/osk16
• Knife shopping information (English)
yayasyumyums.blogspot.jp/search?q=yusuke (BLOG)
• Sakai Tourism Guide (English)
sakai-tcb.or.jp/english/feature
• Daisen Park Japanese Garden Guide (English)
www.daisenteien.jp/index_e.html
• Wingtip Street Italian Pizza and Gelato
wingtip.jp
• Tsuboichi Teahouse
tsuboichi.co.jp
• Hamadera Park
osaka-park.or.jp/rinkai/hamadera/main.html
[/box]