Featured
MoeJoe: Finger-licking Soul Food
Only two months old, and MoeJoe is already turning heads with its Californian home-style cuisine. Join Joe and Moe for a beer and a bite at this local favourite-to-be.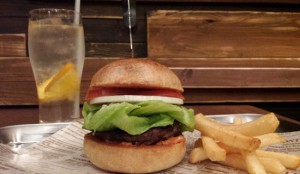 After 30 years living and working in Southern California, brothers Moses and Joseph Hyun (Moe + Joe) decided to head back to their native Osaka and open a restaurant offering locals a taste of the casual hangouts they had grown accustomed to stateside.
The first thing you notice after descending the stairs into MoeJoe's basement location, is its inviting, slightly industrial contemporary interior, where wood paneling and iron work complement simple, white walls and a high, exposed ceiling. An American flag and a few judicious cacti give the space a bit of a wild-west feel, but a glance at the menu reveals no tumbleweed here, just genuinely delicious soul food.
Joe is the chef, and was trained in California where he worked for more than 17 years in various Italian, French, and fusion restaurants. For MoeJoe's menu however, he has focused on the casual delicacies that are a feature of the Californian dining scene. He hand-smokes their devilishly good barbecue pork belly and sausages on site, prepares their signature MoeJoe burgers from 100 percent Japanese beef, and creates his own unique sauces, including a delicious salsa to accompany their authentic Mexican nachos.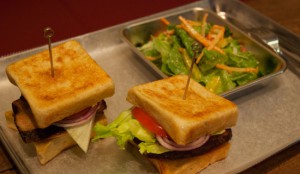 Everything is prepared as faithfully as possible to the recipes he enjoyed back home with an emphasis on organic and natural ingredients. The burger buns and bread used for the BLT smoked pork belly sandwiches are baked to order using natural yeast fermented from raisins by a local bakery in Neyagawa. This gives the bread a delicious firmness that really complements the barbecued meats.
To quench your thirst, MoeJoe offers a selection of imported US bottled beers, including Samuel Adams and Anchor Steam Beer as well as generous cocktails and other fruity concoctions. And the best part? You can enjoy your food and drink without leaving smelling like an ashtray. Just as in California, they have a nosmoking policy.
Moe is in charge of the business end of things. He owned and operated a designer t-shirt brand for more than 10 years back in the US, but shifting from apparel to the food and drink industry was a long-time dream for him. With Joe in charge of the kitchen, Moe has been responsible for getting the place set up, hiring staff, marketing and the day-to-day running of the business. It's early days yet, but he's confident their unique blend of friendly English-speaking staff, tasty treats, and relaxing atmosphere will definitely hit the spot.
[box]
MoeJoe
• Address: Osaka, Chuo-ku, MinamiSenba 4-10-29 B1F
• Tel: 06-6224-0442
• Access: Shinsaibashi Stn.
• Open: 12pm–11pm, Tue-Sun
• Closed: Mondays
• Lunch: 11:30am–2:30pm / Weekends 12–3:30pm
• Dinner: 5–11pm
• Facebook: moejoe.osaka
[/box]