Food & Drink
Foodspotting
Got a hankering for juicy, Japanese hamburger steak? Find all the meaty goodness you need at these Kansai hambaagu havens.
Nakata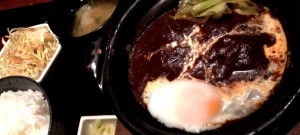 After making your way through the noren curtain of Nakata restaurant, you are led into an old minka-style house with private rooms and various pockets of intimate seating. The counter-seating alternative allows a glimpse into the open kitchen where 100 percent Wagyu Beef is sliced and simmered. A local favorite, Nakata was opened in 2008, and is the fifth restaurant of this group. The ¥1,000 hambaagu lunch set is decadently meaty, layered with a rich demi-glace sauce and a gooey egg – a best seller. Combined with the lovely, traditional interior of calligraphy art, bare floorboards and a calm atmosphere, this is a highly satisfying eating experience. The salty tongue (¥1,000) and yakiniku lunch sets (¥1500) also come highly recommended.
Open: Lunch (weekdays) 11:30am–1pm; Dinner 5pm–11pm • Closed: Every 2nd Monday • Price Range: ¥1,700–¥6,500 • Access: Fukashima Stn, 6-min walk; Higobashi Stn, 8-min walk • fsa2001.com/bettei/index.html
Suehiro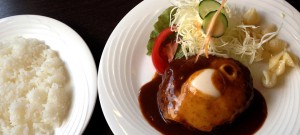 There's something down-to-earth about eating at Suehiro. The staff, who have all donned white chef hats, show the pride they take in their work. A great culinary team that runs like clockwork, perfectly seasoning your beef, and producing dependably delicious hambaagu sets. Served with potato salad, spaghetti, and greens (or fried shrimp), this happy harmony of flavors and textures is yours for ¥1,100. The juicy beef and signature sauce, runny egg and rice combination is a Suehiro winner – perfect with a beer. Other great choices at this Western-styled restaurant are sirloin steak (¥2,100), hirekatsu (tenderloin pork), hayashi rice, and tonkatsu (pork cutlet). Try for a late lunch to avoid crowds as it is a popular place.
Open: 11:00am–10:30pm • Price Range: ¥1,000–¥2,000 • Access: JR Tenma Stn; Ogimachi Subway Stn • tabelog.com/osaka/A2701/A270103/27007840
Assiette
In the middle of bustling Kobe Chinatown is the calm and cosy Assiette restaurant; a sister store to the legendary 1923 Ito Grill upstairs. There is a casual, relaxed mood here, and the staff are unobtrusive yet attentive. With only eight tables, there is a lovely intimacy and a welcoming feel. The 100 percent Japanese black wagyu beef hambaagu set is ¥1,100 and so delicious it demands a slowing down and savoring of the culinary moment. If you're extra hungry, try the Assiette hambaagu set for ¥1,500 with fried shrimp, scallops, soup, and rice. The menu also boasts staple winners like beef stew, curry rice, and hayashi rice. There are also a range of meal options for children. People are always lining up outside, so allow for some extra waiting time.
Open: Lunch 11:30am–2pm; Dinner 5:30pm–8:30pm • Closed: Weds • Price Range: ¥1,100–¥6,000 • Access: JR or Hanshin Line, Motomachi Stn, 3-min walk • itogrill.com