Food & Drink
Craft Beer Corner
Temples, shrines, and craft beer? Why not. Beat the heat this summer in these cool, Kyoto craft-beer bars.
Bungalow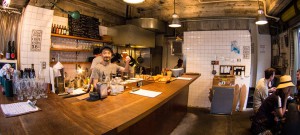 Located in the heart of Kyoto city, Bungalow serves as a relaxing ji-biru oasis from the busy streets full of sightseers. Opened in September of 2012 by owner and operator Kazuo Yata, the two-story bar has a comfortable openair, pub-style downstairs, and a more intimate cafe environment above. Both are perfect for enjoying a cold beer in these summer months from one of their 10 taps boasting exceptional craft brews from throughout Japan. While there, make sure to try something from their European-Japanese fusioninspired menu, like the house favorite; homemade sausage with mash. There are plenty of vegetarian side dishes to feast on as well. Despite being a topnotch local craft-beer haunt, this hasn't stopped them boasting an excellent selection of wine.
Open: Tue–Sun 3pm–2:00am • Closed: Mon • Price Range: ¥600 (10oz) ¥900 (15oz) • Food Price Range: ¥300–¥2000 • facebook.com/bungalowkyoto • Access: Omiya Kyoto Stn, 5-min walk
Beer Komachi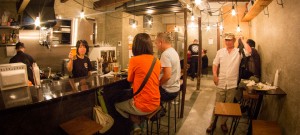 New on the Kyoto craft beer scene, Beer Komachi opened last September in the historic Higashiyama district. Cozy and atmospheric, owner Masae Tanaka describes it as "a place for locals and travelers to come together to enjoy great beer and food." Beer Komachi definitely delivers on this promise, with a nice selection of Japanese craft beers on each of their seven taps, and a good array of around 20 foreign and domestic bottled beers on hand at any given time. Pair one of these with anything from their impressive menu with standouts like the roast lamb chops with IPA beer sauce and local Kyoto veggies. Look out for their seafood specials like steamed crab, firefly squid tempura, or the smoked sweetfish.
Open: Weekdays 5pm–11pm, Weekends 3pm–11pm • Closed: Tues • Price Range: ¥650 (284ml UKHP) or ¥1030 (473ml USP) draft beers; bottles ¥750–¥1130 • Food Price Range: ¥500–¥1800 • facebook.com/beerkomachi • Access: Sanjo Kyoto Stn, Main Exit, 9-min walk
Gastro Pub Tadg's
The reinvention of the popular Kyoto Tadg's Irish Bar and Restaurant from this Irish-Japanese, husband-wife team, Gastro Pub Tadg's has moved just a few minutes from its previous location on the Kamo river in central Kyoto. While the location changed in April of last year, their great service, excellent food and of course, delicious Japanese craft beer hasn't. A large, open space somewhere between an Irish pub and a fine-dining restaurant, incorporating classic Kyoto charm, you are sure to find something satisfying after a day of old-city exploring. With eight taps of select ji-biru, a dedicated tap for Syuzan Kaido Amber and Weizen respectively, there's plenty to try alongside the very inviting food menu, which includes a tasty serving of house fish and chips.
Open: Everyday 11:30am–11:00pm • Sizes: ¥700 (290ml), ¥900 (350ml), ¥1200 (470ml) • Food Price Range: ¥400–¥5400 • facebook.com/pages/Gastro-Pub-Tadgs/664182573665988?sk=timeline • Access: Sanjo Kyoto Stn, 6-min walk