Food & Drink
Cracking The Cask – Tapping into Osaka's Craft Beer Scene
Osaka's flourishing craft beer culture means you can find a spot for a sip wherever you are in the city.
Osaka's flourishing craft beer culture means you can find a spot for a sip wherever you are in the city.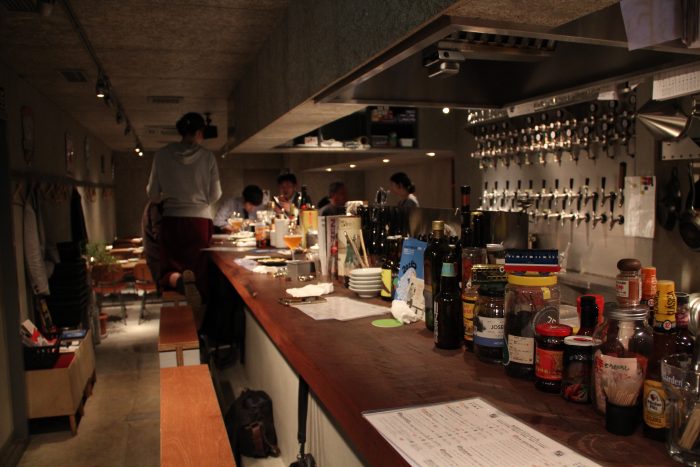 Craft Beer Bar Koumin
With monthly events and an always-impressive selection of craft brews on tap, Koumin (meaning 'happy people') stops at nothing to provide an ultimate craft beer experience. Open since October 2016, Koumin's friendly staff, weekday happy hours, and sizzling Spanish-heavy cuisine with tons of charcoal-grill cooking make it the craft beer crusader's taproom heaven. Koumin is well equipped with constantly changing limited-edition beers from all over Japan, as well as an array of international brews. Pop in for a properly spicy Hell's Chicken Dog and accompanying IPA, or set the date for one of their monthly events, such as June's Tap Takeover!
• Open: Mon–Sat 5pm–12:30pm (Happy Hour 5pm–7pm)
• Closed: Sun
• Price Range: Half-pints from ¥480, US pints from ¥1,000, 150ml and "Mass" options for select beers; Food from ¥400
• Address: Chuo-ku, Kawaramachi 2-1-15
• Access: Sakaisuji Hommachi Subway Stn, Exit 17, 5-min walk; Kitahama Stn, Exit 6, 5-min walk
• Tel: 06-6484-5845
• koumin.owst.jp/en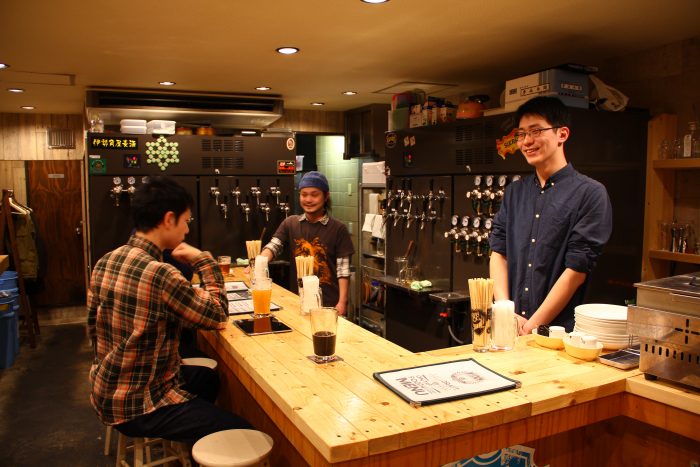 Craft Beer Spot Hathor
While most of Osaka's craft beer haunts tend to spread out between the north, south, and central areas, Hathor is a craft beer gem to the east of Osaka Castle. The best place for ji-biru (Japanese craft beer) in Kyobashi, Hathor is tucked away from the station's rambunctious shotengai (covered shopping arcade) on an unassuming side street. It not only boasts a medley of palatable beers, but also a fantastic food menu, specifically, their smoked stuff. It's hard to compare a true German hefeweizen and bowl of expertly smoked edamame to an IPA and selection of choice cured meats so I won't even bother. For this one, you'll have to be the judge.
• Open: 3pm–11pm every day
• Price Range: Half-pints from ¥650, US pints from ¥1,000
• Address: Miyakojima-ku, Higashi Nodamachi 5-7-14
• Access: JR Loop line or Nagahori Tsurumi-ryokuchi Subway Line, Kyobashi Stn, 6-min walk
• Tel: 06-6928-6565
• ameblo.jp/craftbeerspot-hathor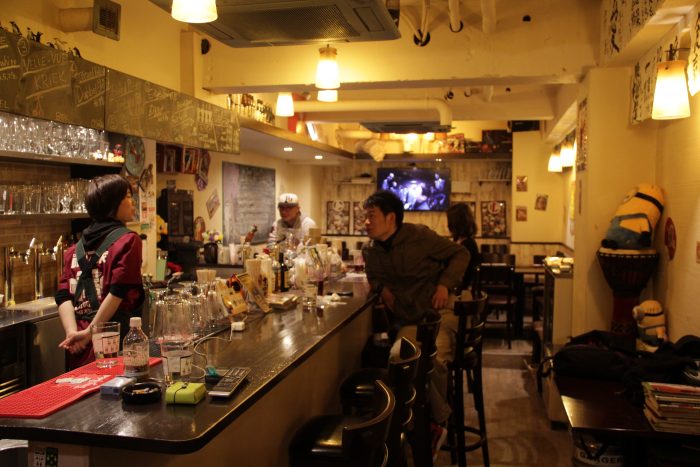 Craft Beer House DEVin家
In the heart of the Umeda shotengai, surrounded by all types of eateries, bars, and knick-knack shops, lies the always fun and refreshingly folksy Craft Beer House DEVin家 ('DEVin-chi'). Named after the owner, DEVin-chi is a testament to the good nature of the quick-witted and friendly owner Deverya (or Debira). With a distinctly homely vibe much akin to the kitted out basement of a craft beer brewing friend, DEVin-chi has everything you need to transport out of the high-frequency, bright lights of the Umeda shopping street and into a comfortable underground taproom. It hosts a variety of draft brews, and this speakeasy-esque space even has a Nintendo 64 right at the bar. Pair that with a plentiful food menu, and the option for a four-glass 80ml beer flight to help you find the flavor you fancy, and you can settle in for the long haul.
• Open: Wed–Sat 5pm–5am, Sun & Mon 5pm–1am
• Closed: Tues
• Price Range: Half-pints from ¥800, US pints from ¥1,100, UK pints from ¥1,400, and 4x80ml flights from ¥800
• Address: Kita-ku, Sonezaki 2-10-20, Kawai Bldg. 2, B1
• Access: Tanimachi Subway Line, Higashi Umeda Stn, 2-min walk
• Tel: 080-3805-0803
• tabelog.com/en/osaka/A2701/A270101/27085586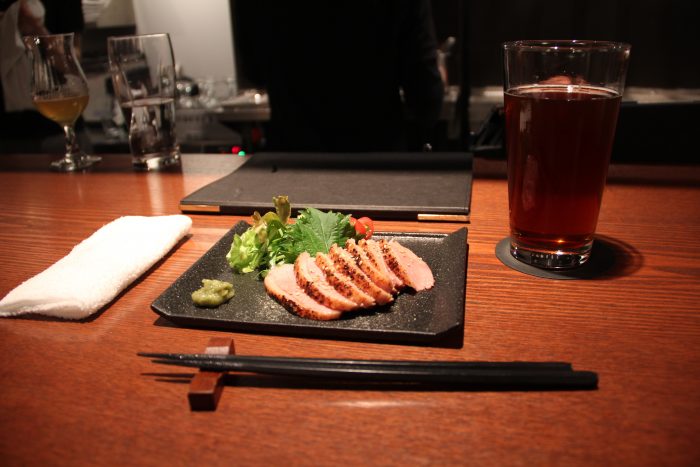 Craft Beer Gulp
Chic to a T and conveniently placed within a hop, skip, and a jump of Namba Station, Gulp is a smart, sleek getaway from busy Dotonbori. A variety meal sets of different styles, both small and large, can be interspersed with whichever style beer suits your fancy from their 11 separate taps. If you're puzzled over which brew would best complement your Japanese pickles, owner Takehiro Jiken is usually around to offer a superb suggestion, whether in English or Japanese. The excellent mix of taproom dining, evening soirée, and expert advice isn't the cheapest option in Osaka, but it's worth every yen.
• Open: 5pm–midnight every day
• Price Range: Half-pints from ¥750, US pints from ¥1,100
• Address: Chuo-ku, Namba 2-4-6
• Access: Namba Stn, 3-min walk
• Tel: 06-6563-7783
• tabelog.com/en/osaka/A2701/A270202/27097023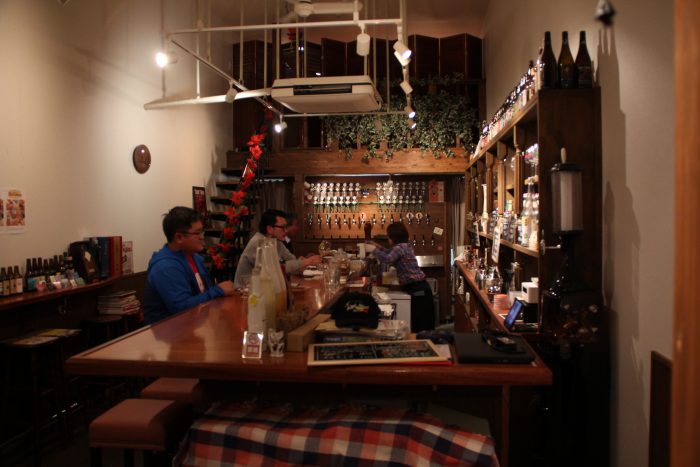 Lezzet Craft Beer & Food Experience
Under the shadow of the colossal Harukas Building stands a titan of equal talent – at least in a gourmet sense. One look at the menu and you can tell that Lezzet is the dream child of a craft beer aficionado and dedicated foodie. The calm, clean, almost rustic space is perfect for gorging on the magnificent craft food and beer creations. With weekly specials, full-plate pasta dinners, as well as simple bar room snacks, Lezzet is a one-shop stop for everything that could make a mouth water. To ensure you enjoy every culinary sensation, Lezzet is strictly non-smoking. The friendly staff, and even customers, will happily give you the low-down on the various options available should you inquire about something on their menu (written in both English and Japanese), such as what rare or vintage beers are in stock.
• Open: Mon–Fri 5pm–midnight, Sat 3pm–midnight
• Closed: Sun
• Price Range: Half-pints from ¥500, US pints from ¥1,000, special/rare beers from ¥700–¥1,400
• Address: Abeno-ku, Matsuzaki-cho 2-3-21
• Access: Tanimachi Subway Line, Abeno Stn, 4-min walk; Midosuji Subway Line, Tennoji Station, 6-min walk
• Tel: 06-7850-1412
• tabelog.com/en/osaka/A2701/A270203/27069770