Food & Drink
Three Kansai Cute Character Cafes
Check out three of Kansai's character cafes featuring menu items inspired by characters from media and pop culture.
Gudetama Cafe Osaka
Gudetama is an animated egg character created by Sanrio, the masterminds behind the Hello Kitty empire. We can all relate to this egg, who's personified as a lazy but lovable creature who just wants to be left alone. Located in Umeda's HEP 5 building next to the massive hub station of the same name, this cafe celebrates all things Gudetama with its bright decor and delicious, unique dishes. The menu items include a mouth-watering roast beef rice bowl with an egg decorated with Gudetama's face, as well as an unusual but tasty white curry featuring yellow rice styled as the title character. The dessert menu offers sweets like parfaits, pancakes, and pudding, and the drink menu has matcha and cafe lattes with Gudetama's funny little face on top. This year, it's Gudetama's five-year anniversary, so this month the Gudetama Cafe is celebrating with some special limited-edition menu items, including sweets styled to look like the Osaka favorites of takoyaki, kushikatsu, and okonomiyaki. Menus are in both English and Japanese, and reservations are not necessary.
• Open: 11am–10:30pm
• Price Range: ¥450–¥1,200
• Access: JR Osaka Stn; Umeda Stn, less than a 5-min walk
• gudetama.createrestaurants.com/jp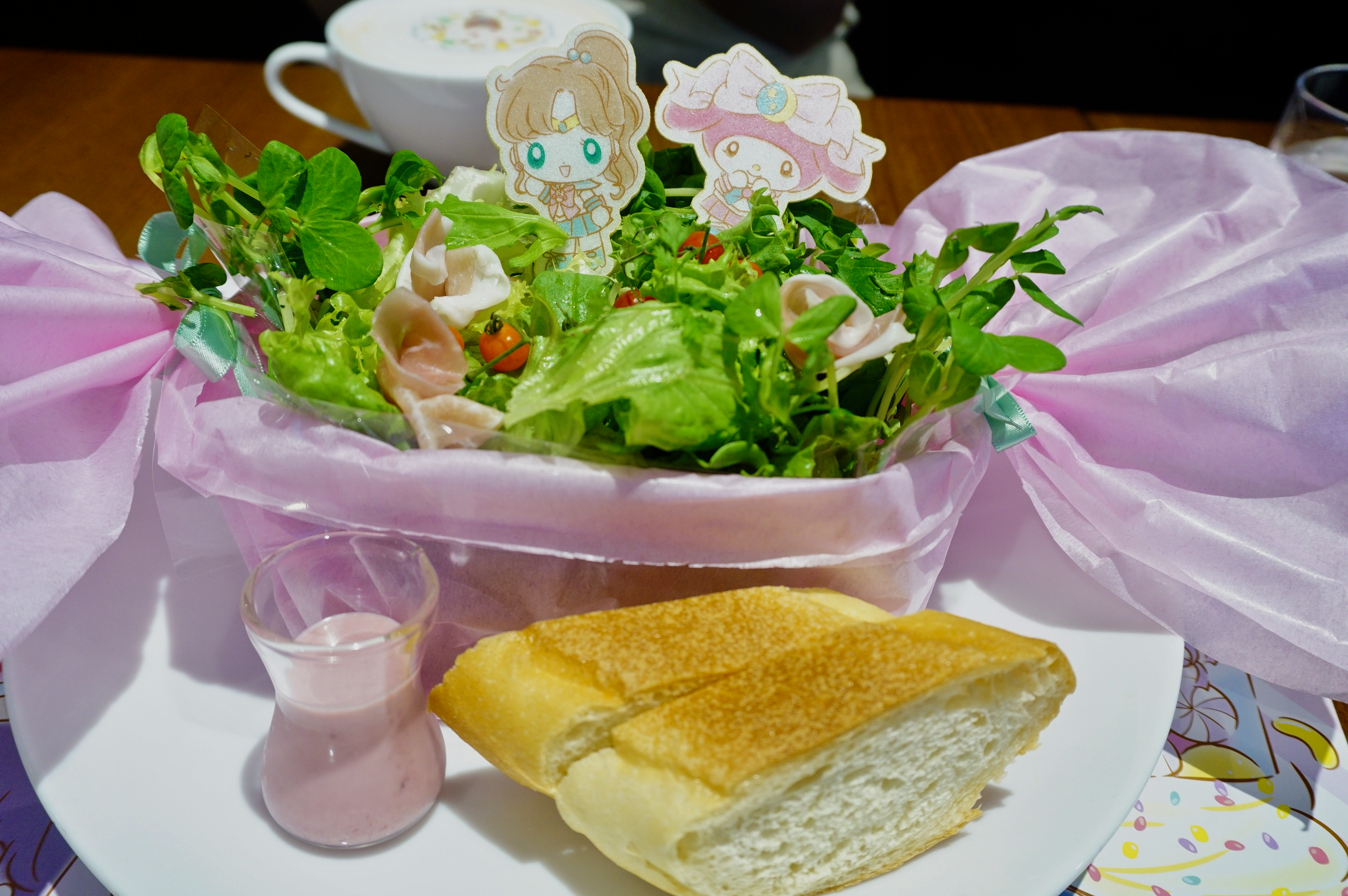 The Guest Cafe & Diner Osaka
Any anime or pop culture fan will feel at home at The Guest, a Japanese chain restaurant with a location in Shinsaibashi. This restaurant features a rotating lineup of themes that change every few months, giving fans a chance to nerd out by feasting on omelets and parfaits styled after their favorite characters. Past themes include animes Ranma ½ and Sailor Moon and the film Your Name (Kimi no Nawa). The dishes and drinks also change with each rotation, but the aesthetic and quality are always similar. One of the most notable menu items is the latte, which comes with very detailed and realistic latte art – the designs look like they were taken straight from the screen. The food menu tends to feature four elaborately decorated entree items and four incredibly sweet and decadent desserts. There is a gift shop with themed merchandise and a spot to pose for a commemorative photo, but wait times can be long, so for parties of more than two, it's best to make a reservation (in Japanese only) at least the day before. Until the end of June, the theme will be based around the comedian Robert Akiyama. Eleven creators have produced menu items based on some of his fictional characters.
• Open: 11am–9pm
• Price Range: ¥700–¥1,500
• Access: Midousuji Subway Line, Shinsaibashi Stn, 5-min walk
• the-guest.com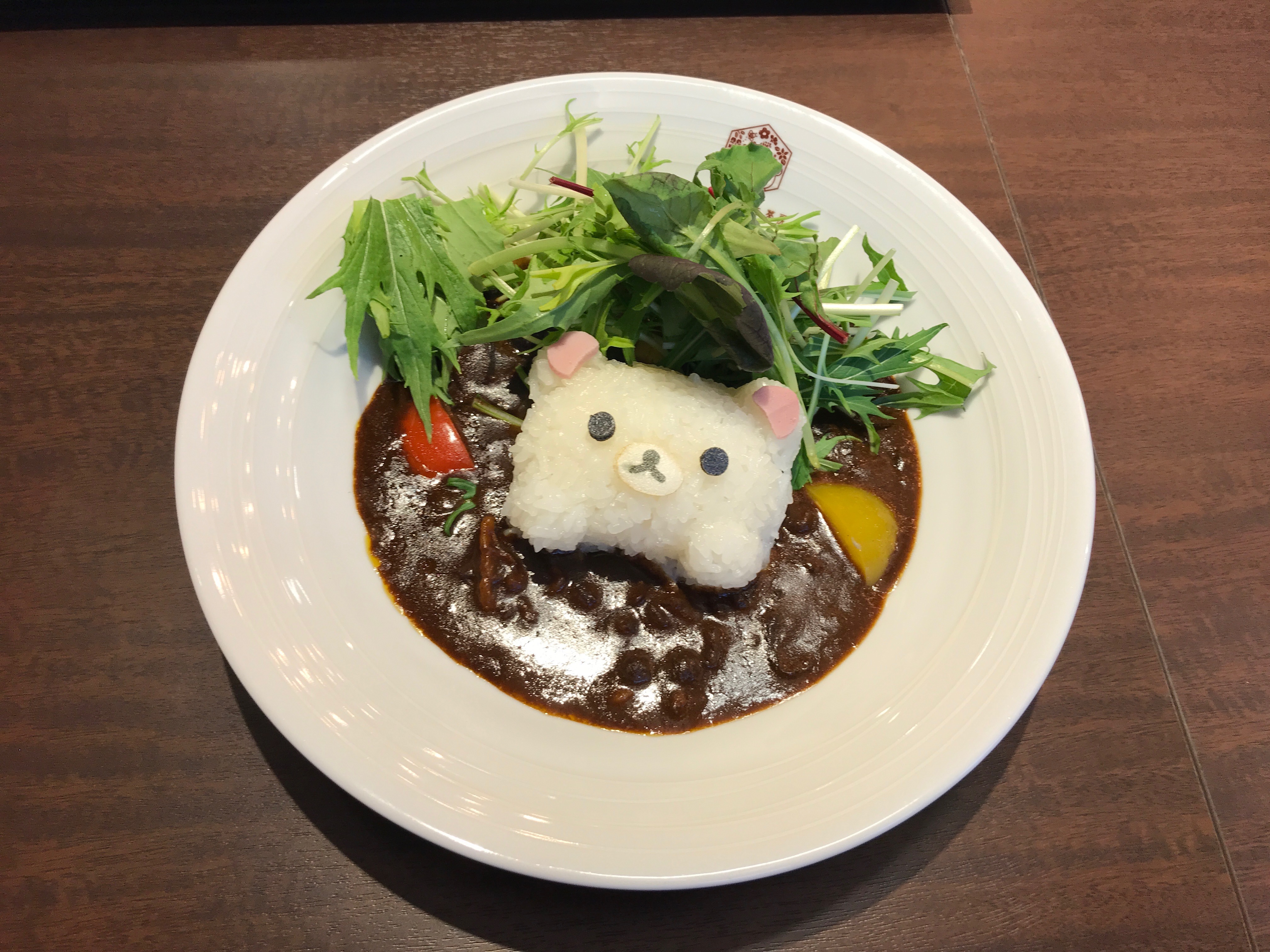 Arashiyama Rilakkuma Cafe
Arashiyama in Kyoto already has a lot going for it, however, this cafe might just take the cake. Rilakkuma – a cute but stone-faced teddy bear – is another beloved fictional character who became immensely popular due to his kawaii appearance and chill personality (Rilakkuma literally stands for "relaxed bear"). The cafe features Rilakkuma and his friends on the walls and in your food, their cute faces staring up at your from rice and pasta dishes. Like many character cafes, the novelty of the cute dishes often outweighs the taste. The curry, however, is both tasty and adorable. The Kyoto bento lunch is also very cute and quite flavorful. Imagine tiny teddy bear heads made of rice peeking out from seaweed wraps and sliced carrots cut in the shape of Rilakkuma's head. You can dine in on the second floor or order take out at street level, where there is also a gift shop. The restaurant does not take reservations, so at busy times there may be a wait.
• Open: 10:30am–5:30pm
• Price Range: ¥450–¥1,650
• Access: JR Arashiyama Stn, 6-min walk
• rilakkumasabo.jp