Food & Drink
Craft Beer Corner
In the mood for a beer but looking for a little something different? Try these three spots for delicious food and a wide selection of some hard-to-find bottled craft beers.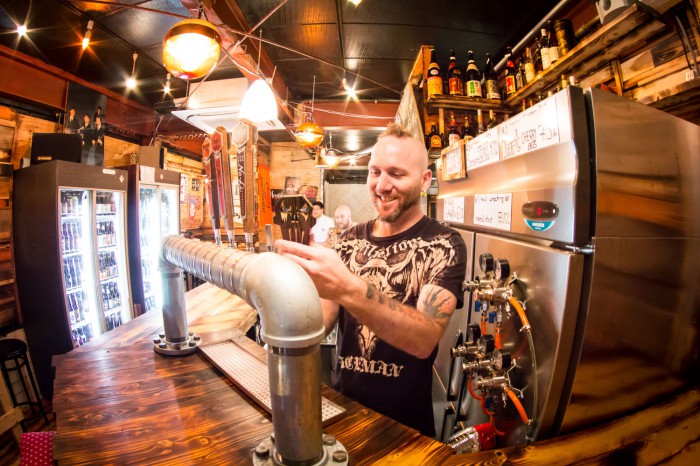 TNT Craft Beer Pub & Bottle Shop
Exploding onto the scene (excuse the pun) in July of this year, TNT Craft Beer pub and bottle shop offers five ever-changing taps of top-notch American craft beer. "We always try to keep one IPA, one wheat beer, and one stout at all times. We also like to do crazy beers – we had a jalapeno beer once and it was amazing," said Jesse Theriot who runs TNT along with his business partner Chris Rawls.
If you're checking it out for the first time and are not sure what to order, try their taster set and get a sample of everything on tap for ¥1,200. What helps set this place apart, besides the great rock music and DIY wood paneling, is the two large refrigerators full of more than 100 different kinds of craft beers, including many hard-to-find rarities such as the world-class Pliny the Elder from Russian River Brewing Company.
[box]
Open: Mon, Wed–Sun 5pm–12(ish)am • Closed: Tues • Happy Hour: Daily 5pm–7pm • Price Range: ¥600 (9oz half pint); ¥1,000 (16oz pint); ¥1,200 (Five 3.5oz beer shots – taster) • Food: ¥300–¥500 • Access: JR Taisho Stn, Exit 2 • facebook.com/craft.beer.pub.tnt
[/box]
---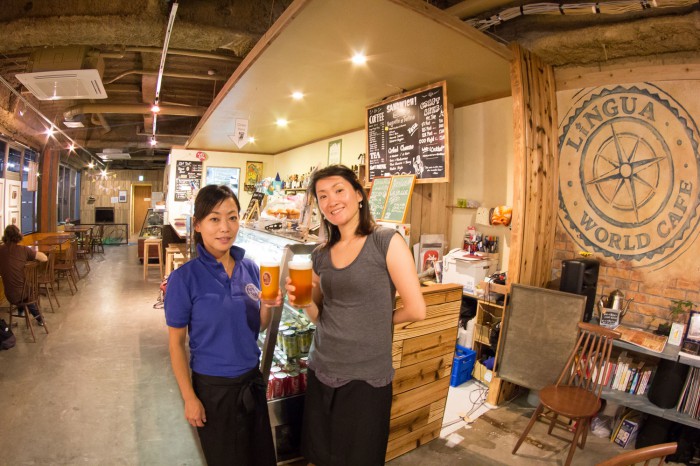 Lingua World Cafe
Lingua is the Latin word for "tongue" and the tongue connects everything – talking, tasting, all the good stuff. So get inspired to eat, drink, and be merry at Lingua World Cafe, your one-stop shop for treating your taste buds to good food, good coffee, and of course, great beer. A large, open space with friendly, international staff, this smoke-free, kid-friendly, artistic and laid-back spot has a great community feel to it.
Owners Ian and Ulala Warney are an artsy pair, featuring a different artist's work every two weeks, which adds to the relaxed, creative vibe that is perfect for enjoying one of their delicious-looking gourmet sandwiches and a pint of craft beer. Their three taps host a nice selection of Baird Beer, types vary depending on the season, and their fridge has a great selection of both domestic and imported craft beers from all around the world.
[box]
Open: Mon–Thur 10am–10pm; Fri & Sat 10am–11pm; Sun 10am–6pm • Happy Hour: 5pm–7pm • Price Range: ¥700 (250ml half pint); ¥1,000 (475ml U.S. pint); ¥1,200 (550ml UK pint); ¥1,200 (3x180ml Tasting Flight) • Food: ¥300–¥850 • Access: Tanimachi-9-Chome Subway Stn, Exit 5 • linguaworldcafe.com
[/box]
---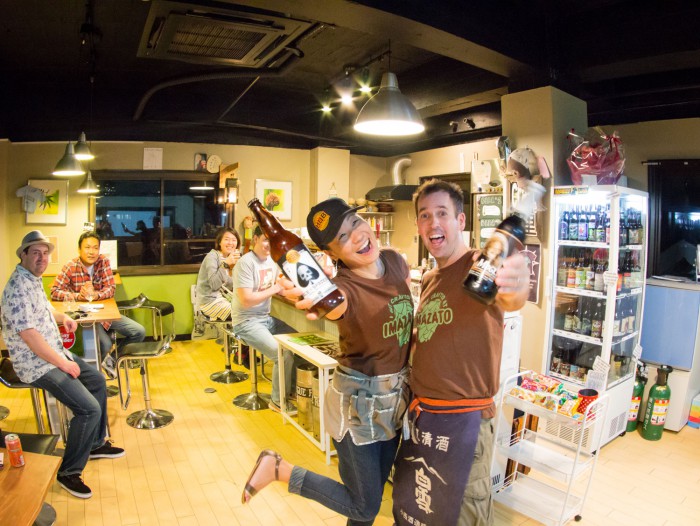 Craft Cafe Imazato
The husband-wife team of Matthew and Toshie Boucher create a Cheers-esq (the TV show) atmosphere. Greeting customers by name, they're quick to come around and welcome new faces with cold pints of some of the best American brews at fantastic prices as far as craft beer goes.
"We specialize in Oregon beers, we've introduced about 25 different breweries to Japan from Oregon and the U.S. including Breakside, Lompoc, and Prairie Artisan Ales," Matthew explained. Imazato also boasts an excellent array of over 70 different rare bottled beers, such as Prairie Artisan Ales Bomb, sure to peak any beer enthusiast's curiosity. "If I see a good beer and can get it for people I will," said Matthew.
Open once a week, this is a Friday night go-to spot for your weekly after-work wind down. Get on down to Imazato for great brews, beer bingo, good people, and Toshie's nachos!
[box]
Open: Fri 6pm–11pm • Happy Hour 6pm–7pm • Sizes: ¥500 (280ml); ¥650 (310ml); ¥850 (500ml); ¥1,250 (Taster 3x180ml) • Food: ¥650–¥750 • Access: Imazato Subway Stn, Exit 8 • craftcafeimazato.jimdo.com
[/box]