Food & Drink
Foodspotting
Sip in style at these groovy Kobe cafés in the shopping hot spot of Motomachi.
AGEHA RELAX CAFE
After trawling the grungy back streets of the fancy Tor West boutiques and specialty shops, revive your equilibrium with a visit to Ageha. It's a fresh and open space – a relaxing and peaceful place for a mid-shopping treat or a lunch stop. Vegetable-based lunch and dinner sets start from ¥1,000, and chicken and fish varieties are provided. Snack sets for between meals and wonderful food options for children are available. The dessert selection is super creative, but not at all exciting for those who crave an authentic sweet treat. Tarte selections include burdock root and chocolate, tomato, or carrot and orange. Try the homemade ginger ale, green smoothies, or freshly squeezed juices from ¥700.
[box]
Price Range: ¥700–¥1,500 • Open: Daily 11am–10pm (Lunch 11am–4pm; Dinner 5pm–9pm) • Access: JR/Hanshin Motomachi Stn, 10-min walk North up Tor Road • cafe-ageha.jp
[/box]
---
CAFE HARU
Cafe Haru takes slow morning delight to a whole new level. Everything about this hidden gem has been created so meticulously that it makes you want to stay for hours. You can sit downstairs at the counter and chat with locals and cafe owner Tokuda-san, or head up the narrow staircase to the cosiest retro space filled with all sorts of lovely surprises. Once a beauty salon run by Tokuda's Grandmother, a deeply nostalgic and calming energy still lingers. Breakfast here is rewarding and sweet; you can't go wrong with the coffee, chunky-toast and fluffy-egg sets. Try the peanut butter and banana toast, or French toast for ¥450, or the baked cheesecake with rum-raisin ice cream for ¥300.
[box]
Price Range: ¥300–¥1000 • Open: Weekdays 10am–8pm; Sat, Sun & Holidays 10:30am–6pm • Closed: Wed • Access: JR Nishi Motomachi Stn, 5-min walk • tabelog.com/hyogo/A2801/A280102/28006421
[/box]
---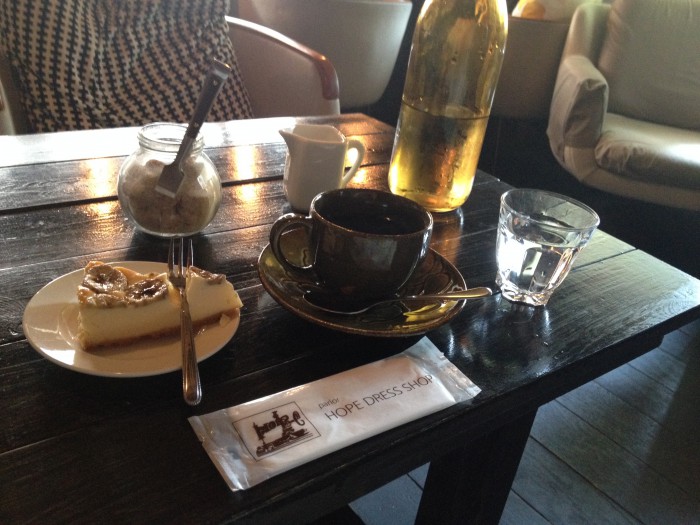 Parlor HOPE Dress Shop
Retro. Groovy. Cosy. Eclectic. Mysterious. This is Parlor HOPE Dress Shop. Go to hear edgy music, read a book, sketch, or drink cups of coffee with old magazines. Let's face it, any place that has a disco ball and an old record collection is already winning. Have a milkshake and get nostalgic with old-school sandwiches like ham (¥400), hamburg (¥650), or handmade korokke (¥500). Top it off with ice cream honey toast (¥600) or the signature banana baked cheesecake (¥400). Master Ooyama-san is funny and smiling and if you're lucky, you might even meet Nero the cat. Go with someone special for late night drinks and a cheese plate (¥850), or bring a friend for a weekday teishoku lunch (¥700-¥900).
[box]
Price Range: ¥300–¥850 • Open: Mon 11:30am–5pm; Tue–Fri 11:30am–5pm; Sat & Sun 12pm–5pm; all evenings except Mon 6pm–10pm; Breakfast served. Lunch til 2pm • Access: JR Hanshin Motomachi Stn, West Exit, 2-min walk • hope.ciao.jp
[/box]