Featured
Craft Beer Corner
Kick back, relax and enjoy a pint or two in the alley-filled backstreets of Fukushima.
Craft Beer Kitchen Pogo
A large "B-E-E-R" sign runs vertically down the side of Craft Beer Kitchen Pogo beckoning thirsty patrons meandering the back alleys of Fukushima. Opened in January 2015, owner Ryosuke Hosomi has created a very welcoming, lively atmosphere to enjoy craft beer in. His philosophy is simple, "Pogo is about happiness – dancing and jumping around like on a pogo stick," he says with a laugh. There is a large bar with a smattering of small tables downstairs, and low tables with cushions to sit on upstairs. The artificial-grass-like floor upstairs makes you feel like you're having a pint on a mini-golf course, but fits perfectly with the unpretentious vibe. Pogo has eight taps dedicated to mostly Japanese craft beer but Ryosuke says they often have popular UK and U.S. brands such as BrewDog, Stone, and Left Hand on tap as well.
Open: Mon–Sat 6pm–1am; Sun and Holidays 3pm–11pm • Price Range: ¥580 (255ml); ¥780 (360ml); ¥1,000 (568ml); ¥100 extra for foreign guest beers; ¥1,300 (3x180ml sampler) • Food: ¥300–¥1,200 • Access: JR Fukushima Stn, 5-min walk • facebook.com/pogofukushima?fref=ts
Beer BAL DARKHORSE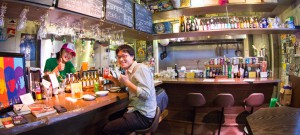 Great beer and good tunes are the focus of Beer BAL DARKHORSE, which takes its name from The Beatles' George Harrison's record label. "I love the Beatles, especially George Harrison," says owner Hiroshi Takewaki, which is apparent as soon as you walk in – the spacious yet cozy atmosphere is covered in Beatles memorabilia. BAL DARKHORSE has six taps of Japanese craft beer and a small collection of western craft-beer bottles that are always changing, so there is always something new to try. While relaxing at the bar or at one of their more intimate tables seating guests on two-person couches, Hiroshi encourages you to select your favorite songs to enhance the ambiance of this rocking bar, with one rule, that the music can't kill the vibe! Come help him celebrate the Beer BAL DARKHORSE threeyear anniversary this month.
Open: Mon–Thur 6pm–1am; Fri & Sat 6pm–3am; Sun 10am–6pm • Price Range: ¥700 (UK half pint); ¥1,000 (U.S. pint); ¥1,200 (UK pint) • Food: ¥300–¥1,400 • Access:JR Fukushima Stn, 5-min walk • osaka-bar.com/darkhorse/TOP.html
KOPTA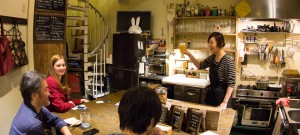 Looking for a place to curl up with a good book and a pint as the weather gets colder? Look no further than Kopta. Brought to you by the owners of World Beer & Cafe Qbrick this twostory craft-beer spot centers around a bar that wraps around a homestyle kitchen area on the ground floor, with seating for about six. A very narrow, winding staircase leads up to a loft area with couches and tables perfect for having a chat with friends or enjoying a beer in peace and quiet. Friendly bar manager Keiko Kato recommends any of the great standard pub fare from the menu year round but urges customers to try their oden as the air becomes cooler. There is an ever-changing lineup of mostly Japanese beers on their five taps, which are competitively priced at ¥900 for U.S. pints. Kopta will also be celebrating their three-year anniversary this month.
Open: Tue–Sun 5pm–12am • Closed: Mon • Sizes: ¥900 (U.S. pint); ¥1,100 (UK pint); ¥1,100 Food: ¥200–¥700 • Access: JR Fukushima Stn, 5-min walk • d.hatena.ne.jp/KOPTA