Articles
The Birthplace of Japanese Soy Sauce
In southern Wakayama at the factories of Yuasa Soy Sauce Limited, you can see 750 years of tradition in action and learn how to brew your own bottle.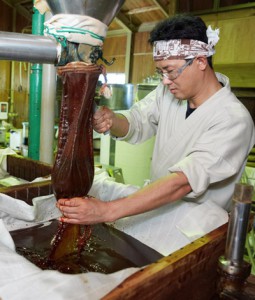 Yumi Miyamoto is a miso sommelier and tofu guru who works in Yuasa, a city that claims to have produced the first Japanese soy sauce. Even now, 750 years later, her company Yuasa Soy Sauce Limited still observes the traditional, handmade brewing methods passed down from its earliest history.
While it is hard to imagine an ingredient more essential to Japanese cooking than soy sauce, it was in fact discovered by chance as a by-product of making kinzanji miso. Unlike the smooth soup bases more commonly known, kinzanji miso is full of chopped summer veggies, like eggplant and cucumber, made deliciously tangy with ginger and red shiso, and is usually eaten by itself or over rice. The small amount of liquid extracted from the miso was not enough to satisfy Japanese tastebuds, and as Yuasa pioneered methods that concentrated solely on the creation of soy sauce, the city moved into mass production, booming in the 17th century with as many as 90 factories in operation.
Competition and the opening of Japan to the West meant a sudden decline in wealth and productivity that left beautifully preserved streets of traditional homes, warehouses, and factories for visitors to wander through. Glass cases filled with soy sauce plates and other traditional tools hang on the outside of the black, wooden walls.
Yuasa Soy Sauce Limited is now one of the biggest soy sauce producers still remaining in this tiny Wakayama town. It runs tours of its factory, which include a soy sauce making class. In 2013, UNESCO took the unusual step of designating washoku (traditional Japanese cuisine) as an intangible cultural asset, which raised awareness and interest in Japanese food. Because of this, the company recently begun trialing its factory tours in English too, to give outsiders a deeper understanding of washoku's main condiment and, of course, plenty of chances to sample the product.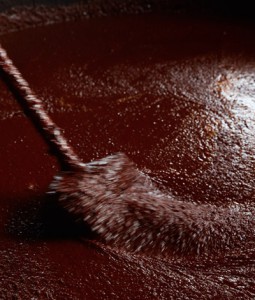 The tour moves through the different parts of the factory. First, viewing the deep pits where the proto-soy sauce ferments; made of Yuasa's special mineral-laden water, soy beans, black beans from Tanba, wheat and salt. Visitors get the chance to stir it with a giant, wooden paddle. The mixture is alive, Yumi explained, and it needs to breathe. There is a bit of a trick to pulling the stick out so that the gases trapped beneath rise up, but when they do, they bubble up with a very satisfying whoosh.
Next, guests have the chance to sample finished soy products, including usukuchi (light) shoyu, koikuchi (dark) shoyu, yuzu-citrus infused shoyu, Yuasa's big brands: Rosanjin and Murasaki, rumoured to be favorites of European Michelin-starred chefs, and finally, a mouthful of the kinzanji miso that started it all.
After all the hard work of walking, mixing, and tasting Yumi ushers guests into a small lecture room, the tables covered in PET bottles, and a plastic bag of ingredients. It's the visitors' turn to make some sauce!
The classes are a recent but important addition to the tour. "About a year after we first started the factory tours, we realized that having a space to learn about Japanese culture was very important, and that there are a lot of people who enjoy doing things by hand," Yumi explained. "The older generations learned a lot of culture naturally, but for many reasons, recent generations don't get that chance at home. There are also so few places in the community where they can learn."
The process of making soy sauce is deceptively simple, with one long twist. There are few ingredients, only beans, wheat, salt, koji (a traditional fermentation starter), and water, organized into a little kit that the company sells through its website. We poured these into our PET bottles, shook our brown gloop well, and became, essentially, parents to a plastic bottle of fermenting flavor for at least the next 10 months.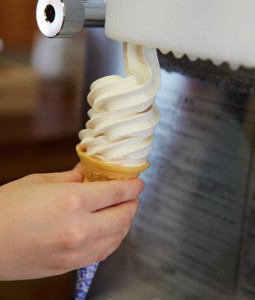 The gases our living liquid produces make for an explosive mix, and everyday for the first week, Yumi stressed, we would need to release them, then gently slosh the mixture about. After the first week, we would only need to open the bottles every second day and after a month, maybe only once a week. But, "If you see your bottle is pan pan," she warned using a Japanese onomatopoeia meaning 'full to bursting,' "Open it in the shower. And then clean the ceiling."
Ten months is the bare minimum for tasty sauce, and over a year is recommended. Compare this to the three months that some brands finish their soy sauces in, and it is easy to understand why Yuasa makes such an artisanal product. For our own soy sauces, factors-like temperatures, sunlight, frequency and strength of mixing will lead to a unique creation.
"Even though we are all using the same beans, wheat, and salt, everyone's soy sauce will be different … it will be your original soy sauce," Yumi enthused as she cracked open large PET bottles dated from the previous year, and strained the thick, dark mixture into small bowls for us to try.
We finished the tour with another blend of tradition and originality in the form of a soy-sauce-flavored soft cream. At the end of our year's wait, hopefully minus any explosions, we will have homemade soy sauce to add to our recipe repertoires. Until then, a bottle of Yuasa Shoyu's equally handmade sauce (but with the benefit of 750 years of experience) will more than suffice.
[box]
Yuasa Shoyu
• Access: JR Kinokuni Line from Wakayama city to Yuasa Stn, 10-min walk, or 2-min taxi ride.
• Call to book: 07-3762-2100 or send a request, in the month before, to kuyou@ yuasasyouyu.co.jp Tour times are between 9am and 4pm
[/box]