Feature
Coffee conundrums no more!
Four Osaka spots to get your thoughts outside the box when it comes to your next cup of joe.
It was New Year's Day in Osaka. You woke up immediately aware of the consequences of over-partying, and what's worse, there seemed to be no café that could alleviate the pain. The kissaten around the corner had more smoke than air, Starbucks offered nothing but pre-diabetic conditions, and Doutor's clientele was too suspicious looking, leaving you with nothing but that last-ditch option: pinching your nose while suffering through yet another ¥100 Boss Black.
Pinch no more! While Kobe and Kyoto are known as the Kansai café hot spots, and these do indeed have a higher proportion of quality locations, Osaka has a number of good joints as well – you just have to look for them. Thankfully, Kansai Scene has done the work for you, so you will never have to drink vending-machine coffee again.
Many café owners speak with a nearly religious reverence of one Amemura location, going as far as to leave their own cafés for a cup of its specialty joe. That location is Lilo Coffee Roasters. Lilo was established by a hair designer named Hotty in 2014 after the delicious coffee served at her salon (located on the third floor above Lilo) led to demand for a café.
Popular among foreigners for its free Wi-Fi and quiet atmosphere (both about as common in Osaka cafés as Yomiuri Giants fans), Lilo has more than 16 different coffees to choose from, among which the Dominican comes highly recommended (for non-coffee drinkers, the chai is also popular).
What's more, the coffee lives up to its reputation. At most mainstream cafés, customers are moved down the line like addicts at a methadone clinic – one shot and you're out the door. As a result, the coffee is usually too bitter, too weak, or too stale, often filling the air with its offensive aroma. But Lilo's coffee takes time, even if the café is empty. But the wait is worth it – when you drink it, you can taste every minute.
Lilo also h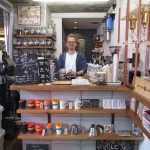 as beers available, as well as coffee machinery, t-shirts and lots and lots of business cards. It's located right next to the curiosity shop Village Vanguard, so if you need some caffeine before you can handle VV's eclectic array of giant lollipops and bad haircuts, Lilo is literally right next door.
Go south two blocks, turn left and you'll find yourself at Banco, a neighborhood favorite for 14 years. Said to be a popular hangout for Osaka hipsters, Banco separates itself from other cafés through its cluttered interior, which defies the too-clean chain aesthetic of having every table and chair in a straight line, each identical to the next, often screwed into the floor so that nothing may upset the appearance of order. All of Banco's table and chairs are… well, wherever the last customer left them. But that's all part of the fun.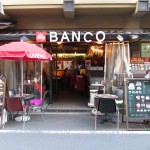 Banco's coffee is comparable to Lilo's (the staff, as it happens, are Lilo fans), and it offers delicious Italian cuisine, from pizza to paninis, all at affordable prices that shame the typical Kansai trattoria (lunch goes for ¥1,000). A banco espresso goes for ¥330, and they also serve shakeratos (a shot of espresso poured over ice cubes and then shaken), a customer favorite especially in summer. Unlike even Osaka's best cafes, Banco is open until 2am, with a bar available, so you can caffeinate yourself through work in the morning, then flush away your woes at night.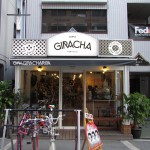 Bicycles and coffee go hand-in-hand at Giracha, located a few blocks over from Amemura in Minami-Horie. Its slogan? "BICYCLE and COFFEE." Established in 2014, Giracha has something for bicycle lovers, coffee lovers, and bicycle-slash-coffee-shop lovers alike. The store is usually quiet, so you don't have to shout over other customers, though it is possible you'll have to shout over the bikes.
In a country overflowing with shuu cream (from the French choux a la creme – and nothing to do with shoes), they're also known for being the only location in Osaka with the audacity to sell jelly (jam) donuts (¥300, yeah, but there's no chance you'll find this at a Krispy Kreme). With Horie Park and a number of preschools nearby, Giracha is a hotspot for moms, even featuring a ¥100 non-caffeine "Chibi-cino" to silence children who beg their mothers to let them try espresso. Ironically, Giracha does not service mamacharis, but as co-owner Reny says, "Don't feel like you have to buy a bike to come and get a coffee."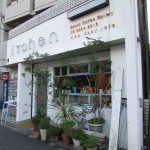 If you're further north and looking for local coffee spot, look no further than the hipster haven of Nakazakicho. Make your first stop iTohen, a gallery-café dedicated to the artistic experience. Filled with art books (most for sale), and featuring exhibits unlike what you'll find elsewhere in Osaka (during my visit – model cities made out of car parts). iTohen was founded in 2003 by Kagoshima native Ajisaka Kanemitsu, who currently teaches at Nakazakicho Design School. Earlier in his life, Ajisaka visited New York City and was inspired by the diverse range of galleries there. He established iTohen as a counterforce in a country where he thought art was misunderstood, underappreciated, or even dismissed.
With its vast collection of art books, one could spend a lifetime in iTohen and never be bored, but the food is just as sure to garner appreciation. The coffee is rated highly by customers, and the French toast is as decadent and guilt-inducing as a meal comes. But if you don't order the food, at least look at the cutlery – iTohen pays such attention to detail that even the butter knives are aesthetically pleasing.
Good cafés in Osaka are not always easy to find, but now there's no excuse for walking into Starbucks for a shortage of worthwhile alternative options. If you're lacking a New Year's resolution, patronizing a local, home-grown café is not a bad place to start.
Lilo Coffee Roasters
Open 11am–11pm • Price Range: ¥350–¥750 (1 coffee: ¥350) • Access: 3-min walk from Shinsaibashi Stn • liloinveve.com/coffee
Banco
Open 12pm–2am • Price Range: ¥500–¥1,000 (1 coffee: ¥350) • Access: 4–min walk from Shinsaibashi Stn Exit 7 • banco.ciao.jp
Giracha
Open 11am–8pm • Closed Wed • Price Range: ¥100–¥500 (1 coffee: ¥300) • Access: 5-min walk from Yotsubashi Stn • tracksupermarket.com
iTohen
Open 11am–6pm • Closed Mon & Wed • Price Range: ¥1,000 (1 coffee: ¥500) • Access: 10-min walk from Nakazakicho Stn • skyy.info