Feature
Zen Nuptials for Gay Couples
A Kyoto Buddhist monk is doing his part to promote marriage equality by being the first in Japan to offer marriage ceremonies at his temple to gay and lesbian couples.
As a kid growing up in Kyoto, Reverend Takafumi Kawakami never thought he would follow in the footsteps of his forefathers and become a Zen Buddhist priest. He also never imagined that same-sex couples would play any part in his life, let alone that he would one day be personally advocating for their equal marriage rights.
Now, he is the Deputy Head Priest at Kyoto's Shunkoin temple in Hanazono. On the records as a fifth-generation monk there, he works closely with his head-priest father, and lives on the temple grounds with his wife and three-year-old daughter.
He welcomes foreign visitors to his mindfulness and meditation classes in English, and also holds LGBT (lesbian, gay, bisexual, and transgender) wedding ceremonies, even though marriage for gay couples is still not legally recognized in Japan. Shunkoin Temple is the first Buddhist temple in the country to offer wedding ceremonies to couples of the same gender.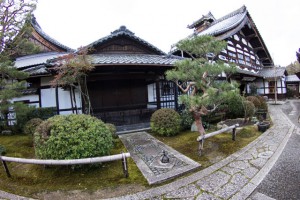 Despite being born into a family that has produced Shunkoin head priests for generations, Kawakami began his post-high school years on quite a different path. After graduating from the Hanazono School (which is affiliated with Rinzai Buddhism's Myoshinji temple), he went to the U.S. and studied English at Rice University in Texas, and then enrolled in economics and psychology at Arizona State University.
"I was an only child but my father, my parents, never forced me to take over his position. That's why I studied psychology at first. I was not intending to take over this temple. And I thought psychology was the complete opposite from religion in a way. I was separating them, putting religion on one side and science on the other side of the spectrum."
A turning point occurred, however, after the September 11th terrorist attacks when he decided to switch his major to religious studies. "Nine-eleven happened and a professor asked me for some advice for John McCain, who was a senator in Arizona and had a lot to do with national security. At that point I thought it's interesting because religious studies scholars can be involved in many things. It's not just about studying bibles and sutras," Kawakami explained.
It was also in the U.S. that Kawakami had a realization of another kind. The priest admits he was prejudiced against sexual minorities when he was younger, and only came to understand that ignorance through his experiences with friends and acquaintances in the States.
"I was more conservative before I went to the U.S. I was anti-LGBT originally. But I had encountered racism in the southern [U.S.] states and learned what it felt like to be judged for being in a minority.
"One of my friends came out and I had a kind of negative reaction at first, but he said 'you know, it's really similar to racism. You've faced judgement because you're of a different race, so can you understand how I feel when people judge me for having a different sexual orientation?' I thought 'Wow, that's true,' and I changed my mind 180 degrees," he explained.
In 2004, after living in the States for around eight years, Kawakami returned to Japan to start his ascetic training at the Zuiganji temple in the northern Miyagi prefecture, as having experience as a priest would help prepare him for graduate school.
In 2006, he finished his training and was intending to return to the U.S. for grad school. But he first returned to Shunkoin, where he had the opportunity to give an American acquaintance zazen meditation classes in English. Word got out about the classes, and tourists started calling. In 2007, Kawakami officially became deputy head priest at Shunkoin, and started offering meditation classes to more and more English speakers.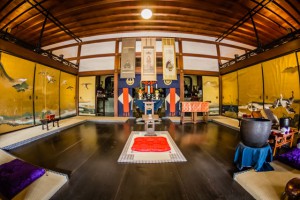 "I started teaching meditation classes and meeting more interesting people here and I thought 'maybe I can meet more people here doing this than by going to grad school or becoming a professor.' Nobody was teaching meditation in English, and temples weren't really open to foreign visitors. Of course, tons of priests can speak English, but not many actually have experience in the U.S. or other countries, so I can do the cross-cultural, cross-religious thing. I thought I can be a good person to be here in a way. So that's why, since then, I've been here," he explained.
The first person to ask about same-sex wedding ceremonies was a woman from Spain who had visited Shunkoin many times to learn about zazen meditation. "She asked me, 'Can we have our wedding here?' and she asked me, 'Is it ok because my partner is also a woman?" I said 'Why not?' I didn't really need to think or anything, because that was normal for me in the U.S."
In 2010, the Spanish couple held a public wedding ceremony at Shunkoin. Kawakami says he holds about 20 weddings each year, and last year, eight of those 20 were gay and lesbian couples.
"Two of the couples were Japanese, two men and two women, the others – at least one partner was from another country. We've had two Chinese couples. 2015 was the first year we had a couple where both individuals were Japanese, which made me happy. I hope we get more couples like them in the future," he said.
Kawakami's liberal stance on marriage, it isn't something he considers exclusive or specialized at the temple. "I'm not really specializing in LGBT weddings. In my case, it doesn't matter, a wedding is a wedding. I don't want to use labels like 'same-sex marriage' and 'LGBT wedding' because it's labelling. It's separating these couples from heterosexual couples, but for me, a wedding is a wedding."
Japan allows same-sex unions within its borders, though they are not legally binding, hence these couples aren't given the legal rights and privileges that heterosexual couples have. While Kawakami's ceremonies do not afford the couples the legal rights that a traditional heterosexual marriage certificate does, he is glad the ceremonies are making LGBT issues more visible in Japan.
"The issue about Japan, if you are a minority then the majority of people really don't care in a way. You have to make this issue visible here. Five years ago nobody was talking about LGBT. Still people don't know what LGBT is. They think those are issues happening overseas. Europe, United States, not in Japan. People say that. I get phone calls like that sometimes. People ask, 'Why do you try to bring overseas issues to Japan?' I have to say 'No, it's not like that.'"
"Dentsu, the company, they did a survey, I think in 2012, which found that 7.9 percent of people here in Japan, as far as we know, they are part of the LGBT community. That means about seven percent of the people in Japan don't have the option to get married. This cannot lead to happiness in Japan."
Kawakami also believes it's not just about LGBT rights, but striving to become a society where immigrants, people with disabilities, women, and other minority groups can be happy. This is the path to happiness for the whole country, he says.
Since the same-sex wedding ceremonies started at Shunkoin, he has given lectures at General Electric and the University of Tokyo, and has been invited to speak at other institutions. With the increasing awareness and acceptance of LGBT couples in Japan, like the recent official certificates issued to same-sex couples in Shibuya and Setagaya wards in Tokyo, Kawakami believes the country is slowly making steps in the right direction.
"I want my daughter to live in a better society, a more equal society," he says, "But this will take continuous effort on everyone's behalf." For Reverend Kawakami, the quest for equality is all in a life's work.
"I was more conservative before I went to the U.S. I was anti-LGBT originally. But I had encountered racism in the southern [U.S.] states and learned what it felt like to be judged for being in a minority."
More Details
Shunkoin Temple
•Open: 8am–8pm
•Access: JR Sagano Line from Kyoto Stn to Hanazono Stn (12 mins), 10-min walk from Hanazono Stn to the temple
•Address: 42 Myoshinji-Cho, Hanazono, Ukyo-Ku, Kyoto 616-8035
•Tel: 07-5462-5488
•Email: rev.taka.kawakami@gmail.com
•Website: shunkoin.com
To watch Rev. Kawakami's Kyoto TED Talk on mindfulness and meditation, visit YouTube and search: "How mindfulness can help you to live in the present | Rev. Takafumi Kawakami"
仏前で祝う同性結婚式
婚姻の平等推進に、一役買っている京都の僧侶がいる。
自身が副住職を務める春光院で、ゲイやレズビアンのカップルのために仏前結婚式を開催する川上全龍さんだ。
[box]「アメリカに渡る以前の私は、もっと保守的でした。LGBTに偏見があったのです。でもアメリカ南部の州で人種差別を体験して、マイノリティーに分類される人の気持がわかりました」[/box]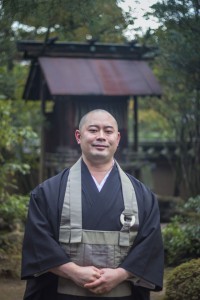 川上全龍(隆史)さんは、京都の寺院で生まれ育った。それでも先祖代々の家業を継いで禅僧になるつもりはなかったのだという。同性カップルと深く関わる人生となることも、ましてや婚姻の平等を提唱する活動を始めることも、まったく予想はできなかった。
そんな川上さんも、今では京都花園にある春光院の副住職だ。当院5代目として住職の父を支えながら、妻や娘(3歳)と一緒に境内に住んでいる。
外国人向けの座禅教室を主催する川上さんは、ここでLGBT(レズビアン、ゲイ、バイセクシュアル、トランスジェンダー)の人々の結婚式もおこなっている。同性婚が合法的に認められていない日本で、初めて同性同士の結婚式を挙行した仏教寺院が春光院なのである。
臨済宗妙心寺塔頭の春光院で、代々住職を務める家に生まれた川上さんだが、高校卒業後には一風変わった進路をとった。妙心寺派系列の花園高等学校を卒業するとアメリカに渡り、テキサス州ライス大学での語学学習を経てアリゾナ州立大学に入学し、経済学と心理学を学ぶことになるのである。
「一人っ子でしたが、親が無理に寺を継がせようとしたことはありません。自分でも寺を継ぐ気はなかったので、まずは心理学を学びました。ある意味で、心理学は宗教とは真逆の学問であると思っていたのです。私の頭の中では、宗教と科学は完全に別々の領域に属するものでした」
しかし、そこに転機がやってくる。9.11の同時多発テロ事件の後で、川上さんは専攻を宗教学に変えることにした。
「9.11が起こって、ある教授が私に宗教に関する助言を求めてきました。その助言の相手というのが、当時アリゾナ州選出の上院議員で、国防にも造詣の深いジョン・マケイン氏だったのです。そのとき私は、宗教学者になればさまざまなことに関われて面白そうだと思いました。宗教学といっても、聖書や経典の研究ばかりではありませんから。新しい価値観や考え方を模索している多くの企業経営者たちも、哲学者、哲学教授、宗教学者、聖職者などとの対話を求めています」
アメリカ滞在中には、もうひとつの大きな気づきがあった。若い頃にはセクシャルマイノリティーに無意識の偏見を持っていた、と川上さんは告白する。それを自覚させてたのは、アメリカの友人とのある出来事だった。
「アメリカに渡る以前の私は、もっと保守的でした。LGBTに偏見があったのです。でもアメリカ南部の州で人種差別を体験して、マイノリティーに分類される人の気持がわかりました。あるときゲイをカミングアウトした友人に、私がややネガティブな反応をしたら彼はこう言うんです。『これは人種差別にもよく似た問題なんだ。君も人種による決め付けを経験したことがあるのなら、異なったセクシャリティーを色眼鏡で見られる僕の気持ちがわかるんじゃないか?』と。まったくそのとおりだと思い、それで考え方を180度変えました」
8年ほどアメリカで暮らした後、川上さんは2004年に帰国して宮城県北部の瑞巌寺で修行を始める。僧侶としての経験があれば、大学院への進学に有利になるという目論見もあった。
2006年に修行を終えたら、大学院進学のためにアメリカに戻るつもりだった。だがそれに先立って、実家の春光院で知り合いのアメリカ人に英語で座禅のレッスンをしたのが転機になった。このクラスが話題になって、旅行者からの問い合わせが増え始める。2007年、川上さんは正式に春光院の副住職となり、さらに多くの英語話者を迎えた座禅教室を開くようになったのである。
「座禅教室で教え始めてから、どんどん面白い人たちに会いました。大学院に行って大学教授を目指するよりも、ここにいるほうが出会いの機会に恵まれてるのではないかと考えるようになります。座禅や瞑想を英語で教えている人はいませんでした。寺院も外国人に対してあまり門戸を開いていません。もちろん英語を話す僧侶はたくさんいますが、アメリカなどでの海外経験がある人は少なく、ここにいれば文化や宗教を横断した仕事ができると考えて、ここに残ることにしたのです」
同性結婚式について初めて訊ねてきたのは、春光院の座禅教室に足繁く通っていたスペイン人女性だった。
「ここで結婚式ができますか? 相手は女性ですが大丈夫ですか? と聞かれて、私は『もちろん』と答えました。ほとんど考えるまでもありませんでした。アメリカではごく普通のことでしたから」
2010年、そのスペイン人のカップルが晴れて挙式。それ以来、春光院では年に約20組の結婚式を開催し、昨年はそのうち8組がゲイもしくはレズビアンのカップルであったという。
「日本人同士のカップルも2組いました。男性同士と女性同士です。その他のカップルは少なくとも一方が外国人で、中国人カップルも2組います。嬉しいことに、2015年は共に日本生まれのカップルが初めてここで挙式しました。将来は彼らのようなカップルをもっとお祝いしたいと願っています」
結婚に対するリベラルなスタンスを、僧侶である川上さんは特別なものだと思っていない。
「LGBTの結婚式を専門にしているつもりはないんです。私が思うに結婚式は結婚式だから、どんなカップルでも問題なし。同性婚とか、LGBTの結婚式とか、レッテルを貼っても意味がありません。同性カップルと異性カップルは区別されていますが、私にとっては同じ結婚式なんです」
同性愛が容認されている日本であっても、カップルは法的なつながりを保証されているわけではなく、同性カップルは異性婚の男女と同等の法的権利や恩恵を享受できない。既存の結婚証明書のように、川上さんが式を挙行することでカップルに法的権利を与えられるわけでもない。それでも彼はこの寺の同性結婚式が、日本のLGBT問題の顕在化に寄与していることを嬉しく思っている。
「マジョリティーの人々が、マイノリティーの個人についてあまり深く考えていないのが日本の問題です。このような問題を、まず日本で可視化しなければなりません。5年前まではLGBTのことなど話題にも上りませんでした。今でもLGBTが人々に理解されているとはいえず、海外の問題だと思われています。欧米の問題だから、日本は関係ないという言葉も聞きました。そんな電話もかかってきますよ。『なぜ海外の問題を日本に持ち込もうとするんだ』って。私は『いやいや、海外の問題じゃないんですよ』と答えるしかありません。電通がおこなった調査によると、日本でも人口の7%以上がLGBTに該当するようです。人口の7%が婚姻する選択肢を持っていない国では、みんなが幸せにはなれません」
これはLGBTの権利だけの問題ではないと川上さんは言う。移民、障害者、女性、その他のマイノリティーが幸せになれる社会を作る努力こそが、国全体を幸福にする道なのだと確信しているのだ。
春光院で同性結婚式が始まると、川上さんはゼネラルエレクトリックや東京大学などから講演依頼が相次いだ。東京の渋谷区や世田谷区で同性カップルに公的な証明書の発行が始まったように、日本でも徐々にLGBTカップルが認知されて受け入れられてきた。この国はゆっくりと正しい方向に歩み始めていると川上さんは信じている。
「娘がよりよい社会で生きて欲しいという願いがあります。でもそのためには、あらゆる人が不断の努力を続けなければなりません」
仏門に仕える川上全龍さんにとって、平等な社会の実現もまたライフワークのひとつなのである。