Feature
Matches Made in Kansai
KS talks to three Japanese-American couples living in Kansai to find out what it's like to live in Japan while being part of an international marriage.
This month we've got a finger on Cupid's pulse, and we're curious about the international love matches made in Kansai, or cross-cultural couples that have returned to Kansai after meeting abroad. We know that there are international love stories abound in our expat community. But what is it like for these people, pairing up with someone from such a different cultural background than their own? Relationships can be hard at the best of times, but what unique challenges, and rewards, do these international couples experience?
To honor the month of Saint Valentine, we decided to reach out to three married Kansai couples in international relationships to find out the nitty gritty. We visited them at their homes and captured all the fun on camera. Check the out the video here.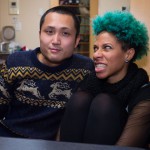 ♥ Alyse & Shota
Alyse Sugahara is from Maryland in the U.S. She works at a company translating and debugging video games, and producing manga and animation. Shota Sugahara is from Mie and is an aged care worker in Toyonaka. The couple got together in 2009 after having previously met in the U.S. in 2008 and becoming friends. They are now married and living together in Osaka.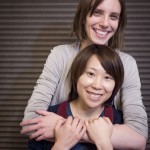 ♥ Theresa & Machi
Theresa Stieger is from Oregon in the U.S., and has lived in Japan for nine years working as a writer, editor, and teacher. Machi Sakata grew up in Japan in Ehime, and went to university in the U.S. She works for Panasonic. The couple met in Osaka around seven years ago, and got married last year in Portland. They live in a house they bought and renovated together in Kyoto.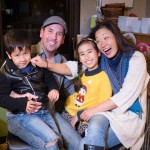 ♥ Matt & Toshie
Matt and Toshie Boucher have been married for over 20 years, and are living together with their two kids in Osaka. They run Craft Cafe Imazato – a bar for lovers of craft beer. Matt is originally from Oregon, and Toshie grew up in Osaka. The pair met when Toshie went to study abroad in the U.S.
What's the story of how you got together?
Alyse & Shota
A: I think it was in 2009, my school had a study-abroad type thing…They did this program where we could go visit some animation studios in Japan…So when we met up that time, we went out that night for drinking or something…and then at the end of the night, when it was time to say goodbye, it was like really hard! We were like, "Why is it so difficult to say goodbye?!" And we sat in the lobby of a hotel for about five hours, just sitting there… cos neither one of us knew [what the other was thinking]…So we just sat there for about five or six hours…until somebody broke down and said – "Suki" ("I like you").
S: That time – how many cigarettes did we smoke?
A: Probably one pack.
S: Hm – maybe two! … I was feeling pretty shy.
Theresa & Machi
T: Through a friend. I, at the time, couldn't speak Japanese very well. But since Machi could speak English, our friend suggested that next time they went out, I could come along, and that's how we first met.
Matt & Toshie
M: I don't think we had a first date.
T: We were friends for a couple of months.
M: Every date we went on was just as friends.
T: And then he said, "Hey, do you have a boyfriend?" Right? And then what'd I say? "Uhhhhhh – I thought you were."
M: No, you asked me, "Do you have a girlfriend?" And I said, "Yes." And you're like, "Oh really?"
T: And I said, "Oh who is it?" And you said, "She is Japanese," and then I said, "Oh, he likes Japanese," and then you said…
M: "It's you."
T: And I said, "Oooooooh!" (laughs).
What do you find unique or funny about being an international couple?
Alyse & Shota
A: Hugging. He's super awkward, he's not gotten better. I don't know why, he's all on the shoulders… His dad too, does like the one arm. It's like (laughs), why just the one arm?… Him and his dad are like side huggers. They can't do full frontal I guess.
S: Side type ne.
Theresa & Machi
T: Machi's grown up in this culture where it's common sense to, you cook this dish this way or, you know, you cut this vegetable this way. And whenever I would try and cook something, even simple like nabe or something, I would have to stop and ask, "How are you supposed to cut this vegetable because I don't want to do it wrong," and sometimes I wouldn't ask and she'd say, "Why did you cut it like that?" It's not like a fight but it's those little things.
Matt & Toshie
M: I found out recently that I yell at the kids, I get angry at the kids in Japanese … You've said why – what was it?
T: He doesn't want them to see English as a bad thing.
M: So I get angry at them in Japanese… I don't think I knew I did it until she pointed it out.
Have you had any awkward family or cultural moments? Or had any challenges living in your partner's country?
Alyse & Shota
A: When we first got married…his first complaint was that I didn't make a bento for him to take to work and his co-workers were laughing at him because he didn't get a bento from his wife… And he was like, "Why don't you make my bento and then they won't laugh at me?" And I was like, "Why do you care if they laugh at you?"
S: But then when you did make me a bento, at lunch time I pulled out – a sandwich! And I was like, "Ehhhhh?!" It was delicious, but very unexpected.
Theresa & Machi
T: In our situation, being an international same-sex couple, I think we have some specific challenges… In the future, obviously, you know, we really hope that Japanese law changes and that they can recognize our marriage. I think it'll happen.
M: In 20 or 30 years.
T: You think it's gonna take that long?
M: We have old, old, conservative politicians.
Matt & Toshie
M: Toshie's father thought I took care of her in America…thought we were best friends…that's it. Nothing more. Then I came to ask him to marry her and he was like, "WHAT THE HELL??"
He was pissed off that we were hiding the relationship."
Do you have any advice for other people in an international relationship (or thinking about starting one)?
Alyse & Shota
A: He's a weird case of Japanese guy so… I have Japanese male friends but they're still pretty conservative in a lot of the way they think. Like, they would not probably want their wives to have blue hair or huge piercings in their nose… So, go for the weirder Japanese guys (laughs) – they're more open to change I think.
S: Look out for that sandwich in your bento box!
Theresa & Machi
T: I think you need a balance. Like, it's a two-way street. So just because we're living in Japan, of course a lot of it's on me to understand Japanese culture. But we're in a relationship, we're a team, so it goes both ways.
M: It's all about communication.
Matt & Toshie
T: You know, international marriage, it can be like, "Oh because he's American, because of this we have this problem," or something like that… It's not like that. It's just human to human.
---
Watch the full video more insights, banter, and endearingly awkward moments from our three happy couples!
---