Articles
Summer on Noto
Escape the heat of the city, enjoy nature by the sea, and join locals at an action-packed festival this month on Noto Hanto.
Situated at the north end of Ishikawa prefecture, the Noto Peninsula is an attractive destination for travelers eager to veer slightly off the beaten track. Around 100 km in length and jutting out into the Japan sea, its vast scenery ranges from rough coastal terrain to beautiful, calm beaches, to large mountainous areas, to hills of terraced rice fields. The region is also home to some interesting cultural sites such as shrines and lacquerware museums. The secluded nature of the Noto Hanto is one of its main draws, making it the perfect summer retreat from the city.
ONSEN TIME
Wakura Onsen and Wajima Onsen are the main travel destinations on Noto. The former is located in Naka-Noto (middle of Noto) by Nanao Bay while the latter is near the Sosogi Coast in Oku-Noto (deep Noto). Both areas brim with scenic views and cultural highlights.
Wakura Onsen's charm is hidden in the backstreets of this seaside onsen dating back about 1,200 years. A mini pilgrimage to the Seven Lucky Gods of Fortune will take you to most of Wakura's historic spots, including Seirin Temple and Shingyo Temple, Sukuna Hikona Shrine and Benten Shrine, and Yumoto-no-hiroba Square and Togetsu Bridge. These sights are illuminated after dark inviting you to an evening stroll.
If you come with kids, or just generally enjoy Japan's cute mascots, then watch out for Wakatama-kun, Wakura's "onsen egg" mascot. He welcomes visitors at the station and pops up in many other locations around Wakura. In Yuttari Park there is a whole Wakatama family, and in nearby Tsumakoibune Hot Spring you can dip your feet into an ashi-yu (foot bath) overlooking Nanao Bay.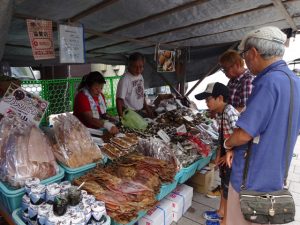 At Wajima Onsen, a visit to Asa Ichi (the morning market) is highly recommended. Honmachi Street is lined with stalls offering fresh local produce and arts and crafts. Locals shop for ingredients for cooking lunch or dinner while tourists fill their bellies with tasty snacks and refreshments, like grilled oysters or kakigori (shaved ice).
In the alleyways off Honmachi Street, well-preserved traditional wooden houses are home to workshops where Wajima-nuri, Wajima's famous lacquerware, is produced. Stopping by at the craftsmen's showrooms is a highlight of any visit to Wajima.
BY BIKE OR TRAIN
Nanao Bay is a good base for active travelers who want to include some exercise into their holiday routine. A cycling course leads from Wakura Onsen around the West Bay and across its two iconic bridges: the Noto Inland Bridge and the Noto Twin Bridge. Bring your own bike or rent one at the Wakura Onsen Tourism Office (rental time: 9am–5pm; ¥500 per bike for an adult, or ¥300 for a child).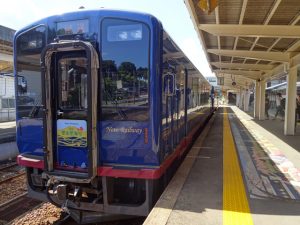 If you are not the sporty type, then a leisurely ride on the Noto Railway is a convenient option to take in the scenic views of Nanao Bay. This is not a commuter train anymore, but a sightseeing train that takes you from Nanao Station, via Wakura Onsen to Anamizu Station (3 departures per day from each station).
The best thing about this retro train with only two carriages is the on-board service and entertainment. On weekends and holidays, you can sample the "relax menu" which is either a sweets or a sake set (¥830 train fare plus ¥300 regular on-board service; ¥3,000 for the sweets set, or ¥3,500 for the sake set).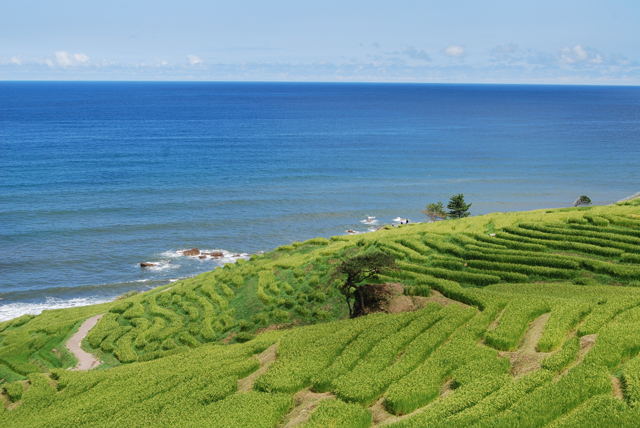 A SCENIC OCEAN DRIVE
For more scenic ocean views, make your way to the northern side of Noto where Prefecture Road 249 runs along the coast from Wajima Onsen to the Sosogi Coast. Small, sandy beaches are nestled between dramatic rock formations shaped by strong waves and ocean currents.
One of them is Madoiwa, or "window rock," featuring a two-meter-diameter hole in the middle of the rock. This is one of Noto's popular sunset spots. Further down the road you will pass by Tarumi Waterfall, a rare seaside waterfall with water that splashes upward in strong winds.
Senmaida can be found in this part of the Noto region; a hillside of terraced rice fields which overlook the Sea of Japan. There are more than 2,000 small rice fields that are worked by hand (senmaida literally means "a thousand rice fields"). Located along the main road, the rice fields are easily accessible. There is a parking lot and visitor center for cars and tour buses.
The small fields are owned by individuals from around Japan. For an annual fee, owners each take care of a small paddy, planting and harvesting the rice themselves. What unites these people is a desire to preserve this unique cultural heritage site for future generations, as well as to grow their own rice in an environmentally friendly way.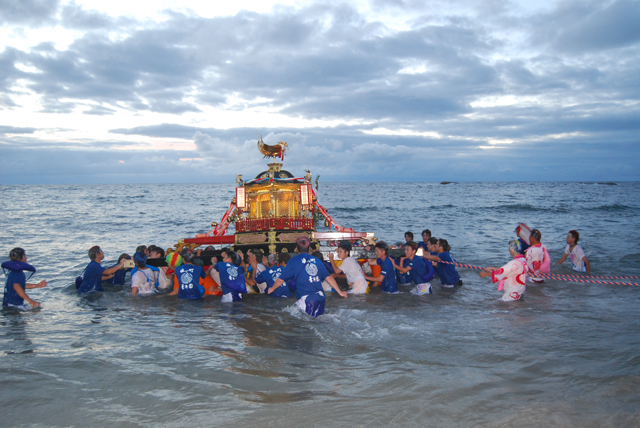 KIRIKO FESTIVALS
What nebuta is to Aomori, kiriko is to Noto. The area is famous for its 80 kiriko festivals that take place across the Noto Peninsula every summer. Kiriko are large, colorfully painted and decorated lanterns that are illuminated from the inside and carried around on carts.
Their sizes, shapes, and paintings vary, and Wajima's communities take pride in creating their unique kiriko. It is said there are no less than 800 of these lanterns.
The Wajima area celebrates for four days and nights every August. On August 22, the Okutsuhime Shrine Festival takes place, followed by the Juzou Shrine Festival on August 23. The Sumiyoshi Shrine Festival happens on August 24, and the festive season is rounded off with the Wajimazaki Shrine Festival on August 25.
The festivities are based on shrine festivals during which Wajima's citizens express thanks to the kami-sama, the Japanese Shinto Gods, for a good year and a good harvest. First, Shinto rituals take place at the four shrines involved, then mikoshi (portable shrines) accompanied by kiriko lanterns are carried through the neighborhoods. During the Okutsuhime Shrine Festival, the mikoshi are carried into the ocean!
The spectacle is accompanied by the sounds of taiko drums and Japanese flutes, mixed with shouts of encouragement for the carriers of the heavy load. Participants and guests enjoy the exciting and jolly atmosphere which changes from romantic to wild as the evening progresses. Each festival day climaxes in the burning of a 10-meter-high torch, called taimatsu.
---
GETTING THERE
The Thunderbird Limited Express connects Shin-Osaka and Kyoto with Kanazawa City (2h 30min). The onward journey is by Limited Express Train to Wakura Onsen Station (1h), your first stop on the peninsula. From Wakura Onsen an Express Bus takes you to Wajima Onsen (2h).
---