Featured
Foodspotting
With a history as long as curry, the variety of options is boundless. Check out these different takes on this multicultural cuisine.
Rodda Group
Hailing from little-known Sri Lanka, Rodda Group is a restaurant worth getting to know. It's really easy to do too! They're on Twitter and their website, constantly updating their feeds. Daily specials and holiday updates are posted frequently, so you can keep abreast of their meals and hours. On the day I went, the special was a mutton gemirasa. I sat down at the long counter that seats about 20 and when they laid the special in front of me I was astonished that the plate overflowed with four different curries and a pile of fresh cut vegetables. My palate was treated to a medley of flavors; fennel, turmeric, and coriander blended in a hot flurry as bitter melon cut through the spice and delivered a cool respite to my tongue.
Open: 11am–10pm (L.O. 9pm); Until 3pm Mon
Closed: Thurs
Price Range: Lunch ¥1,000–¥3,000; Dinner: ¥1,500–¥5,000
Access: JR Kujo Stn, 5-min walk; Nagahori Subway Line, Domemae Chiyozaki Stn, 8-min walk north
•roddagroup.com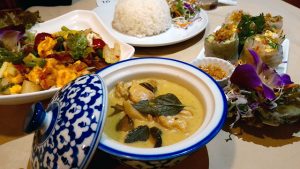 Osaka Khao Man Gai Café
The coconut milk and lemon grass infused into the Thai curry at Osaka Khao Man Gai Café brings out a rich creaminess and subtle citrus flavor that is unique to its style. Located in the neighborhood next to the Nankai Nanba Station, this cozy restaurant has with most of the seating relegated to the top floor and a small area downstairs where patrons can eat at a counter. The décor is very exotic; false vines, tapestries, and statues adorn the walls giving the restaurant a tropical feeling. While there, I ate the green curry and it was absolutely spectacular. Each flavor stood out without overpowering the others and it paired well with their fresh spring rolls.
Open: Lunch 11:30am–3pm; Dinner 5pm–11:30pm (L.O. 10pm)
Closed: Wed (except holidays)
Price Range: Lunch ¥1,000–¥2,000; Dinner: ¥2,000–¥4,000
Access: Nankai Line, Namba Stn, south exit, 10-min walk
•Search "Osaka Khao Man Gai Café" on tabelog.com or facebook.com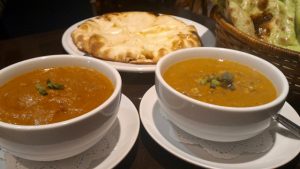 The Oasis Café
The Oasis Café is truly an oasis for anyone south of Tennoji and looking for curry. The interior of the restaurant is spacious with a room for private parties on the second floor. Pinned against the faux brick walls are Polaroid pictures featuring smiling faces and words of encouragement, making you feel like you're truly backpacking through cheerful South-East Asia. Two other stores, one in Momodani and the other in Izumi, are also up and running. Their set meals are a deal. I recommend the Everest Set to anyone looking for a filling meal. It comes with a lot of stuff including momo, a South-Asian dumpling that has a chili dipping sauce to accompany it. While there I treated myself to the lamb vindaloo and dal curry both of which made a spice lover like me sweat.
Open: Lunch 11am–3pm (L.O. 2:30pm); Dinner 5pm–11pm (L.O. 11:30pm)
Closed: Mon dinner time
Price Range: Lunch ¥1,000–¥3,000; Dinner: ¥2,000–¥5,000
Access: Nankai Koya Line, Sawanocho Stn, south exit, 10-min walk east (near Sumiyoshi ward office)
•oasiscafejapan.com