Food & Drink
Foodspotting
Tanimachi has an intriguing combo of Showa-style retro and antiquated Edo-style architecture – the perfect atmosphere to enjoy the great eats on its back streets.
Cica Art and Sweets Cafe
With the recent boom in pancake restaurants, the last thing anyone needs is another generic pancake recommendation. However, Cica Art and Sweets Cafe take their pancakes to another level. Each plate comes with a custom illustration of your choice, done in either chocolate sauce or balsamic vinegar. For a sweet option, try the caramel-nut pancakes or the French toast. If you're in the mood for savory, try the BLT or eggs benedict. For an additional ¥200, there is a drink set that can be added to any meal and for an additional ¥300, there is an upgraded drink set that includes French pressed coffee and a rich chocolate cocoa (hot or iced) topped with fresh whipped cream and nuts. My banana chocolate pancakes were covered in banana slices and whipped cream and the picture of Gudetama was a masterpiece. Their iced latte did not disappoint and was the perfect mid-afternoon pick up. Some English is available.
Open: 10am–7pm
Closed: Tuesday
Price Range: ¥1000–¥2,000
Access: Tanimachi-6-chome Subway Stn, Exit 3, 1-min walk
• cica-cafe.jp
Stand Sonoda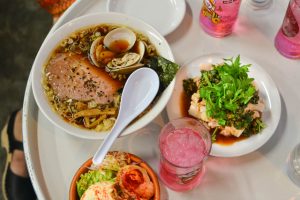 Stand Sonoda takes the Japanese concept of a standing bar and gives it a face-lift. The bright, clean exterior with counter seating around an open kitchen welcomes you in and the excellent array of izakaya fare and Sonoda originals keeps you there. Everything is good, but some of the house specialties are their chuka soba, with fettuccine-like noodles in a rich shoyu broth, and pakuchi yodare yako; soft tofu topped with steamed chicken, green onions, tons of cilantro, and doused in a flavorful sauce. Don't forget to order a glass or two of baisu in one of their retro anime glasses. Baisu is a shiso-flavored alcoholic beverage tinted a dangerous shade of pink and it packs a punch at 14%. The waitress described it as "yabai." There is no English menu and no English spoken, but don't let that deter you. Just point to anything on the menu and you'll be happy.
Open: 4pm–11pm
Closed: Sundays
Price Range: ¥1000–¥2,000
Access: Tanimachi-6-chome Subway Stn, Exit 3, 3-min walk
• tabelog.com/osaka/A2701/A270204/27091926
Kiyosuke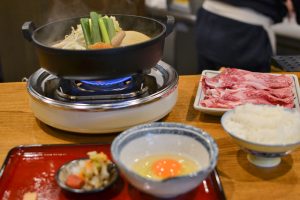 One of Osaka's best lunch deals can be found behind the white noren hanging in the doorway of Kiyosuke. While Kiyosuke has a few course offerings, what you want to order is their sukiyaki lunch for ¥1000. The lunch comes with a plate of succulent marbled beef, crisp veggies, tofu, udon, and a bowl of rice all presented beautifully in Japanese ceramics and ironware. If you haven't had sukiyaki before, don't be afraid to dip your meat and vegetables in the raw egg to give them a rich, velvety texture. The spicy pickled cabbage had a hint of yuzu flavor and was a perfect post-meal palate cleanser. No English menu is available, but not to worry – just ask for the sukiyaki lunch! Enjoy the view of the Japanese zen garden through the open window.
Open: Lunch 11:30am–2pm; Dinner 5:20pm–10pm
Closed: Tue
Price Range: Lunch ¥1000–¥3000; Dinner ¥2000–¥4000
Access: Tanimachi-6-chome Subway Stn, Exit 1, 3-min walk
• tabelog.com/osaka/A2701/A270204/27080288