Featured
Foodspotting
Looking for a bit of spice with a unique twist? Try one of these Japanese-curry hot spots.
Vasco da Gama
History recalls the famous Portuguese explorer, Vasco da Gama, who was the first European explorer to reach India by sea. However, in Takatsuki, Osaka, Vasco da Gama is a well-known curry restaurant. At first glance, you might assume that this little gem of a place is part of a restaurant chain, though you'd be mistaken. Upon entering, it is very clear that this is a unique space with a personal touch. Soft jazz hums in the background and various classical jazz albums pepper the walls. Expect a tight squeeze around the table counter which overlooks the open kitchen. The curry base has a sweet yet tangy taste, which is complimented with a mild bite, though most probably wouldn't claim it to be too spicy. The dishes here are known for being of the healthy variety, containing lots of fresh seasonal veggies.
Open: Mon–Sat 11:30am–3pm (lunch); 5pm–9pm (dinner); Sun 11:30am–3pm (lunch only) • Price Range: ¥700–¥1,200 • Access: JR Takatsuki Stn, 3-min walk • Tel: 07-2683-8558
Irish Curry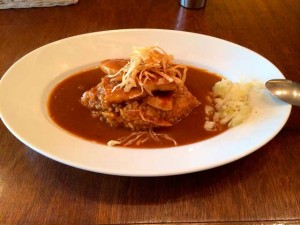 Irish Curry could very well be a regular bar. Retro Guinness posters and memorabilia of other symbolic Irish brands are scattered throughout the place, creating that classic Irish-bar feeling. Two sturdy pumps have Guinness on tap and a multitude of Irish whiskeys are available for purchase. It definitely feels more like a pub than any usual curry haunt. The real surprise with this place though, is the actual curry itself, which is made using Guinness. While it is not strange to find Guinness in some savory dishes, curry is definitely not a common one. This curry tastes very rich, sweet, and creamy. It is plenty spicy too, causing most diners to work up a bit of a sweat. As the staff will of course point out, the best remedy for this is to wash your meal down with a smooth, refreshing pint of Guinness.
Open: Lunch 11am–2:30pm; Dinner 5:30pm–10pm • Closed: Sun • Price Range: ¥800–¥1,500 • Access: Nakatsu Subway Stn, 10-min walk • facebook.com/irishcurry2008
Soma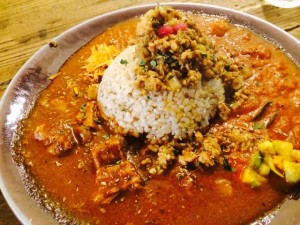 Soma is the kind of place you'd probably miss if you were just passing by on the street. Tucked away and out of sight, the small, wooden-framed storefront looks like anything but a typical curry restaurant. A scattering of plant pots and a sleeping cat on the doorstep might have you assuming it were just a regular house. The inviting aromas and line of customers at lunchtime, however, hint at something special within. It is hard to categorize the style of curry that is served here. It is not quite traditional Japanese, as it contains elements of Indian and even Middle Eastern influence. Each dish is absolutely brimming with flavor, as a combination of complex spices and herbs work their magic on your taste buds. Soma is only open for lunch, so make sure you get there early if you wish to get a seat at this fantastic spot.
Open: 12 Noon until sold out • Price Range: ¥1000–¥1,500 • Access: Nakatsu Subway Stn, 3-min walk • http://tabelog.com/en/osaka/A2701/A270101/27065233