Articles
A Night Under the Dome
On the outskirts of the city center looms Kyocera Dome, home to Kansai's other professional baseball team, the Orix Buffaloes. Baseball fan or not, an evening spent watching a game under the dome with friends or family guarantees a fun night out. KS spent an evening in the bleachers to find out why.
Kyocera Dome is an all-weather stadium with a distinctive design that resembles something akin to an alien mothership. When not staging live music concerts, it is hosting crowds of cheering Orix Buffaloes fans during the baseball season from the beginning of spring until the beginning of fall.
Just a hop and a skip away from the Dome-Mae Chiyozaki subway station on the Nagahori Tsurumiryokuchi line, the dome is conveniently located next to Aeon Mall should you wish to stock up on game-time snacks and drinks. You can freely take your own food and drink into the stadium, but you may be asked to transfer any alcoholic drinks into plastic containers.
There is a wide choice of vendors inside the dome though, offering everything from KFC and Mos Burger to yakisoba and donuts, as well as beer, soft drinks, and spirits. There is even a special ticket that comes with an all-you-can-drink beer plan although be prepared to spend most of the game queuing for refills.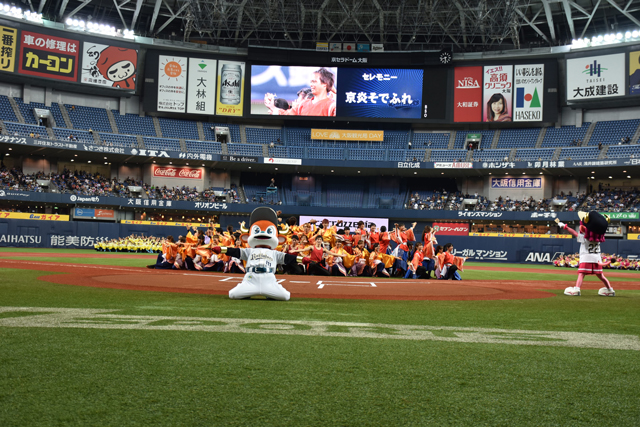 Admission to the game starts from just ¥1,800 for outfield seats or ¥2,400 for infield seats (closer to the action) with tickets easily purchased online right up to the day of the game or over the counter upon arrival. You can even sit behind one of the dugouts for ¥5,000–¥7,000.
The action begins long before the first pitch has been released with pre-game performances from marching bands, an AKB48-esque troupe of cheerleaders known as the B's Girls and the Buffaloes' cheeky bovine mascots Bull and Bell.
Fans are extremely vocal in their support; singing songs, waving flags, and banging plastic cheer bats together at every opportunity – for the entire duration of the game. There seems to be a song for everything; every innings and pivotal piece of action, and even for every member of the team! It's an amazing, relentless cheerathon (a highlight is a towel-waving dance..!) that can be hard to keep up with. But fear not, there is a handy pocket guide provided on entry explaining all the moves and various chants in case you didn't have time to swot up beforehand. (Any attempt at the dance will go down extremely well with the locals!).
Half way through the seventh inning, the stadium erupts with the piercing sound of thousands of navy-blue rocket balloons being simultaneously released into the air. Be sure to pick up a pack of four (¥300) in advance at the official store and perhaps even a gold set – released at the end if the home team wins.
While in the store, you may be tempted to pick up some other souvenirs, either as a memento of your night or to send back home as unique gifts. With everything from the standard team T-shirts, jerseys and caps to outlandish trinkets, iPhone cases and even golf balls, you will be spoiled for choice.
Experiencing a Japanese professional baseball game is a weird, wonderful, and unique experience. Although the baseball season has come to a close for 2016, season tickets are now on sale for the 2017 season, which kicks off next spring. See buffaloes.co.jp for details or to pick up some fan goods from their online store.