Food & Drink
Foodspotting
Hit up one of Ura-Namba's intimate dining spots this Valentine's Eve.
Cave Rosetta
This French bistro is full of surprises with its deliciously unique French-Italian-Japanese fusion cuisine. Think delicate soup appetizers, prosciutto, pâté, salad, and sashimi entrée plates, and hearty, slow-cooked meats for mains: Choose anything from roast duck, to melt-in-your-mouth beef cheeks, to the hard-to-find succulent lamb chops. If a lot of meat is not your thing, go for one of their gourmet pasta dishes or tasty salads. Don't forget to ask for a recommendation on a matching wine from the extensive list. Desserts are to die for with rich chocolate pudding, fluffy tiramisu, delicate crème caramel, and of course icecream frequenting the menu. The atmosphere is lovely and quaint; while there is more social counter seating facing the chefs on the ground floor, upstairs holds three tables for couples or groups to dine in an intimate setting. The music complements the tranquil atmosphere and is always at a low volume. Prices are very reasonable for the high quality. No English menus are available.
Open: 6pm–12am (L.O. 11pm)
Price Range: Approx. ¥4,000–¥5,000/person
Access: Namba Nankai Stn, 2-min walk
06-6631-8114
>> Facebook: Cave Rosetta
Italian Dining Pesca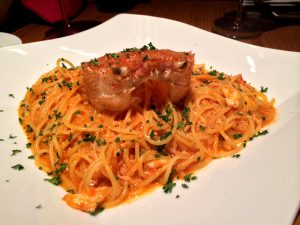 Ura-Namba – "the back of Namba" – is home to so many unique, cozy, and mellow eateries and the intimate, low-lit Italian Dining Pesca is right at home in these hidden-away backstreets.
Two-person courses are available for ¥3,800, ¥4,800, ¥5,800, or ¥7,800 if you'd really like to splash out. Expect to enjoy items like carpaccio platters, seasonal soups, a huge range of tasty pastas, and meat delicacies like Saga beef with foie gras. There is an extensive wine list to complement the dishes and coffee, tea, and dessert for after. Of course, appetizers, pizzas, pastas, meat and fish dishes can all be ordered separately outside of a course. Don't forget to enquire about what's on the specials menu – a rich and tasty crab pasta is sometimes on offer and comes fresh and complete with the shell of the crab nestled on top! Counter or table seating is available. There are no English menus.
Open: 5pm–3am daily
Price Range: Approx. ¥3,500–¥4,500/person
Access: Namba Nankai Stn, 2-min walk
>> pesca.ac/namba
Pizzeria & Bar Logic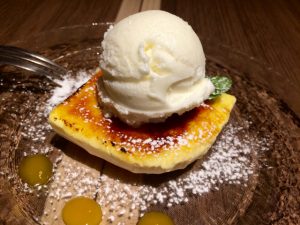 It does seem logical to eat fresh oysters and Italian cuisine on a Valentine's date, and Pizzeria & Bar Logic will gladly oblige. This stylish and comfortable space has downstairs and upstairs seating. Downstairs, counter seating is available in front of a huge glass dome containing the wood-fired oven and pizza chef! If you prefer a non-smoking environment, however, upstairs booth seating is certainly recommended. Their classic, tomatoey margherita pizza and delicious egg, pepper, and parmesan-topped carbonara are great go-to dishes. There are several delicious pizza and pasta flavors to choose from, however, as well as tasty salad and antipasto plates. They have a great selection of sparkling, white, and red wines, and a delectable, not-to-be-overlooked dessert menu. Try the melty catalana, the chocolate cake, the pistachio gelato, or all three. English menus are available.
Open: Sun–Thurs 5pm–1am (L.O. 12am); Fri & Sat 5pm–3am (L.O. 2am)
Price Range: Approx. ¥2,500–¥4,000/person
Access: Namba Nankai Stn, 2-min walk
>>logic-of.com/namba