Articles
Come Out and Cosplay!
Western Japan's biggest cosplay event takes over the streets of Nippombashi.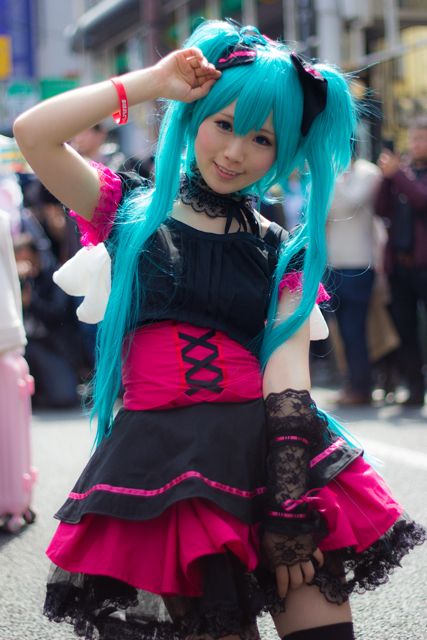 It is hard not to stare in awe at your surroundings when spring rolls around in Osaka. Budding cherry trees are beginning to blossom, larger-than-life sumo wrestlers tower over you on the train, and Pikachu and Super Mario, along with all your other favorite anime, manga, and video-game characters take over the streets to pose for pictures with their adoring fans. While this may sound like a romanticized version of Japan, this is made a reality once a year during Osaka's Nippombashi Street Festa, when the streets of Den Den Town become stranger than fiction.
Den Den Town or denki no machi (electric town) is what Nippombashi is colloquially known as. The nickname stretches back to post World War II days when consumer electronics stores sprung up around the area, which stretches from Kuromon Market to Shinseikai in the north-south direction, and occupies the area surrounding Sakaisuji street.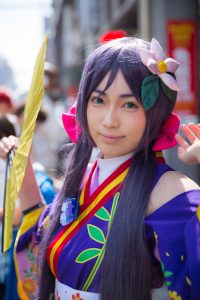 These days, Nippombashi is best known as a shopping district of over 500 stores specializing in all things otaku (nerd) — anime, manga, video games, electronics, maid cafes, themed restaurants, and more. Offering the largest selection west of Akihabara in Tokyo, many of the shops have the added bonus of being duty-free for tourists, making it the one-stop shopping spot for all your Japanese hobbyist needs.
So, what better place to host Western Japan's biggest cosplay festival, which attracts around 200,000 attendees and 10,000 cosplayers each year, than in Den Den Town, the heart of Kansai's Japanese pop culture.
Now in its thirteenth year, the festival takes place in the third week of March, rain or shine, during the long weekend for Spring Equinox. Since its inception in 2005, it has only been canceled once after the great Tohoku earthquake in 2011, which struck just a few weeks before the event. Put on by the Nippombashi Den Den Town Association, the festival was started as a way to re-energize the "electric town."
"At that time we were a lot of smaller independent stores; larger chain stores had left the area and opened up in other areas. We wanted to find a way to bring people back and highlight what makes Nippombashi unique," explained Koutaro Nakata the vice chair of the Nippombashi Street Festa.
This year promises to be bigger and better than ever. The event starts at 12pm with the opening ceremony, followed by the cosplay parade at around 12:20pm. Various performances, including J-pop idol groups, will be showcased on a designated stage throughout the festival until 3pm. New this year will be dedicated food stalls, based on Osaka street-food classics, such as takoyaki and okonomiyaki, for those who need to take a break from the action and refuel.
The festival itself wraps up at 3pm, but that does not mean the cosplay hijinks has to stop there! Club Janus in Shinsaibashi will be hosting an after party with special guest anime voice actors and idols. There will be music and drinks to party the night away from 4:30pm — costumes are encouraged!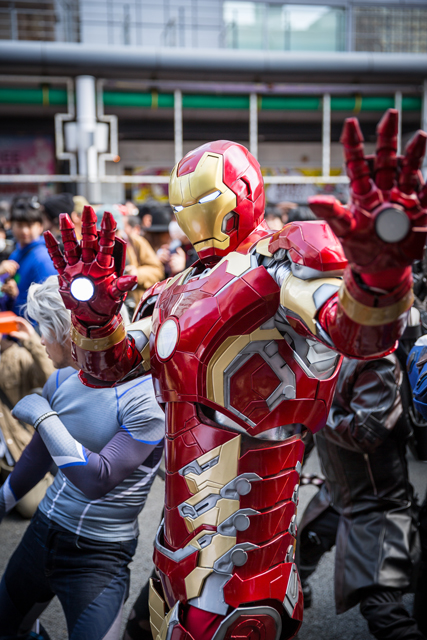 Nippombashi Street Festa
When: Sunday March 19th
Where: Nippombashi, Osaka
Time: 12pm–3pm
After Party: 4:30pm–11pm
Venue: Club Janus
Price: ¥2,000 with one drink
*Note people who have a wristband from the event get ¥500 off
Wristbands
Wristbands are available for purchase for ¥2,000 on the morning of the Nippombashi Street Festival for those needing access to a changing area and locker. See the Nippombashi Street Festival official website for more information.
>>nippombashi.jp/festa/2017
For those who do not speak Japanese and wish to buy a wristband or get more information, the 8th floor of the OPA building in Shinsaibashi has an Osaka tourist information center, OTA BASE, which specializes in Japanese pop-culture information in several different languages, including English.