Articles
In Search of Musashi
Following in the footsteps of Musashi Miyamoto—one of the most legendary samurai to have ever lived.
The era of the samurai has been over for many years. Yet the heroes, villains, and legends of this expansive and tumultuous period persevere in popular culture, and the echoes of their deeds continue to stimulate the consciousness of the Japanese and other admirers around the globe. Perhaps one of the most iconic samurai to have ever lived was Musashi Miyamoto.
This one-of-a-kind swordsman has been the subject of books, films, and TV shows. He claimed decisive victories in dozens of duels, and eventually cultivated the renowned Niten Ichi Ryu, which was an unorthodox two-sword fighting style. Although we know he was real person who lived and died about 400 years ago, the details of his exploits are riddled with conflicting accounts, exaggeration, or just plain hearsay. Many facts of his life are argued about by historians, but, thankfully, we can pinpoint several places where Musashi was present—including inside Kansai.
One of my reasons for coming to Japan was to visit these places on a kind of pilgrimage to the swordsman who captured my imagination when I read Eiji Yoshikawa's epic novel Musashi 15 years ago. My first port of call was right on the border with Kansai in Okayama Prefecture.
Musashi Miyamoto was born Bennosuke in 1584. He changed his name and took the name of his home village, Miyamoto, for his own. Miyamoto is presently called Mimasaka; a small town in the rural north of Okayama Prefecture, about two hours from Kobe. The town takes pride in their hometown hero; as you exit Miyamoto Musashi Station you are greeted with statues of Musashi as a boy, playing with his childhood friends. There is a trail that passes by several noteworthy locations, including his birthplace, a large statue of him in his youth, and Sanomo Shrine, where Musashi supposedly had a flash of inspiration that resulted in his Niten Ichi Ryu sword technique. In the distance, you can see the impressive Miyamoto Musashi Budokan, an enormous Kendo hall. Shaped like a tsuba, or sword guard, that Musashi made, this modern facility towers over every other nearby building. I also dropped by the nearby Musashi Museum, which sells Musashi paraphernalia aplenty and has a small exhibition room that contains items related to his legend.
My reason for being in this remote village was to pay my respects at Musashi Shrine. It resides in a thicket of trees, overlooking Mimasaka. Adjacent to Musashi shrine is the family burial spot. Although Musashi was laid to rest in Kyushu, parts of his remains were returned home to be buried with his family. After lingering and absorbing the atmosphere, the frosty air got the better of me. I would continue my journey in Kyoto.
Musashi was no stranger to Kyoto. It was the place to be in the early Edo period if a swordsman wished to join a school or make a name for himself. Musashi certainly did this. He arrived in Kyoto in 1604 at around the age of 20 or 21. He initiated a series of duels with the Yoshioka clan, which ultimately resulted in the destruction of the school. Of these duels, two in particular were of interest to me.
After arriving late to a duel and defeating the then-master of the Yoshioka school, the newly appointed head, Denshichirou Yoshioka, promptly challenged Musashi to claim revenge. The two are believed to have fought at Sanjuusangen-dou, also known as Rengeo-in, which is a famous Kyoto landmark that houses 1001 statues of Kannon (the goddess of mercy). The temple grounds are very airy, with a picturesque garden sitting in the shadows of the looming temple. Even if chasing tales of samurai isn't your thing, Sanjuusangen-dou is really impressive and worth a visit.
After Musashi arrived late (again) and defeated Denshichirou, the Yoshioka clan flew into a frenzy. They amassed as many as 72 warriors made up of swordsmen, archers, and musketeers and challenged Musashi yet again. This time, the battle was set for Ichijo-ji at the base of the Sagarimatsu tree in northeastern Kyoto.
Before the battle, it is said Musashi visited the nearby Hachidai Shrine with the intention of praying for help during the fight. However, he decided to depend on his own strength instead of that of the gods. This time, Musashi arrived early. He slew the new leader of the Yoshioka clan, and reportedly killed half of the opponents before retreating. This battle stripped the school of its prestige, resulting in them closing their sword school some years later and becoming silk dyeing merchants instead – in fact, they are still in business.
You can find a monument dedicated to the duel and the fourth generation of the Sagarimatsu tree just minutes away from Ichijo-ji station. Hachidai shrine is still in operation and you can see an enshrined piece of the original Sagarimatsu tree next to a statue of Musashi. You can even pick up Musashi-themed omamori (amulet). Ichijo-ji is a mostly residential area, yet it has many temples and shrines that are gorgeous in autumn and spring. Definitely check Enkoji and Shisendo Temple.
After the battle at Ichijo-ji, exploits involving Musashi pop up all over Japan. Musashi claims he fought in the Siege of Osaka Castle, although no accomplishments were recorded. He spent time in Nara, Himeji, Hyogo Prefecture and Tokyo, before eventually settling in Kyushu. Musashi lived in a cave called Reigandou for a few years while he authored The Book of Five Rings. He passed away shortly after and was buried in nearby Kumamoto.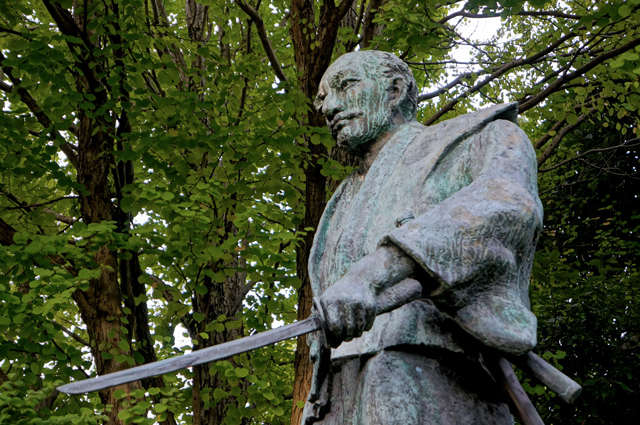 ---
Chasing Legends
There are many more Musashi legends to chase on a trip to Kyushu.
Place: Ganryujima
Why It's Famous: Musashi fought his most famous duel against Kojiro Sasaski here
Location: Shimonoseki
Place: Seishin Chokudo
Why It's Famous: A monument where Musashi used to live
Location: Kokura Castle
Place: Musashizuka Park
Why It's Famous: Musashi's final resting place
Location: Kumamoto
---