Food & Drink
Foodspotting
Okinawa is renowned for its beaches, music, and unique cuisine. Luckily, you don't have to hop on a plane to get some Ryukyuan refreshments. Kwacchii sabira!
Thianda
If you're an awamori lover, or you just want to get to know Okinawa's local liquor better, this restaurant in Kitahorie is a dream come true. With over 50 bottles, each categorized by region and flavor profile, you could spend an entire evening sampling and never stop to think about food. That would be a huge mistake, though. Thianda's menu boasts the genuine taste of "Grandma's home cooking," and offers many authentic dishes that should not be missed. The rafute, a pork rib that comes out looking like a chocolate cake, is prepared over two days in awamori, and will melt in your mouth. For something different, try the deep-fried mozuku, or seaweed, with some Ishigaki sea salt. Local artisan wares, beautiful paintings, and a large aquarium make this a great date spot. There are both smoking and no smoking sections, with a healthy gap separating the two. Reservations recommended.
• Open: 11:30am–2:30pm; 5pm–12 midnight (L.O. 11:30pm; Closed: Tue
• Price Range: ¥1,000–¥5,000
• Access: Yotsubashi Subway Stn, Exit 4, 2-min walk
• Tel: 06-6532-8883
• Tabelog: Thianda (てぃーあんだ 堀江店)
Jumaru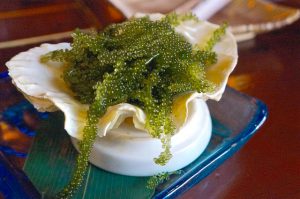 Located between Fukushima station and the Umeda Sky Building, this secluded second-floor izakaya perfectly captures the Okinawan laid-back lifestyle. A narrow staircase leads into a polished wooden-floor area adorned with shamisen, shisa (lion dogs), and awamori bottles. Guests can sit on bar stools or at traditional Japanese-style floor tables. Don't expect chairs here! If you've never had Okinawan food and want to discover something you like, Jumaru offers a large selection of Okinawan staples. The deep-fried beni-imo (purple sweet potato) and spam onigiri (rice balls) are both outstanding ways to kick things off. Seagrapes, goya chanpuru (Okinawan stir fry), and spicy souki soba are all well represented and come highly recommended. Anything you choose should be enjoyed with a draft Orion beer or awamori. Drinking seems to be highly encouraged in Jumaru, making it a good place to eat lots of small plates and share some laughs with friends or coworkers who don't mind a smoky atmosphere.
• Open: 6pm–3am (LO: 2am); Closed: Sun
• Price Range: ¥3,000–¥4,000
• Access: JR Fukushima Stn, 5-min walk
• Tel:06-6442-5189
• Tabelog: Jumaru (遊食家 じゅまる)
Haisai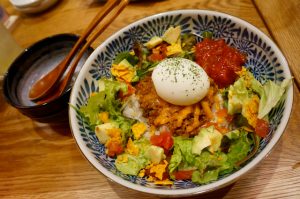 Finding smoke-free Okinawan restaurants is trickier than you might think. However, tucked away on the restaurant floor of HEP Navio, you'll find Haisai: an excellent place to get some tasty Okinawan grub without a side order of second-hand smoke. Since Haisai is a chain of restaurants found mostly in shopping malls, the atmosphere is more Fauxkinawa than Okinawa. That being said, the restaurant is bright, colorful, comfortable, and the large menu has all the classics for very reasonable prices. If you're famished, the taco rice bowl is delicious, and portions are very generous. Awamori is available, but if you're feeling adventurous, definitely try an 'Awa High.' Picture a highball, but made with awamori. For a citrusy twist, go for the the shikuwasa Awa High. As with most Okinawan restaurants, Blue Seal ice cream is available in a plethora of standard and bizarre flavors. Haisai is perfect for lunch and casual dinners.
• Open: 11:30am–3pm; 5:30pm–11pm; Sat & Sun: 11:30am–11pm
• Price Range: ¥1,000–¥2,500
• Access: Midosuji or Hankyu Umeda Stn, 3-min walk, 6F HEP Navio
• Tel: 06-6948-5017
• Gurunavi: Haisai 沖縄食堂 ハイサイ HEPナビオ店