Feature
Hordes Heave the Danjiri
With the fall season come the danjiri festivals in all their loud clanging, shrine-pulling splendor.
Danjiri festivals are some of Japan's most fun-to-watch rituals, and the most renowned of all of them happens every year in southern Osaka in the town of Kishiwada. The legendary Kishiwada Danjiri Matsuri goes all the way back to 1703 when Kishiwada's daimyo (feudal lord), Okabe Nagayasu, created a festival to pray to Shinto gods for an abundant harvest.
A danjiri is a portable shrine on wheels, and the festival became a darling with the crowds because the locals were not usually permitted to enter the castle's grounds, but for the danjiri festival, they were allowed inside to pull the portable shrines through the area. The rivalry that arose between neighborhood groups of men attempting to outdo each other in front of the powerful daimyo has been carried through the centuries and still very much exists in the danjiri festivals of today. Small armies of young men from surrounding neighborhoods heave their intricately carved danjiri at high speeds before the crowds in the narrow streets of the town in an exhibition of strength and agility.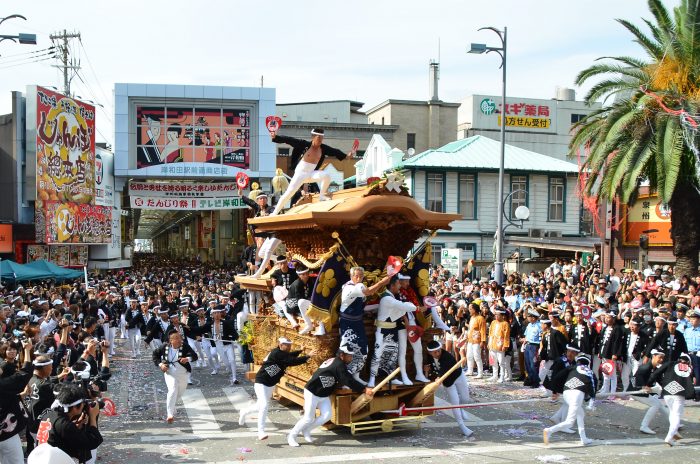 The highlight of this race-like parade is the yarimawashi, when the danjiri makes a 90-degree turn at an intersection. These intersections are extremely popular viewing spots, and crowds of onlookers applaud when a seamless turn is completed. At dusk, the danjiri are illuminated with paper lanterns making for a calm, serene atmosphere—a real contrast to the high-energy action of the day. Anyone interested in discovering more about the festival can visit the Kishiwada Danjiri Kaikan Museum located near Kishiwada Castle.
---
• Location: Kishiwada Stn & Surroundings
• Date: Sep 15 & 16
• Time: 6am–10pm on Sep 15; 9am–10pm on Sep 16
• Admission: Free
• Access: Nankai line, Kishiwada Stn or Haruki Stn
• city.kishiwada.osaka.jp/site/danjiri
---