Feature
Jidai Matsuri—Festival of The Ages
Take a tour of the ages through Japanese history at Kyoto's Jidai Matsuri parade.
The colorful, costume-filled Jidai Matsuri is one of Kyoto's three largest festivals. Held every year on October 22, it celebrates the city's long history and fascinating traditional culture. The highlight of the day is the jidai gyoretsu (historic pageant) that follows a mikoshi (portable shrine) and an assembly of 2,000 costume-clad paraders wearing clothes representing various eras of Kyoto's 1,200-year history. Participants are dressed in accurate costumes from almost every period of Japanese history, as well as of famous historical figures. The parade is sectioned by historical eras and then further separated by themes, of which there are around 20. The procession begins with characters from the Meiji Restoration in 1868, and then continues in reverse chronological order until the beginning of the Heian Period in 781.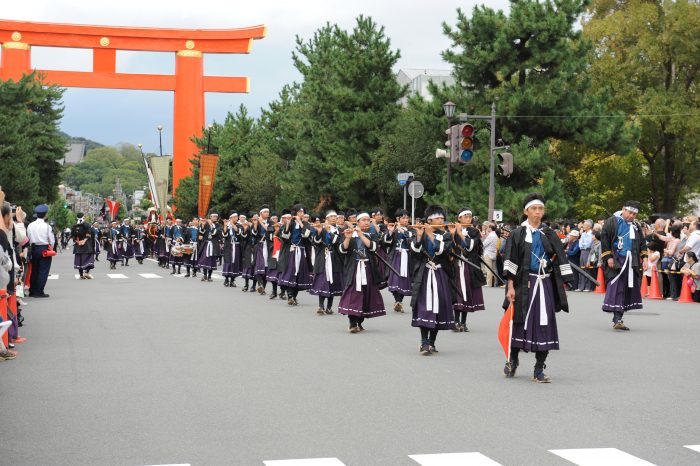 Starting at noon from Kyoto Gosho (Kyoto Imperial Palace) the parade travels for 4.6 kilometers along Oike Street and Sanjo Street, arriving finally at Heian Jingu at around 2:30 pm. There are plenty of photo opportunities for spectators as the line of parading people stretches over such a long distance that it takes more than an hour for the entire procession to pass one spot. This festival is an excellent chance to get a close look at traditional costumes and accessories of the people of Kyoto throughout the ages.
---
• Location: Heian Shrine, Kyoto
• Date: Oct 22
• Time: 12 Noon (Imperial Palace) (postponed in case of rain)
• Admission: Free
• Access: Karasuma subway line, Marutamachi Stn (Imperial Palace); Tozai subway line, Higashiyama Stn, 15-min walk
• kyokanko.or.jp/jidai/index.html
---