Business
Hi-tech hair care meets hi-tech installation art
Why global hair care brand Tokio Inkarami supports the arts.
KS caught up with Masanao Fuyuhiro, CEO of Ifing Co., Ltd. – the company behind regenerative haircare treatment brand Tokio Inkarami, at the immersive art project 'Digitized Forest' in Kyoto. We were joined by Toshiyuki Inoko, founder of the art collective behind the project – teamLab, and learned how the unlikely collaboration between the two came about.
KS: First of all, what connection is there between your globally renowned hair care range and a cutting edge art project in Kyoto?
Fuyuhiro: Well, we all have different inspirations and influences, but two that have appealed to me personally, are sports and the arts. We sponsor many international sporting competitions, including figure skating, gymnastics, and major league baseball. These sports all require a high degree of mastery, creativity, and all share a certain athletic beauty. They also have an established history, while projecting a strong vision of the future, always exploring and innovating. This is also true for the arts that we sponsor or to be specific, the work of Inoko-san and his teamLab collective. This is now our second year running to sponsor their Digitized Forest event here in Kyoto.
I was initially struck by their Borderless exhibition in Tokyo. It made me realise that in today's socially-connected world, experience is not limited to the individual. The artworks are experienced secondhand too, in some kind of shared experience, via the millions of photos uploaded to social media networks. I really feel that it is the thing now, and that TeamLab captures that nowness in its very essence. I like to think that Tokio Inkarami is also at the forefront of innovation in our own field.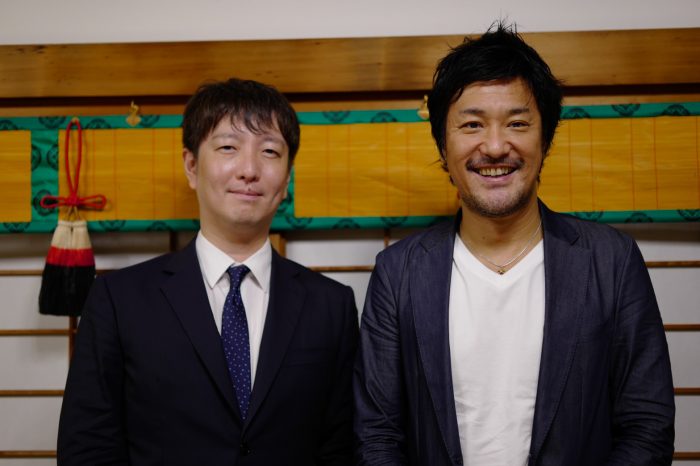 KS: Tokio Inkarami has come to be considered something akin to a miracle product in the haircare industry around the globe, with top stylists, world renowned magazines, and undercover beauty reviewers all raving about it. Can you tell us a bit about the brand?
Fuyuhiro: If I had to describe it in short, I would say that it is the world's finest hair treatment – combining the best of Japanese technical prowess and beauty knowhow. When I started this brand in 2003, I already had a team of researchers working on the product but it took us nearly 10 years of research to perfect what is now a patented technology.
In just 2 years it became the top selling product amongst salons in Japan and now is found in many of the top salons across the globe, including the salon at the Ritz Hotel in Paris, Hotel Crillon, Four Seasons Moscow, just to name a few.
KS: What do you think has made your product so successful?
Fuyuhiro: Well, I must humbly say that success is yet to come… but what I believe is at the core of what has been achieved so far, is having had the privilege of hearing the opinions of top stylists across Japan, to know what they were really seeking. So we were able to create a product that fulfilled a real need, and market it effectively. We didn't have a large sales team, but relied instead on visiting top salons directly and focused on bringing this product to a very targeted audience. I think this was key in becoming a top domestic brand in such a short time.
In terms of the international market, though we always had a vision to bring our brand to a global audience (hence the name 'Tokio' as in Tokyo), originally I thought that we would mostly appeal to the Asian market. We began in Korea, but actually next was Paris! With such a tradition of beauty and fashion I didn't think that our products would be relevant to the French market. But to my surprise, we found there was actually an opportunity for Asian beauty products in the country. We developed our treatment for Japanese hair, and the stresses of the Japananese climate, but the product also worked wonders on westerners hair as well. To the extent that it has been dubbed something of a revolution.
KS: You mentioned you chose the name 'Tokio' as internationally it represented something Japanese.
Fuyuhiro: Indeed. When I was thinking about names, we already had the vision of making it a globally renowned brand, and I had a choice of two names in mind. One was Tokio and the other Kyoto – where it all started, and where I grew up. Internationally Tokyo and Kyoto are the most well known Japanese cities, but I eventually I chose Tokio since as I was growing up, I considered Kyoto to be a bit too conservative. Now I realise that Kyoto is a guardian of traditions, and that what Kyoto has preserved, appeals to the world.
KS: Inoko-san. Your amazingly immersive teamLab Borderless experience in Odaiba has attracted record breaking audiences. Could you tell us a bit about it?
Inoko: Actually, we have just been named the world's most popular single-artist destination, surpassing the Van Gogh museum and the Dali Museum that have long held the top spots. We had over 2 million people visit in the last year since we opened!
The whole museum is literally without borders, playing an essential role in connecting the sixty something works that are housed there. It's an immersive space where people are able to wander freely. We seem to have created a world in which so many borders exist, but actually it is an invented concept in our brains. It may be that we humans cannot comprehend the world in its continuity, wholeness – a possible limitation of our brains. I wanted people to experience a space that transcends borders.
Fuyuhiro: This borderless concept is also a theme of the Digitized Forest project too, but in a slightly different way.
Inoko: Yes, just as people tend to not be able to relate to the continuum of space, but the same is true for time. We can only relate to the time that we have lived, with the rest being something we learn or read about. We can comprehend 100 years intellectually, but our bodies struggle to comprehend without direct experience. This is why I chose to bring our work to the UNESCO World Heritage Shimogamo shrine, a place steeped in history and one of the oldest shrines in Japan, its landscape shaped over centuries. Many of the trees are over 600 years old! I wanted to create a place that allows us to go beyond the borders of the moment and become part of that moment in continuum, where the feelings and impressions we hold merge into the space itself. Kyoto is lucky to have many places where such experience is possible and we are appreciative of sponsors like Tokio Inkarami that make it possible for us to hold such events.
More info
Digitized Forest runs until Sep 02 at Shimogamo Shrine in Kyoto, but teamLab's Borderless exhibition can be enjoyed year round.
Mori Building Digital Art Museum: Epson teamLab Borderless
Access: Aomi Station, Odaiba, Tokyo • Open: Weekdays 10am–7pm; Sat, Sun & Hol 10am–9pm • Tickets: https://borderless.teamlab.art