Business
Ecotourism in Japan with Kiku Ezaki
When Kiku Ezaki returned to her native Toba to take over as the fifth-generation owner of her family's ryokan, she would go on to pioneer an ecotourism initiative that has been hailed as a model for the revitalization of depopulating areas all over Japan.
She serves as chair on the Ecotourism Promotion
Committees for Toba and Ise, and as a committee member
on the Japanese government's project to promote national parks among overseas visitors.
Could you tell us a little about the Ise Shima and Toba area?
Ise Shima National Park covers the forests that surround Ise Grand Shrine all the way to the coast where the ama, women who practice free-dive fishing, have been living and working for some 3,000 years. The area has a long history of hosting pilgrims on their way to Ise Shrine, which is still the case today. Several shell middens have been discovered in the area that attest to this. They were built before the Iron Age, and the tools found in these mounds were made from deer antlers.
Did Toba see many of the pilgrims bound for Ise in premodern times?
Not really, as Toba is a little far from Ise if you are on foot. Toba was considered the entry point into Ise Bay and so came into its own as a port town, especially during the Edo period (1600-1868) when freight shipping was at its height. Whether from East or West, vessels would anchor here overnight before setting off to their next destination. It's thought this is where Toba gets its name: though written differently, it sounds a little like the word for a "stop" or "bay to rest." With the West Japan Railway, Toba is more often seen as a destination to pair with a trip to Ise these days.
With such a long history of fishing, there must be many people in the industry here today, right?
I wouldn't be able to tell you the exact number but many people still are. Of course the industry has modernized but awareness surrounding the fragile nature of resources is high; indeed it's a primary consideration here.
Are traditional fishing methods still prevalent?
Yes. For example, on Toshijima Island, where fishing is most active in the Toba area, they use 35 different fishing methods, but it's really about resource management. This is in order to diversify their catch to avoid depleting the supply of any one species of fish. You will hear people pondering whether to use a gill net to trap some Ise lobster, or use pole and line instead.
Have there been attempts to codify this approach to resource management?
Yes, there has at the prefecture level. But we have established practices already; for example, the ama divers have observed a rule not to harvest clams or shellfish that are too early in their lifecycle since time immemorial. The fisherman community decided to switch to seaweed farming—something common among oyster farmers since they have a number of months where they have no work that needs doing—for several years to give the necessary time for fish stocks to recover. These decisions are not necessarily straightforward: sometimes the market is just not strong enough or, in the case of an attempt to harvest akamoku seaweed, this posed a dilemma because the beds also serve as habitat for young fry.
My point is these initiatives started with the fishing community and have worked their way up to government, and not the other way around, which I find fascinating. And I think that's how it should be. Government increasingly makes decisions regarding natural resources and industry without attempting to understand the situation on the ground, which is very dangerous.
How did your business come about?
By 2010, there was a shift in consciousness, because no one until then had thought to draw on the fishing industry as a tourism resource. As time went along, I understood that we were not running tours for tourism's sake but incorporating tourism into our way of life and in a way that serves the region.
From this point we became much more hands-on within the community. For example, we decided to designate Tuesdays and Saturdays holidays—though some people have trouble observing them, especially now that we are building a second ice facility and it is the height of the whitebait season—since there are many families here in which both husband and wife fish and spend less time with their children as a result. There were also children who were unable to participate in club activities who now can.
We also have a scheme to encourage young migrants to the area and slow the rate of depopulation, by improving working conditions, finding new ways to expand the market, and providing the services for budding fishermen and women to make a living. I think this process starts with the families here asking their kids to come back from the cities. Once they prove what a comfortable life can be made here, then others should follow, but it is difficult.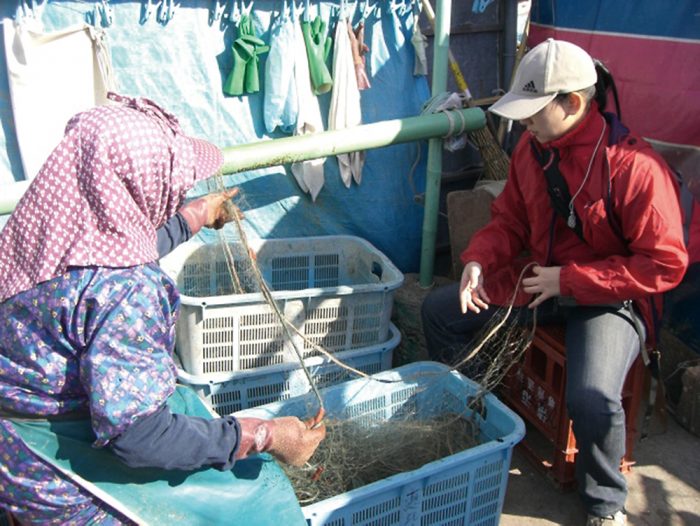 Are you hopeful that they will return?
Sometimes the families just need to be reminded! The children of Toba have a special bond with the community in which they grew up. We have a long-standing custom designated an intangible heritage, called "neyako," whereby boys—usually the eldest in the family—after graduating from middle school will spend the evenings and stay overnight at another household that has been given a guardianship role. They will continue to attend with up to around 10 other boys until it is time to become independent or get married. These boys develop a deep friendship, learn to fish and play an important role in local festivals. One theory as to its origin is that in the past fishing required a group of people to row a boat out to sea and be able to use the same fishing methods, so the neyako system made coordination much easier.
That all being said, it's established practice that the eldest son will start fishing at high school age and be the one to take over the family boat, while the second or third sons will finish high school and end up leaving. Of course, sometimes the eldest son decides they have had enough of fishing, and the second son decides they are fed up of city life, and there is a role swap!
Going back to your business, Kaito Yumin Club, how did you get started?
My initial concept was based around the Toba of my childhood, as a place where you can enjoy simple pleasures: being by the sea and fishing just about anywhere. But I remember taking a group of schoolchildren to my old fishing spots on one of my first tours, and was horrified to find we couldn't catch a thing. I asked a pleasure boat operator to take me around and find more reliable fishing spots as a priority. Then it hit me that I ought to use fishing experiences as a way to deepen these children's understanding of our environment and the problems we face instead. At that point the business pivoted towards ecotourism.
I was also aware that the natural environments of uninhabited islands that do not fall under the National Park designation stood to be degraded, and so I started sustainable tours of these islands, cooperating with locals in their conservation.
The four pillars of ecotourism are conservation, education, tourism and regional revitalization, but for me, it is also about people—since they coexist with nature—and where they live too. I pointed this out to those who told me the foodie walks through town that I run are "not really ecotourism," and they began to understand.
We are not a charity but what we do directly impacts the community and the environment in a positive way. As a result, the "Toba Model" is being increasingly recognized as a way forward for other communities around Japan and overseas to revitalize their areas. And because the relationship with nature is so strong in Japan, I feel this approach will be easier to implement.
Do you accommodate foreigners on your tours?
Of course, though it's a good idea to bring your own amenities and active gear, as there are few places to purchase around here. We offer one-day and half-day experiences.
And what do you recommend as an activity here this autumn?
The fish are delicious and the breeze for sea kayaking is wonderful, but I also highly recommend a trip to Toshijima at this time of year. The theme of our tour is "In search of the ama divers": After strolling through town and checking out the market, we head to the harbor where the ama-san's huts are, and we may be able to catch someone on their way out to sea—that is, if they are not hanging out in the cafeteria!
Kaito Yumin Club
1-4-53 Toba, Toba, Mie
Tel: 0599-28-0001
www.oz-group.jp/kaitoyumin/