Feature
Get up to speed with keirin
With the London Olympics done and gone, keirin – Japanese bike racing – may be just the thing to ease one's withdrawal from the athletic competition. A day at the races also beats your standard tourist activities in Kansai. Hang out with locals, cheer some cyclists and place your bets on the winning wheels.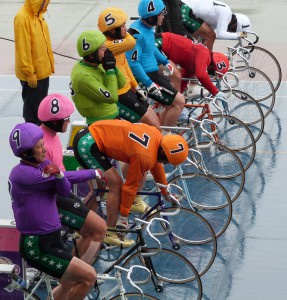 The race ends in a wild flash of spokes, frames and thin rubber tires. A slow-motion replay reveals racers in brightly colored jerseys inching, inching their wheels toward the finish line. A pause. The top three winners are announced, and the air rings with cheers for whomever's just won (non-gamblers, these), and curses at whomever's just lost (gamblers, these). Welcome to the world of Japanese bike racing, better known as keirin.
Kyushu's Kokura city government created keirin in 1948 to boost post-war reconstruction. Keirin quickly grew in popularity and transformed from a regional diversion to an Olympic event in a matter of decades. The rules are simple: nine riders race around a banked, oval track; the fastest three take bragging rights, cash and a chance to move up within keirin's lettered ranks. Of the roughly 3,600 cyclists active in Japan, just nine are in the top-rated SS-class, where a victory can net a cool ¥100 million in prize money. Cyclists are constantly competing to reach SS class.
"Keirin athletes are very, very hardworking. We have some athletes, like Yoshio Ikari from Shiga, who compete well into their 60s," says Nihon Jitensha Kyogikai (Japan Bike Race Association) assistant general manager Seika Marunaka. "Just as in the sumo world, however, pride makes people retire after they go down in rank. Still, many cyclists will continue competing, simply because they love what they do."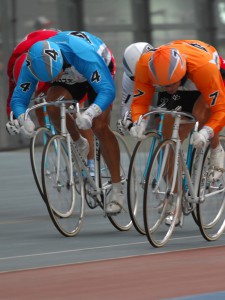 The career of a keirin athlete begins with induction into the official keirin school in Shizuoka, where a hellish training program awaits. The school is open to aspiring cyclists of any age, sex or nationality. According to one report, as long as you can race a kilometer in 1:10 and have no yakuza connections in your family, you stand a chance. And then comes the hard part: buying your own bike, handling your own repairs, spending days and nights traveling and competing, rain or shine, in any of Japan's 44 velodromes, and risking life and limb (speeding 60 km on a bike with no brakes!) for pride and glory.
Only a lucky few will earn the immortality achieved by local racers like Kiyofumi Nagai, a champion who became the first Japanese keirin cyclist to win an Olympic medal (in 2008, at the Beijing Games). Despite this, most athletes seem content to travel from place to place, scratching out a living doing fairly dangerous work for the cheers of the local crowd. Prior to a visit to the ready room, where 50-year-old athletes warm up with cyclists half their age, and well-muscled men teeter on single-slat geta sandals ("Helps you balance," one athlete says), Marunaka explains that this is actually part of the appeal.
"Keirin is a very emotional sport," he says. "The racers come from every part of Japan. They depend on no one but themselves, and their abilities. They can win; but even so, no one wins forever. People age, have bad races, drop in rank; regardless, they still do their best. That's what the people cheer them for."
[box type="info"]For more information about keirin, including how to place bets at a race, visit http://bg.keirin.jp/en/abcs[/box]