Featured
The art and craft of bicycle frame building
Shigeru Nakagawa has been hand-building bicycle frames from his small workshop in Neyagawa for 30 years. A master craftsman, his bikes are sought after the world over. KS was lucky enough to be granted an interview.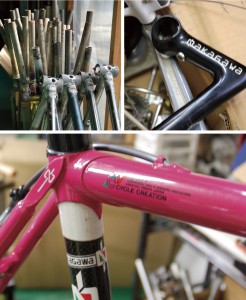 I chose to cycle from Osaka to Neyagawa rather than take public transport. I figure I'll make a better impression if I turn up in my cycling gear and not business attire. Besides, I want to show him my bike and hopefully use it as an ice-breaker.
I'm a little nervous. Will he be offended that I have come alone and not together with a crew of photographers and reporters? I arrive a little earlier than scheduled. A well-worn handwritten note on the door to his workshop says he is "out to lunch, back soon". I wipe the sweat from my brow and remove the omiyage I had brought with me from my backpack. Not knowing his likes or dislikes, I took the advice of my wife and got him some Japanese sweets. The safe option, she assures me. The carefully wrapped set of daifuku emerges unscathed.
Nakagawa returns from his lunch astride a battered old mountain bike (not a Nakagawa model I note). He wears easy fitting jeans and a navy blue Tour of Japan polo shirt. Not exactly the greasy overalls and welding glasses I had been imagining. He breaks into an easy smile and I am instantly at ease. He unlocks the door and ushers me inside, without so much as a glance at my Italian hand-made Casati bike leaning against the wall.
A comforting workshop smell hits me as I enter. It's the smell of 30 years of blood, sweat and tears. Nakagawa has forged, hammered, welded, polished and filed some 5,000 frames in this workshop, all by hand, and give or take a few apprentices over the years, all by himself.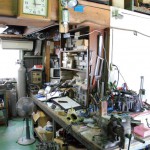 We sit in a small corner of his workshop that has been assigned as his office. There is no door, just a table and a jumble of books, paperwork and memorabilia. I offer my gift as humbly as possible and he gleefully accepts, revealing he has a sweet tooth. Relieved, we chat a little about the Olympics and the current strength of British cycling as he prepares coffee for us. The subject turns to frame building and he begins to talk about his craft. He speaks of it much as an artist would, with intense passion and pride. His enthusiasm and confidence just as steadfast today as when he set up Nakagawa Cycle Works back in 1983.
Nakagawa began his love affair with bicycles as a rider for the Zunow racing team, competing on the track, road, or even at cyclocross races. He broke his leg badly in a traffic accident at the age of 20 however, putting an end to his pro racing ambitions. If he couldn't ride them, he decided, he would build them.
"I knew I wanted to create my own frame brand from the age of 20," he says. "But it took until the age of 35 before I had acquired the skills and readiness to do so. Just because you like bikes, doesn't mean you can build one or that the quality will be any good. To make bikes, you have to study steel and that is exactly what I did.
"I used to ride all the time as a young man, but always the cool, Italian bikes — Colnago, Cinelli, De Rosa, those types of frames. Their quality and style was simply unlike anything being manufactured here in Japan at the time. Their use of color in particular was in stark contrast to the more conservative hues favoured by Japanese builders. Each manufacturer having its own brand color. I knew that I wanted a strong visual identity for my own frames too and developed my original Nakagawa pink and green.
"Right from the beginning I wanted to make a brand that could stand the test of time. A timeless design, logo and color scheme that wouldn't constantly need updating to match every fashion fad."
He roots around in the shelves and pulls out a vivid pink Nakagawa cycling jersey, banded with green and black. For Nakagawa, the building of a brand is just as important as the quality of the frames themselves. All his frames bear the Nakagawa mark, a logo that combines the kanji for naka with the letter N.
All Nakagawa frames are custom-made. You have to visit him to get measured up and be quizzed on how you want to ride. He is adamant about that.
"I don't accept orders over the phone or by fax, unless it's for an existing customer of course. For new customers, I ask them to come here. I can't create a bike for you unless I know your riding style or what you want from the bike. How do you want it to feel? Is it for speed, for touring, for cyclo cross, track racing … the job of a frame builder is to forge a rider's feelings and hopes for his bike into reality."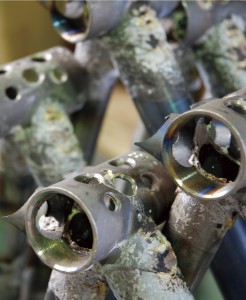 A typical frame can take a year to complete. It starts life with imported steel tubing from Europe or, if requested, a hybrid of both traditional steel and modern carbon fibre. The tubes are cut to size and threaded into original lugs to form the basic shape. There is no blueprint for this critical first stage, only a large, flat-bed that serves as a guideline while he forms the shape. Every stage is completed with hand tools, an unforgiving eye for detail and a craftsman's sixth sense.
Although Nakagawa builds each and every one of his frames from start to finish, the final spraying and decal application are outsourced to a local finisher. Not having absolute control over the final painting process is a bitter pill to swallow, but for this one-man-operation it's the only practical solution.
"To do the paint work too, you need the proper equipment and set-up," he explains. "Of course I could invest in the gear myself and set-up a spray booth, install the necessary drainage systems etc, but it's a question of how far you want to go.
"There are sometimes minor imperfections in the paint job or sticker application that the average person wouldn't notice or care about. To me they are unacceptable, but that's life I suppose. After 30 years in the business I am still striving for perfection."
Nakagawa was once the salaried mechanic for the Japanese national road-cycling team, travelling with them all over Asia. His proximity to professional riders lead him to form his own racing team, largely as an act of self-promotion. By sticking pro riders on his bikes he sought to prove their worth as racing machines and a viable alternative to mass-produced frames.
Team Nakagawa enjoyed considerable success on the domestic circuit, to which a shelf of trophies attests. But he says the competition now is too fierce for part-time riders and so when not building frames, he concentrates instead on the more gentle activities of his cycling club.
"There is no point just building bikes", he says. "You need to show people where to ride them too." His cycling club is some 70 members strong and meets frequently for communal rides and occasionally to compete in amateur races, with members coming from far and wide to participate.
"We were competing in a cyclo cross event down in Shingu, Mie," he says. "There were a bunch of American riders from Santa Cruz. They were taking part in a sister city exchange, and they were gathered around one of my bikes. One rider, Brian, was impressed by the build quality and the fact that a hand-built frame could compete on the racing scene. I wasn't very impressed by their American hand-built frames to be honest though. I knew mine were better."
That rider was Brian Vernor, a California based filmmaker who came to Japan several years later to film part of a documentary entitled The Cyclo Cross Meeting. The film offers a fascinating peek at the rise of the cyclo cross scene both in the States and Japan and features Nakagawa talking candidly about his craft.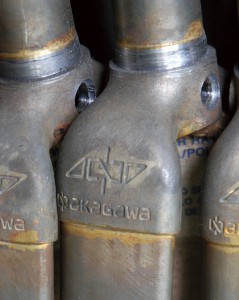 "At first I didn't remember who he was" he laughs. "He said he'd met me before and wanted to interview me. It wasn't until he talked about the Shingu ride that it came back to me. The documentary was something to do with Rapha and the cameraman and whole crew were really professional. It's really artfully shot".
We go outside and he humours me by casting a discerning eye over my bike. Even though he has a soft spot for Italian frames, the flashy ornate lugs and unnecessary frills of my Casati go against his own frame building ethos and he is unimpressed.
"There is a lot of wastage. A lot of show. The way the dropouts seem to be just tacked on as an afterthought, for example. I strive for simplicity and clean lines in my frames. There is beauty in simplicity. Ultimately, I want to make quintessentially Japanese bicycles".
One wonders what the future holds for the Nakagawa brand. Neither of Nakagawa's two daughters show the slightest interest in bicycles, let alone the idea of building frames. One thing's for sure, though: He'll continue building bicycles for as long as his hands and mind allow.