Featured
Garb Weeks
Fresh food, riverside terrace, top-end chef and bottom-end prices: Garb Weeks has all the elements of a great summer eatery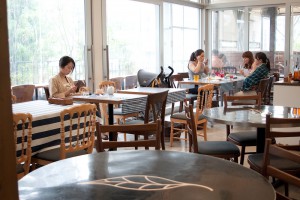 At the western end of Nakanoshima Park, where the Naniwabashi crosses the eastern tip of the island, is a place you should know about. If you're visiting The National Museum of Art, the Science museum, Nakanoshima Rose Garden, Osaka Public Event Hall, or the Museum of Oriental Ceramics, elegant refreshment, at prices that won't spoil your mood, is just a few footsteps away at Garb Weeks. Even if you're not in tourist mode, the innovative menu and the ambiance of this riverside restaurant make it worth a visit.
The word "weeks" in the restaurant's name informs the architecture. The name of each day in the Japanese calendar has inspired a feature of the decor. During daylight hours, sunlight floods the open air garden, the river-view terrace, and the roomy interior. At night, a skylight lets moonbeams into the dining room. Those account for Sunday and Monday. The rest are named for the five elements. Fire is in the wood-fueled oven. Water plays in the silver-petaled fountain in the far corner of the garden. Wood is the olive tree that shades outside diners, and her cousins along the edge of the terrace, shielding it from the morning sun. Golden bird outlines float above the guests who sit inside, with promises of good luck. Earth supports the plants that surround the restaurant and its tone continues on the floorboards of the interior.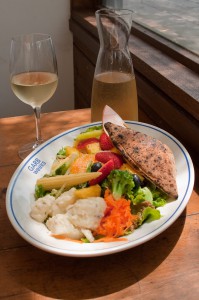 Garb Weeks opened in 2010. For the first couple of years, manager Akira Takagami would arrive early and relax on the terrace with a cup of coffee. "It felt so good, that I knew I had to share it," he says. So he recently began opening for breakfast. Between 7:30 and 11 am you can choose one of several "morning service" sets – perhaps French toast, egg, acai bowl or a hot dog, with unlimited coffee, herb tea and fruit juices for ¥500-¥650.
Most of Garb Weeks' ingredients come straight from the farm. Planning the menus, Takagami says, is a team effort. He works with the service staff and the chef, who spent eight years in a three Michelin starred restaurant in Milan then five years in his own establishment in Osaka.
It is, in essence, an Italian place. There are always intriguing variations on pizza and pasta, and creative sauces and cooking techniques together with an expertly minimalist treatment of vegetables transform fish, roasts, salads and even hamburg steaks into culinary adventures, most of which comfortably hug the ¥1,000 mark.
[box]
Garb Weeks
Where:  1-1-29 Nakanoshima Koennai, Nakanoshima, Kita-ku, Osaka
Tel: 06-6226-0181
Hours: 7:30am – 10:30pm daily
Url: www.garbweeks.com
[/box]