Film
Tasty selection lined up for movie festival
Film fans hungry for some new international entertainment don't have to wait much longer, thankfully. What's on the menu for this year's OEFF?
Despite some funding problems this year, the annual Osaka European Film Festival (OEFF) is back for its 19th edition throughout November. Luckily, finding outstanding movies, which will bring spectators through a gamut of emotions, has been much easier than procuring sponsorship. The festival is separated in different sections, with most events held at the Elsereine Hotel Umeda. Here's an appetizer of what to expect.
On the topic of food, moviegoers can expect some refreshment during the festival. All morning presentations will come with complimentary cake and drinks 'Morning Chaud', while free drinks (including alcohol) will be served before the evening movies, 'Apéritif '. Following on the theme, the OEFF puts forward the Slow Food movement with the documentary Terra Madre. The November 24th representation will be followed by a symposium on the subject, with panelists from Europe and Japan. The Japan premiere of Willy Rojas' playful food photography exhibition at the E-ma building (Nov 3rd to 24th, free admission) wraps up the section on food.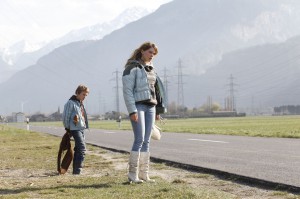 The main dish of the OEFF is the Japanese Premiere Screenings, all of which have English and Japanese subtitles (some movies in other sections only have Japanese subtitles). Ten recent films are going to be shown for the first time here, and some might not get distributed later on. This is especially true for The Final Cut (György Pálfi, one of the guests attending), a movie that has no chance of distribution due to copyrights issues, since it is a collage of 450 movies from around the world. If you have to see only one movie during the festival, this might be the one, although know that you'd miss out on other fantastic films.
A retrospective of Honorary Chairperson Bruno Ganz, an angel in Wings of Desire, Hitler in Downfall, will feature nine of his films. Here is your chance to enjoy some of his timeless classics on the big screen. Following the Olympics, the London Fairway section presents six movies shot by foreigners in the English capital: a gaijin view of the mythic city!
In addition, don't miss tie-in fairs at bookstore Junkudo and the Hankyu department store, the food market on weekends at E-ma, the young cinema Symposium, and The Night of The Adeater (Jan 5th). To entertain the little ones, head down to the Kids Plaza Hall (Nov 17th-18th) to watch animated movies by Italian youngsters or to the Elsereine for the Japan premiere of Monster In Paris. There's also a daycare service with cinema workshops at the hotel for children aged five and up.
[box]
Osaka European Film Festival
Nov 23-26
Most shows are at the Elsereine Hotel, Umeda. Venues and admission prices vary, please check the event website for further details.
www.oeff.jp
[/box]