Featured
Canada's wild west
Cougars, wolves and killer waves are just some of the reasons to visit Canada's surfing capital.
It didn't seem so long ago that I would lie under my aircon, begging for a nanosecond of relief from the suffocating heat. Now in the mornings, I can see breath escaping my body – the last surrender of heat swallowed by freezing air.
As winter tightens its grip, I'll fondly remember my summer in Canada's surfing capital – Tofino, and its small town neighbour, Ucluelet. There were days I would forget about ice-cold ocean water, as the warm air and gorgeous ancient cedar rainforest engulfed all my senses.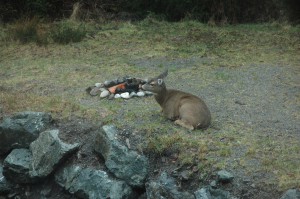 The west coast of Vancouver Island, which is a two-hour ferry ride from Vancouver, BC, boasts some of the richest natural parks, bays, beaches and one of the few UNESCO Biosphere Reserves in the country. The small towns of Tofino and Ucluelet, which together comprise only several thousand citizens scattered over the west coast of Vancouver Island, are in some of the most isolated parts of what I like to call Canada's wild west. Not only is this region home to wolves, bears, deer and a diverse array of marine life (including orcas and the 20,000 grey whales that migrate through the waters in February), there are also five First Nation indigenous bands under the banner of the Nuu-chah-nulth.
Catching the ferry from Vancouver to Vancouver Island lands you in Nanaimo – a port town that connects to an uninspiring highway lined with splotches of suburbs, large shopping malls, car lots and dead grass. As you stay on the highway, following the plethora of signs guiding you further west, modern civilization becomes increasingly scarce. Roads become thinner, car lots are replaced by some of the oldest and tallest trees in North America, and big box stores change to family-owned shops. There are homemade candy stores, a farmers' market, locals selling salmon caught from the nearby river, and pit stops bursting with all the locally grown vegetables, fruit, cheese, bread and meat you can fit in your car.
After filling up, the final leg of the trip begins. Port Alberni, about an hour and a half drive from Nanaimo, is the last stop in civilization before arriving in the true wild west. After Port Alberni, narrow roads wind around rocky mountains and cliffs that often cut down 30 metres into the beautiful but infamous Kennedy Lake. Campers around those parts know all too well why you shouldn't leave out unprotected garbage or sleep with both eyes closed. To put it bluntly, there are big bears in them hills.
After a two-hour drive from Port Alberni (one hour and 15 minutes, if you've lived there long enough), a fork in the road presents itself in what seems like the middle of nowhere. To the right, a 30-minute drive on a winding and weather-beaten road takes you to Tofino and some of the hottest surfing spots in Canada. To the left is another 15-minute drive to the lovely, quaint town of Ucluelet. Although both are tourist spots, they each stand out for different reasons.
The road to Tofino boasts luxurious accommodation for those wanting to experience the west coast in style. The Wickaninnish Resort, named after a local chief from the late 1700s (although in First Nations' culture, it is considered disrespectful to name anything after an important figure), provides direct access to popular Chesterman Beach and each room has a panoramic view of the ocean.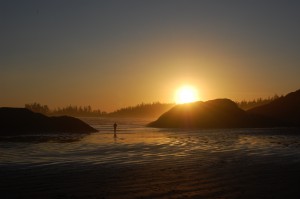 More active types may prefer the Clayoquot-Orca Resort Lodge & Wilderness Bird Sanctuary on the doorstep of a protected wetland area, or the walletfriendly Tofino Dolphin Motel only five minutes walk from Chesterman Beach. Tofino has lots to offer those seeking immersion in the outdoors, such as kayaking among the uninhabited small islands that speckle the water off its coast. In these whale-populated waters, you just might see wolves swimming between islands in search of deer. Wolves aren't the only ones dining nicely here; you can join locals snacking on steaming hot cinnamon buns straight out of the oven from the Common Loaf Bakery.
Tofino is also known for its surfing and it's a common sight to see wetsuit-clad folks run across the road with surfboard in hand. It has hosted international surf competitions, seen world-renowned Australian Josh Kerr take home the big title at the O'Neill Cold Water Classic Canada, and continues to bring top female surfers from across the globe to its Queen of the Peak competition every year. With swells reaching 4.5 metres in winter, no corals to fear if you take a fall, and a gorgeous view of sun-kissed beaches, there's no mystery as to why the small town has a big surf passion.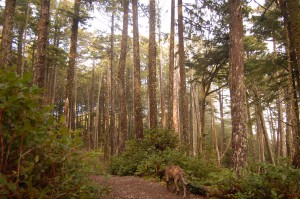 While Tofino is defined by its inlets and surfing, Ucluelet is known for its community, fishing and Wild Pacific Trail. The 14-kilometer shoreline walk has stunning views of the waves and forest for which the area is famous. It's one of the best spots to shelter when the area is hit with rain and gusting winds, which over time have sculpted the trees into unique, sideways-reaching formations. While walking on the mulch trail, remember to keep your eyes peeled for cougars or the nests of eagles perched at the top of the highest trees. And as you look out at waves crashing against rocks in the ocean, you'll realize there's absolutely nothing between you and Japan other than a body of water.
If you find yourself in Tofino and Ucluelet in summer, make sure you stop in at one of the many festivals celebrating the wild coast. Tasting salmon prepared by the Yuu-cluth-aht First Nation is also a must, as this melt-in-your-mouth fish will be like no other seafood you've had before. Be careful though: locals warn that if you get a taste for either town, your vacation spot may become your home for a lifetime.
Now as I lie under my heater wearing all the clothes I own, it helps to think of sunnier times on the west coast of Canada, even with its cougars, wolves and bears.
[box]
Ways & Means
• Everything you need to know about Tofino, including driving, air travel and where to stay, can be found at: www.tourismtofino.com
• Tourism Ucluelet: www.ucluelet.travel
• Wild Pacific Trail: pacificrimguide.ca/ucluelet/wild-pacific-trail
• Surf Sister is a well-known surf school catering to both men and women: www.surfsister.com
[/box]