Featured
Dine with the gods
A chocoholic's dream date come true, Ek Chuah is a café and shop dedicated simply to chocolate pleasure. About time.
"Wow. Are you sure you can finish that?" asks my Japanese friend when the server arrives with my order. We're at a chocolate café, and after agonising over the menu, I've finally decided on the Assorted Dessert Selection (¥1,785); three mini slabs of chocolate cake, a pile of cubed chocolate (one of which is delightfully Yamazaki whiskey flavoured) and a dollop of fresh cream. I assure my friend I can finish the whole thing. In fact, I skipped dinner for it. Because while I can deal with so-so entrées and disappointing mains, there is one course I just can't live without: dessert. I'm deadly serious when it comes to chocolate, and luckily, so is the president of Ek Chuah.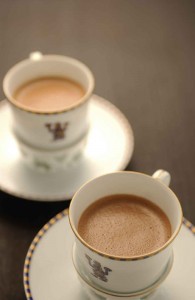 Osaka-born Yoshio Uematsu set up his first chocolate café in 1986, and today runs Ek Chuah in a 200-year old storehouse that's one of the few buildings to have survived WWII. The building's white clay walls, exposed beams and creaky floorboards add an atmosphere of history that permeates throughout the café. Antique posters for chocolate, metal moulds and china cups dot the place, and the history of chocolate is celebrated through touches like the drinking chocolate cups. Created exclusively for the shop, they feature Ek Chuah himself, the Mayan god of the cocoa planters. Heavenly indeed.
"The very first chocolate consumed was a drink for the Incas," Uematsu says. "I wanted Japanese people to understand the history of chocolate, and how it can be enjoyed in different forms."
A particularly enjoyable offering takes the form of cake, seven different slabs of which can be bought with a drink for ¥1,050. If you can't cope with cake because you ate a big dinner (fool!), the Chocolat Chaud is a tasty chaser that's sublime on a chilly winter evening.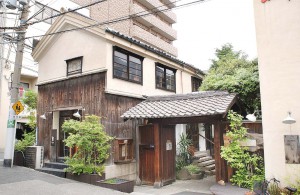 Even those with the smallest appetites would find it difficult to resist the Ek Chuah shop, which has a mouth-watering display of take-home gifts. The shop will be doing a roaring trade come February, when the business makes 50% of its yearly profits. Here I pose Uematsu an important question: if I want to win the heart of a Japanese man this Valentine's Day, what chocolate should I buy him? He recommends the Anshio chocolate set, ¥1,050 for three gold-dusted squares layered with sweet bean paste and salt chocolate ganache.
After perusing Ek Chuah's wonderful array of chocolate products, it occurs to me that Uematsu has realised something very important. The way to a man's heart may be through his stomach; but chocolate crafted with care, delightful textures and mouth-melting tastiness definitely paves the way to a woman's heart. Yes, I've fallen in love with this place, but I'm not exclusive. If you're a chocoholic too, I'm willing to share.
[box]
Ek Chuah
• Address: 542-0012, Osaka Tanimachi Chuo-ku 6-17-43 練−LEN
• Tel: 06-4304-8077
• Open: Weekdays 11am–10pm, Weekends 11am–9pm, closed Weds
• Access: Osaka subway Nagahori Tsurumi-ryokuchi line, Matsuyamachi stn exit 3.
• Url: www.ek-chuah.co.jp
[/box]