Featured
Bags of charm
Ever wondered about those boxy backpacks that pretty much all elementary school kids in Japan have? KS visits Osaka's very own Ikuta Randsel to get the story.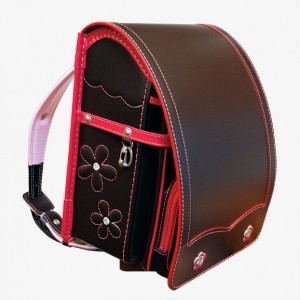 The first thing that hits you as you enter the small bag shop in south Osaka is the smell – an industrial-strength blend of leather and adhesive that permeates the air. Mr Nagai, who has been working at Ikuta handmade Randsel for a year and a half, doesn't seem to notice. He smiles broadly as we sip green tea and chat about the company and their bags.
Ikuta Randsel have been making school bags for over 60 years. They started out small here in Ikuno-ku, historically a bag-making area, around 1955. In 1969, they moved to Mie to expand their operations. But they weren't happy with the idea of manu-facturing on a factory line, so they returned to Ikuno-ku in 1984, where they have been hand-making their randsels ever since.
The history of the randsel (which is an old Dutch word for "backpack") goes back much further, all the way to 1885. According to Japan Timeswriter Alice Gordenker, a rather fancy school called Gakushuin in Tokyo noticed European soldiers carrying square bags around, and thought that getting their students to use something similar might be clever – which indeed it was. Prior to that their students were using furoshiki(wrapping cloths) to lug their books around – and the rest of Japan continued to do so until the 1960s, when the randsel became an "essential" elementary school item.
While it seems that few schools actually demand that their students buy randsels, almost everyone in Japan starts their school life with one of these bags. Traditionally a kid's grandpar-ents will buy them a brand-new, shiny randsel in time for their first day of school. The bags, which are built to re-sist swinging and flinging and intended to last the entire six years of elementary school, are not cheap, with the average purchase being ¥35,000, and high-end models going for more than ¥60,000. Ikuta Randsel's bags range within these prices.
Back when the world was mono-chrome, randsels were basically only available in two colours – black for boys, and red for girls. These days, things have changed, and kids can get a randsel in any colour they like. The walls at Ikuta Randsel are testament to this – a cheerful display of pinks, reds and earthy colours, and various combi-nations thereof. Mr Nagai tells us that the most popular colour for girls this year is brown (which we almost cel-ebrate as evidence of progression in the realm of gender, until we remember that randsel designs remain gender-specific), while boys have stuck with black, although apparently they have developed a taste for red trimming.
Inspecting the bags, we get the lowdown on the rough randsel dimensions, which haven't changed much over the years. With a height of 31 cm and a width of 22.5 cm, randsel are just the right size to hold A4 folders. Convenient! They have one big boxy pocket, with a smaller, slimmer one and a small zip pouch in front. A big flap comes down to cover all this.
The bags weigh in at between 1 and 1.3 kg. Synthetic bags, which comprise the vast majority of randsels today, tend to be lighter, leaning towards 1 kg. Ikuta Randsels' bags, however, are all genuine leather – one of two features that distinguish them from other randsel manufacturers in the area (the other being that each bag is handmade on the premises).
Ikuta Randsel uses both cow and horse leather, with the horse leather being for their premium range of randsels, which are punted as being "smoother and stronger". I'm not sure how well horse leather school bags would go down in the West, but in the land of horse sashimi and shampoo, it doesn't seem too far a stretch.
Mr Nagai also shows KS the randsel workshop. Stacked sheets of leather, boxes of bag parts, packets of shiny clips and studs, and reams of colourful threads command our gaze as our ears reverberate with the whirring, ham-mering and cutting going on around us. The handful of employees, follow-ing the same basic method that has been around since the company began, make about ten bags a day. They make batches of about 100 at a time, with the shop selling 2,000 bags this past year. Customers order them from the shop's website, or directly through the store. Orders open in June and close around October, with the new bags boxed and ready to go in time for the new school year.
[box]
How to make a randsel: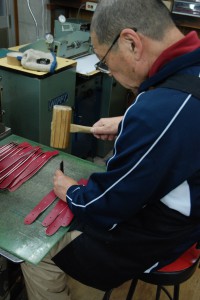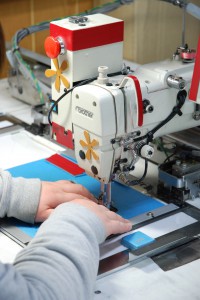 There are hundreds of parts and steps involved in making a randsel. Here is a super-simplified guide to the process at Ikuta Randsel:
1) The different parts are carefully cut out of the leather sheets.
2) The leather is worked to a uniform thickness.
3) The rivets (those little metal things) are pressed in and parts start taking shape.
4) Machine stitching of stuff happens.
5) Hand-stitching of stuff happens where it's too tough or finicky for the sewing machine to handle.
6) The bag is assembled, with gluing and more sewing happening where necessary.
7) The bag corners are reinforced and smoothed down.
8) Final sewing, smoothing and checking happens.
9) The bag is boxed, stacked in the store and sent off to, or collected by, its proud new owner.
Mini memories
Many people have such fond memories of their randsels that they find it tough to part with them. Seeing a business venture in this nostalgia, many randsel companies, including Ikuta Randsel, offer a service where customers can bring in their old, beat-up randsel, hand over between ¥10,000–¥20,000, and walk away with their beloved bag in tiny, functional form, with stickers and scratches intact.
Ikuta & co.
• Website:www.randsel.jp
• address:6-2-16 Tajima, Ikuno-ku, Osaka
[/box]