Feature
The Kansai Craic Scene
Kansai is alive to the sound of Irish music and dancing. And you should see what they've done to a pint of Guinness.
On St Patrick's Day, March 17, Ireland's biggest festival day, the world is divided into those who are Irish and those who want to be, or so the story goes. One thing that unites both sides is craic.
Craic is a word often used by the Irish, and, much like ganbare in Japanese, translations never render these words with their full meaning. Craic, pronounced "crack", is about enjoyment and having a good time. For instance you could say: "What's the craic?" "Where's the craic?" or, "Kill the craic" for someone who might interrupt a joke to talk about work.
Japan, for all its distance from Ireland both geographically and culturally, has plenty of craic. Of course, as in Ireland, it's primarily, but not exclusively, centered in the pub. There are probably more Irish pubs in Kansai than there are Irish people; for some pubs Irishness amounts to a questionable pint of Guinness but other Irish pubs are making great efforts to foster Irish culture.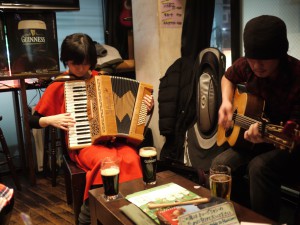 In Kansai, Kyoto leads the way in another famous export: Irish music. Originally, the trend was pioneered by Japanese buskers, or street musicians, playing jigs and reels on street corners for tourists. Nowadays various Kyoto pubs and cafes are hosting regular sessions. The Field, located at the western end of Nishiki market in downtown Kyoto, is the (young) granddaddy of Irish music pubs in Japan. Suzaki-san, the owner and mandolin player, has a great love of Irish music and in 10 years running The Field he has attracted legends in the scene: Altan, Donal Lunny and most recently Andy Irvine. In addition to the big names, the venue holds twice-weekly sessions (Tuesdays and Saturdays) where local musicians of all ages and skill levels are welcome. Beginning this year The Field will host a monthly session for beginners in association with the World Music Circle at Ritsumeikan University. Upstairs in the studios you can take private lessons to learn fiddle, tin whistle and uilleann pipes – a complex but haunting bagpipe.
Also in Kyoto at Pub Gnome, folk singer Felicity Greenland has been hosting a monthly sing-along for the past few years. Everybody is welcome, and Greenland provides song sheets of Irish, English and Japanese folk songs. The Gnome also holds regular sessions and concerts as well workshops from visiting traditional Irish musicians and singers, so it's worth checking on their website. The Dublin, a new Irish pub in Kyoto, is fast making a name as another Irish music venue, while over at Gion stalwart The Gael, live Irish music can be enjoyed most Friday nights and at the well-established monthly open-mic nights. Further out of town at The Wood Note, a log cabin looking like it has been transplanted from Norway, sessions are held every Monday and you can enjoy the owner's vast array of great Irish music records. Murphy's in Shinsaibashi also holds a session on the second and fourth Wednesday of every month.
While Kyoto has the edge on music, Osaka leads the way in Irish dancing. There are two established schools teaching both types of Irish dancing: step dancing and céilí, dancing. Broadly speaking, the former achieved world recognition with shows like River dance while the latter, a type of group dancing, is what they were doing in the movie Titanic before it went down.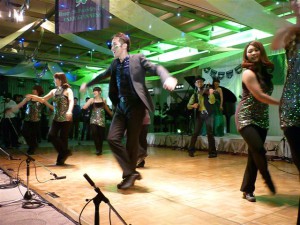 Much like live music sessions, the great thing about Irish dancing is that your language level is irrelevant, it's a great way to get fit, meet all sorts of people and get a better understanding of the craic. Both schools are run by a team of Japanese teachers. Yoshida-san, the principal dancer at J-Click, came to Irish dancing by the way of tap-dancing and along with his team of dance teachers they teach all levels and ages. SAINAK, based at Morinomiya, meet on Sundays to learn and practice céilí dancing. They even have their own musicians to keep the ceili going.
Finally, no experience of the craic would be complete without a taste of Ireland's food. Irish Curry, quite possibly the world's only Irish curry pub, has adopted the technology mantra of innovation through disruption. Its not-so-secret recipe for success is to add Guinness, Ireland's most famous export, to its curry, making it as rich as it is sweet. Styled like an Irish pub and only a ten-minute walk from Osaka Station if you only do one thing Irish in March, eat an Irish curry. Now get craicin!
[box]
Get the craic!
Irish music pubs in Kansai
• The Field, Kyoto, sessions every Tues: www.geocities.jp/kyotofield
• Pub Gnome, Kyoto, weekly sessions: http://gnomepub.exblog.jp
• Wood Note, Ichijoji, Kyoto, session every Monday: 075-722-9302
• The Gael, Kyoto, open mic night monthly, live traditional music Fridays: www.irishpubkyoto.com
• The Dublin, Kyoto, live traditional music:http://dublin.kyoto-pontocho.jp
• Murphy's, Shinsaibashi, Osaka, session second and fourth Weds:06-6282-0677
Folk Singing
Felicity Greenland, Kyoto, monthly sing-a-long at Pub Gnome: http://lookingathouses.blogspot.jp
Irish Dancing
• J-click, Osaka, Irish step dancing: http://j-click.info
• sainaK, Osaka, ceili dancing: http://sainak.sakura.ne.jp
• Kyoto irish Dance club, Kyoto, ceili and step dancing: http://homepage2.nifty.com/irishkyoto
Irish Curry
Toyosaki Kita Ward, Osaka 531-0072 Tel: 06-6375-5527 Open Mon-Sat 11am–10pm, Closed 3-5pm
[/box]