Featured
A Drink Down Memory Lane
Nostalgia goes better with alcohol. Enjoy Japanese schools of years past with the izayaka 6年4組.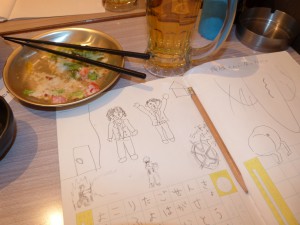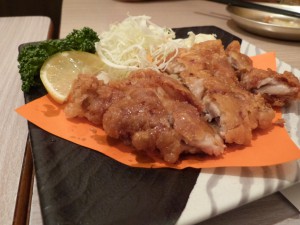 Quick: what's the one thing you've always fantasized about doing inside a school classroom?
Yes, we answered "drink beer" too! (You're on your own for anything else.) And now, thanks to some very clever restaurateurs, adults wary of tres-passing laws have the opportunity to indulge in just that fantasy by dining at a school-themed izakaya.
At their worst, theme restaurants can be a horror show of overdone movie/cultural tie-ins, inflated prices, and a misplaced sense of priorities (think laudable attention to kitschy decora-tions and "humorous" names for food items, but poor customer service and very little thought to the actual food itself). When done better, however, you end up with eateries like 6年4組(6 Nen 4 Kumi; Sixth-Year Students, Class #4), a national chain of school-themed izakaya that almost manages to get the kitsch/quality balance just right.
But before you get excited about dinner in the classroom, it's impor-tant to note that these are Japanese school-themed izakaya, with Japanese being the operative word. To get the full effect of the place, it's imperative 1) to have personally gone through the Japanese school system, or 2) that you bring along someone who has. Please also be aware that nothing inside is written in English.
In the case of the Kyoto branch of 6 年4組, the full effect hits soon after you step out of the elevator, with shouts of "natsukashii!" ("Oh, this takes me back!") coming from the increas-ingly excited customers, or "se no jun narande kudasai!" ("Line up according to height!") from the clerks, if you have to wait for a seat.
The interior is chock-a-block with authentic (or so we're told) black-boards, leather book bags, ohana gami (paper flower decorations), notepads, and student newspapers. Patrons sit at school desks ("Our chairs never had pillows, though," a Japanese friend intones. "Our chairs were hard.") and ring an electronic buzzer to summon the tracksuited waitstaff. Best of all is that the school is yours! You're free to doodle in the notebooks, try on a uni-form, or even take the day's pop test for a chance at a reward. (Prizes are given for perfect scores; cheaters, however, are made to stand in a corner.)
There are lots of distractions, which may be a good thing. The food, while reasonably priced and serviceable in that standard izakaya kind of way – lots of fried stuff, lots of dressing-drenched salads (we opt for the "Health-Protec-tion Sensei's Caesar Salad") – is really nothing to write home about. (An ex-ception must be made, however, for the agepan(fried bread), which was hot, crisp, chocolaty, and incredibly sweet. We were surprised that the menu didn't give it a fancier name.)
Overall, the atmosphere was tops; the meals, unfortunately, slightly less so. It's "school food," though, so what can you do?
[box]
6年4組
• Website:(in Japanese) www.hanshin-shokuhin.co.jp
• Where:Kyoto Sanjo, Yamazakicho 235, FORECAST Building, 3F
• Price:About ¥500 for a la carte menu items, or ¥3,000 for all-you-can-eat-or-drink plans
• Open:5pm–11:30pm
• Tel.:075-221-0604
[/box]