Feature
Paths to Peace
Looking to explore Japan from a different angle? Set aside some time and set out on a pilgrimage.
While the word may conjure up images to the contrary, you don't have to be robed, or even religious, to undertake a pilgrimage. Every year, millions of people visit sacred sites around the world – and they do so for a variety of reasons. A pilgrimage may, as is often the case in Japan, be an important part of someone's religion. It may be under-taken for personal spiritual reasons. Some people are just interested in the travel aspects. Whatever your reason, a pilgrimage is a great way to experience the customs, history and culture of a place.
There are two main types of pilgrim-age in this country. One involves visit-ing a number of holy spots, often, but not necessarily, in order. The other is a journey to one particular holy place – for example, the three grand shines of Kumano (Kumano Sanzan), Mt Koya, Ise, or Mt Fuji.
88 Holy Sites of Shikoku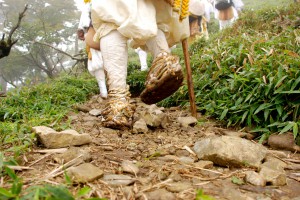 Associated with the Buddhist monk Kobo Daishi, this journey is a circuit of 88 officially designated temples, and, if you choose, 200 "unofficial" temples too. People have been undertaking this roughly 1,200km pilgrimage, which spans the four provinces of Shikoku, for more than 1,000 years.
Many pilgrims choose to begin at Ryozenji, in Tokushima, and then visit the other temples in order, travelling clockwise and finishing at Okubo-ji, in Kagawa. But you can actually start and stop where you like. Mt Koya, over in Wakayama, is the starting and ending point for many travellers.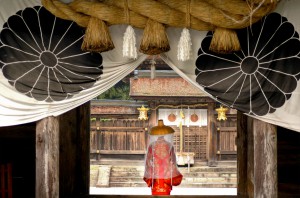 Foot, pedal, car or bus (or combinations thereof) are all possibilities for making the journey, and it is perfectly acceptable, as with the other pilgrim-age routes, to break up your travels into many mini pilgrimages. If you do choose to walk the circuit in one go, be aware that you are looking at upwards of 30 km of footwork a day, and you'll need to set aside a good month or two to complete it.
The trail offers ocean views, old townscapes and local specialties aplenty, not to mention heaps of hot springs that will feel like heaven to tired muscles. Dogo Onsen, near the 51st temple, Ishite-ji, is said to be the oldest hot spring in Japan – a must-soak!
Saigoku 33 Kannon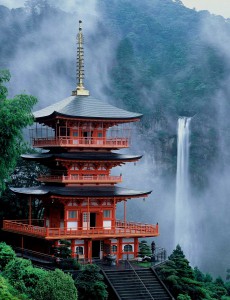 One of the country's most famous pilgrimages, this one has been undertaken for over 1,200 years. Similar to the Shikoku pilgrimage, it involves visiting 33 designated temples scattered across Kansai, and, if you like, three extra ones too. Again, there is a set order, but it's not essential (and it may not even be possible) to follow it.
The route traditionally begins at Seigantoji in Wakayama, and ends at Kegon-ji in Gifu, meandering down to Lake Biwa, Amanohashidate, Kyoto's famous Kiyomizu-dera and many more scenic spots in Kansai along the way.
The temples are dedicated to Kannon, the Bodhisattva of Compas-sion and Healing, also known as the Goddess of Mercy. This is a great and relatively easy pilgrimage for Kansai folk to do, as most of the temples can be reached by public transport, and you can visit a few at a time on your days off.
Kumano-Kodo
This is a network of pilgrimage routes stretching across the mountainous Kii Peninsula, leading to Kumano Hongu Taisha, Kumano Hayatama Taisha and Kumano Nachi Taisha – collectively known as the Kumano Sanzan. The shrines were registered in 2004 as UNESCO World Heritage, as part of the "Sacred Sites and Pilgrimage Routes in the Kii Mountain Range" property, which includes Mt Koya and Yoshino.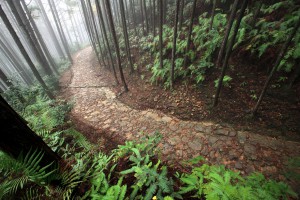 It is said that the Kumano Sanzan have their roots in ancient nature worship, which blended with Buddhism over the years. The pilgrimage routes have been used for more than a thousand years, initially by upper class types from Kyoto, then warriors, and finally "ordinary people".
There are four main routes, offering treks of various length and difficulty. Some can be done as easy day trips, while others will require overnighting somewhere. Visits to the awesome natural hot springs should be mandatory – these are some of the nicest in Japan.
[box]
Prep for Pilgrims
DIY or rely?
With maps, blogs and guidebooks galore available online, it is totally possible to go the self-guided route. That said, KS recommends contacting the award-winning Tanabe City Kumano Tourism Bureau for Kumano Kodo trips, as they are super friendly and can help you with everything you will need – from maps to reservations and guides. Tour companies like JTB offer a range of packages too, though some Japanese ability may be required to arrange these.
Where to stay?
Inns and temples along the way provide reasonably-priced accommodation that includes meals, but rooms need to be booked well in advance.
What to buy?
First on the list – a good pair of shoes! Throw a foldable umbrella in your bag too. You'll also want a pilgrim's book (nokyocho),which you can buy at major temples. The idea is to get your book stamped at each temple (which will cost a few hundred yen each time). Incense, prayer slips and some offerings are also recommended items to take on your journey.
What to wear?
Whatever you like! Traditionally, pilgrims in Japan wear white, with one of those conical hats, and they carry a staff. You don't need to do that, but it may offer a richer experience, as well as change the way people view you on your travels.
What else?
Many of the routes are tougher than people think, so be sure not to overestimate your abilities. Plan everything properly, and don't leave anything to chance. You'll need to be extra careful in summer and winter too, when the extreme temperatures can be dangerous.
Resources: