Feature
Hidden wonders of home
Think you've seen it all in Kansai? Probably not. This Golden Week, get well off the beaten track and discover the exotic right around the corner.
Chances are that if you're working here in Japan, you've often dreamed of taking advantage of your vacation time to explore different parts of Asia. And chances are that if you live in Osaka (recently found to be one of the most expensive cities in the world, second only to Tokyo), exploring the jungles of Vietnam or the beaches of Thailand remains only a dream because your travel budget is roughly ¥3,000. But if you're trapped in Osaka, Kyoto or anywhere in Kansai during your vacation time, fear not: you are in a place as exotic, beautiful and bizarre as anywhere else in Asia.
I've had several holidays at home, both in here and abroad, trapped by poor financial decisions and once by a missed flight from Incheon airport. This has given me plenty of time to explore my local surroundings and I've discovered many hidden treasures along the way. So for anybody wanting to take a voyage of discovery while staying right at home, here's a list of places all located within a day's travel of almost anywhere in Kansai; places that are local wonders unknown to most, with some unknown to all but a select coterie of explorers.
Take for example Bentencho, a neighborhood I usually refer to as the Land of a Thousand Overpasses. Find-ing myself there one morning after a long night of celebration and high spirits, I stumbled across the Museum of Modern Transportation(www.mtm.or.jp/eng), right next to Bentencho station, where the entry fee is a modest ¥400. Inside, the entire history of Japanese transportation technology, from trains to motorcycles to warships, is laid out. There are some great photo opportunities available with frighten-ing engines the size of cars and adorable cars the size of golf-carts.
Of course Osaka is full of great museums, and although everyone knows about the interactive exhibits at the Science Museum, who's ever been to the Osaka Human Rights Museum(www.liberty.or.jp/topfile/human-top.htm), found a short distance from Imamiya station? Japan is often cited as an example of a nation fraught with racism and discrimination that is unwilling to address its own faults. But the Osaka Human Rights Museum, with its exhibits on the discrimination suffered by gay, lesbian and transgendered people, ethnic minorities suchas the Ainu, and even the Hibakusha – survivors of the WWII atomic attacks – proves that Japan does have a level of self-awareness at which many would be surprised.
If museums don't interest you, why not get out of the city and take a trip into Shiga prefecture to the small town of Hikone? There you'll find the stately castle of Ii Naoske, who was directly responsible for convincing the emperor to open Japan's gates to foreigners (he was later assassinated for his efforts. Quelle surprise). Hikone Castle (www.city.hikone.shiga.jp/hikonejo) looms above the town and yet blends seamlessly into the nearby hills and forests, which would be a treat for any hiking or camping enthusiast. Hikone is also right on the coast of Lake Biwa, which is a perfect place for swimming, boating, picnicking or even some kite-surfing. From Hikone, one can find easy transportation to the Koga Ninja Village(koka.ninpou.jp), which is well worth a visit. Did you know ninjas could tell the time by looking into a cat's eyes? Exhibits include a shuriken throwing range and demonstrations of various ninja techniques.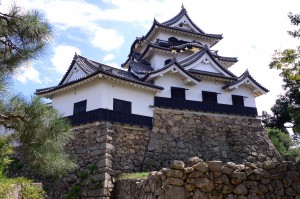 "I'm not interested in that stuff! Gimme some adventure!" I hear some of you say. So be it! Like any country that grew into the modern world a bit too fast, Japan has left pieces of its own past lying around in hidden places, waiting to be explored. Places like the abandoned Takarazuka Stone Crushing Plant (Osaka Saiseki Kojo), where the gravelly road material was once made. The town of Takarazuka, of the all-female Revue fame (see our story on page 12), is a popular tourist destination nestled between the Rokko and Nagao mountain ranges. It sits on the water and has great hot springs and an annual fireworks display, but to me the real treasure here isn't the hiking and swimming or the Tezuka Osamu Manga Museum(www.tezukaosamu.net/en/museum) – it's the abandoned industrial plant. Not for the weak-willed,the place is spooky,surreal and amazing to explore. Nature is in the process of reclaiming it, and while this only adds to the site's ethereal beauty, it occasionally makes such exploration slightly dangerous.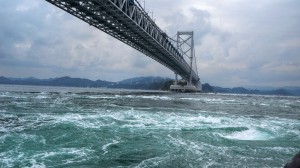 A safer venue for exploration would be the World Peace Giant Kannon, the 3rd largest statue in Japan and the 13th largest in the world. Located on Awaji Island, the Kannon statue – and the building serving as its base – has a fascinating history too long to include here, except to say that after the original owners died and the Lehman Brothers took it over (yes, THOSE Lehman Brothers) and subsequently went under themselves, it has been abandoned. Poign-antly beautiful, the Giant Kannon statue is a perfect example of the kind of hidden treasures found in this wonderful country.
If you're looking for the kind of relaxation that only the sound of waves breaking upon a beach can offer, you're in luck. Nowhere in Kansai, or Japan for that matter, is more than an hour or so from the coast. There are some lovely beaches on Awaji Island, which lies between Kobe and Shikoku, connected to the main land by the longest suspension bridge in the world. From the island, one can also take a ferry out to view the Naruto Whirlpools, vast water vortexes caused by water flowing at incredible speeds through the narrow strait between Tokushima and Awaji. If the idea of sailing out into enormous whirling water pits seems a bit frightening, they can be just as easily viewed from the Naruto Bridge that spans the gulf. Of course, if you're on a budget and want to stay local, you have the choice of a small, secluded beach like Tarui Southern Beach(not even an hour from the Nankai Namba station) or a large beach with the associated atmosphere and crowds such as Isonoura in Wakayama City.
Finally, if your idea of a vacation is a spiritual retreat rather than a mental and physical retreat, you could always do a temple-stay at the famous Myoshin-ji Temple complex(www.myoshinji.or.jp/english) in Kyoto. Leg-endary swordsman and folk hero Miyamoto Musashi trained there briefly, and the temple complex is enormous and full of history. (Be prepared for an early morning zazen session, though!) There are rock gardens and sand gardens and the whole place feels so holy you might start feeling guilty for no reason at all.
With so many places to see at home, you clearly don't need to go far for an exciting Golden Week.