Food & Drink
Tex-Mex to rave about
Mexico's May holiday is just the time to check out this spicy slice of Spanish and Tex-Mex in Sannomiya.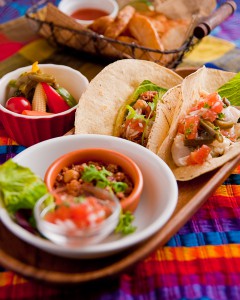 Warm lighting, passion-red ceilings, royal-blue walls graffitied with handwritten messages ,sombreros, St. Mary statuettes, and skulls. These are what you first notice after stepping into this Old West Tex-Mex saloon-like space in Sannomiya. It's not long before your senses are hit again with the smell of mouth-watering food, and the sound of Latin music, laughter and the occasional roar of Tequila! Bienvenidos to El Salsa!
Since opening in November last year, the three-level bar and restaurant is fast becoming a favourite in the Kobe dining scene due to its festive atmosphere and decor, friendly staff, and quality food and drinks. The latest venture of the restaurant chain Entec, which appropriately prides itself on its fresh, hand-made cuisine, El Salsa offers a wide selection of healthy and delicious Tex-Mex and Spanish dishes. Although tailored to the Japanese palette (i.e. it won't leave you with a flaming tongue), the food has enough spice and flavour to leave a zingy fiesta in your mouth.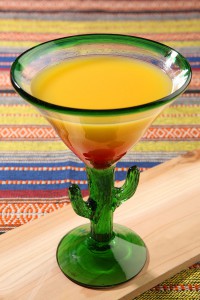 The iron-plate grilled chicken (¥880), sprinkled with tequila and set on fire at the table, is as exciting to see as it is to eat. The Spanish tapa, ajillo, octopus, mussels and shrimp (¥750) sautéed in a delectable sauce will make you sing Olé!There's also a great range of beer-friendly dishes such as the clas-sic Mexican chorizoenchilada(¥750), spicy mince tacos (¥650), and nachos baked over cheese with chili and beef (¥580).
It would be wise to pursue this path because El Salsa's drinks are its forte. The Mexican beers (¥600) such as Corona, Sol, Dos Equis, Negra Modelo and Bohemia are popular with diners. Among their long list of cocktails and wines, a tasty choice is their 'Corogarita' (¥600), which is amargarita with an upside down Corona in it. Selecting from their range of over 20 kinds of tequila can be tough, so a fun option to go with is the Shotgun (¥500), especially on Friday and Saturday nights when fun is the name of the game. (From 9pm on both nights the sombrero and poncho-clad staff conga line their way to every table singing the Tequila song and serving up ¥100 shots of Cuervo tequila, which invariably turns into an impromptu party every weekend.)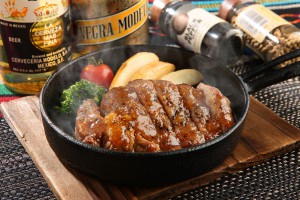 El Salsa is made for parties. The private party floor, six and eleven specialty courses (¥1,980/¥3,200) with the added all-you-can drink option (¥1,500), plus the varied a-la-carte menu make it perfect for a night on the town with a group of friends to celebrate a birthday, anniversary or even Cinco De Mayo. This Mexican holiday was originally held to commemorate the Battle of Puebla on May 5, 1862, but has gained popularity around the world as a celebration of the country's heritage. So for those who are looking for a lively, savory and Latin-infused dining option in Kobe, El Salsa's サルsays Bienvenidos!
El Salsa
• Address: 3-1-1, Kitanagasadori, Chuo-ku, Kobe, Hyogo, 650-0012 (3 min from Motomachi Stn.)
• Tel: 050-5796-2867
• Open: 5pm–12am (6 days a week, Fri. open until 2am)
• Price range: Food ¥2,000-2,999; Drinks ¥500-2,000
• Go to dish: Iron-plate grilled chicken, enchilada, tacos
• Best bit: festive atmosphere, quality savory food, close to the train
• Worst bit: modest portions, not open for lunch