Food & Drink
Putting your best foot forward
For runners – and their lazier friends who just like food – Musubi Cafe serves as an ideal base to explore the picturesque scenery of Arashiyama and beyond.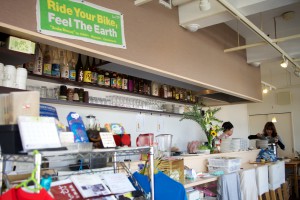 Arashiyama is a special place. Its natural beauty has featured in countless on-screen productions, and its temples attract thousands of visitors each year. Spring and autumn are particularly busy times, with cherry blossoms and colourful leaves eliciting a flurry of activity. Natural beauty and simplicity is celebrated, epiphanies revealed. Zhou Enlai noted this in his 1919 poem, Arashiyama in the Rain, where he wrote "rays of sunshine shall break through the clouds" to convey his joy at realisations gained upon reflection.
It is fitting then, that Arashiyama would become the fulfilment of Hiromi Hirabayashi's own realisation: the Musubi Cafe(musubi meaning "connections" in Japanese), an establishment that caters for runners and those in search of a more balanced lifestyle. Hiromi, like many office workers, found her life consumed by work. A former editor-in-chief at one of Japan's largest wedding magazines, she worked so much she started to get physically ill. "I had an irregular life cycle. I was so busy I actually got sick," she said. "I didn't have any hobbies apart from work and my health got very bad… I started running to get healthier." Although she started consistently running, work still dominated 80% of her life. "I wanted a permanent change. I realised I wanted to share the pleasure of running and eating every day." She left her job, and in April 2009 opened the doors of her cafe.
The building itself has three levels. The top floor has four showers/change rooms, all equipped with shampoo, soap and hair dryers. There are also lockers and a multi-purpose room, used for events such as yoga sessions. The ground level is where the kitchen and most of the seating is located, while the basement is reserved for trophies, memorabilia and a library of running-related books. It's darker here and the seats are more comfortable: a perfect place to relax after a strenuous run, shower and hot meal.
This brings us to the food. The menu aims to provide non-oily but simple and tasty fare; this means dishes such as baby bamboo and Horikawa burdock curry, steamed chicken with herbs, and a brown rice chicken casserole. The set meals come with a variety of kobachi (literally 'small bowls'), such as daikon and citron pickles and marinated chrysanthemums. Produce is all sourced locally and seasonally, carbon footprint in mind, and from people Hiromi or her staff person-ally know. Numerous, but not all,ofthe ingredients are organic, with the emphasis on sustainable farming. And with a second branch of Musubi opening in April,now there are two good reasons to get off the couch and into the great outdoors.
[box]
Musubi café ムスビカフェ
• Address: Kyoto, Saikyo-ku, Arashiyama, Nishiichikawa 1-8
• Access: About 200m from Hankyu Arashiyama Station. (New branch is at Kyoto, Higashiyama-ku, Miyagawasuji 1-234)
• Open: Monday to Saturday 10am–10pm. Sunday 10am–8pm. Closed Tues.
• Price range: ¥300-950 (food); ¥450-650 (drinks). One day locker use and shower ¥500.
• Go to dish: Vegetarian set meal, changes every two to four days (¥850).
• Go to drink: Musubi ginger ale, made with fresh ginger and sugar from Hokkaido beets (¥600).
• Best bit: Healthy, tasty and affordable food. Clean showers and large lockers.
• Worst bit: Limited variety of dishes.
[/box]