Featured
Just sip it and see
Forget the fancy words and labels, selecting the perfect sake is a matter of personal taste. Shimada Shoten lets you do just that.
Sake is a funny beast. It's so diverse, so volatile, and so bloody difficult to make that you never know quite what's inside a bottle.
The brewers don't help. They can't seem to agree on how to describe their drinks. Some go on about the types of rice and yeast, others focus on grain polish. Some give the nihonshu-do(a fairly unreliable measure of dryness), but many don't. You could study all the terminology in the sake world and still have no idea how to read a label. The only way to figure out what a sake tastes like is to sip it and see.
So thank God for Shimada Shoten, a sake retailer that lets you sample most of its stock.
From street level, there's little to lure you inside. It's one of those old-school shops, established before retailers learned about design, flow and psy-chological tricks to separate you from your money. You'll be as baffled as you would be in any sake store.
Downstairs it's a different story. Thirty-two years ago, proprietor Yoichi Shimada turned his cellar into a tasting room. Guests sit at large wooden tables and help themselves to his stock.
Shimada or his English-speaking wife might be around to advise, but they just leave you alone to help yourself. Grab a bottle and pour the sake into 60ml glasses. When you're done, count your empty glasses and head upstairs to pay ¥210 per serving no matter which sake you drink. If you want nibbles, you can order pickled plums, cheese or chunky miso.
Shimada visited more than 250 breweries to select his sakes. His line-up reflects his passion for aged brews.He says it's only in the last few decades, as big breweries came to dominate the market, that people began to believe sake tastes best when it's fresh. He says aged sake was far more common in the Kamakura period.
It's shaky ground when you're using 800-year-old tastes to justify your palate, but you'll be on his side after you've tried Ume-no-Yado, a sake from Nara that was brewed in 1991 and has a wonderful crème brûlée taste, or Gekkeikan, a rich, robust Kyoto sake brewed in 1976.
Shimada's other big passion is the shape of the drinking vessel. He has a range of choko, from tall glasses to ceramic saucers, and can teach you which shape suits which drink.
Shimada says sake is the only drink that inebriates you at a constant rate. Or to put it in his terminology, gets you drunk at a perfect 45-degree angle. He also says it's the one drink that leaves your body without a trace by morning. Not everyone will agree, but as with any drink, you feel better if you drink the good stuff… and Shimada Shoten is packed with the good stuff.
[box]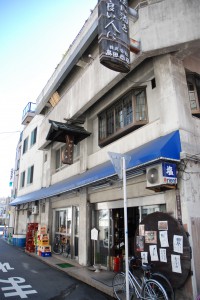 Shimada Shoten 島田商店
• Address:3-5-1 Itachibori, Nishi-ku, Osaka
• Tel:06-6531-8119
• Open:9am–7pm, Mon–Fri /
9am–6pm, Sat
• closed:Sun, holidays
www.sake-shimada.co.jp
[/box]