Featured
No qualms about Guam
Looking for a great place to relax? Just three hours by plane, Guam could be your ideal getaway.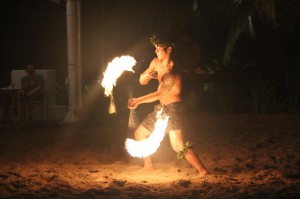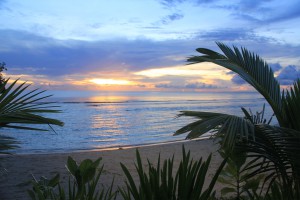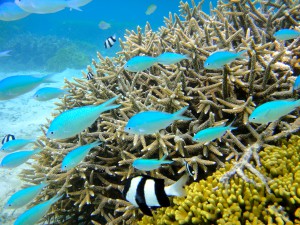 There comes a time in everyone's life when all sushi starts tasting the same, and pink "fatigue" sets in from an overdose of cherry blossoms. Well, no, that actually doesn't happen to anyone; but occasionally we do find ourselves thirsting for something new that will break our daily routine. Whether it be an exhilarating adventure or simply a time to relax without a cellphone, Guam is your place to take that break.
Just a three hour plane ride southeast of Japan, Guam is a tropical paradise right on our doorstep. The most populous island in Micronesia, Guam is 48 km long and only 19 km at its widest point. So small enough to travel around its perimeter in a day, but large enough to spend weeks sightseeing, jungle hiking, caving, fishing, snorkeling, swimming, enjoying cultural activities and recreational sports, or just relaxing on beautiful beaches. And sitting just above the equator, the island averages a balmy 30°C year round, so shorts, swimmers, and suntan lotion are all you'll need.
A colourful history
Guam's indigenous people, the Chamorros, first settled on Guam nearly 4,000 years ago, but island life changed for them shortly after 1521, when Ferdinand Magellan discovered the Marianas. Spain soon settled its first colony on Guam, introducing Catholicism to the locals, and establishing a dominating presence with its most important spice trade stopover in the Pacific. One can still see a few ancient Spanish bridges and forts standing after nearly 400 years. In 1898 the US took possession of the strategically located island after winning the Spanish-American War, which marked the beginning of American influence in the region. During WWII, Guam was briefly conquered by the Japanese, reminders of which are plentiful across the island. Today, there exists a strong US military presence on two parts of the island; where for the most part, foreign and indigenous cultures successfully coexist.
Accommodation and much more
As a place to get your chill or thrill on, you'll most likely find your home base in the village of Tumon. There are many world-class hotels to choose from, all situated along a beautiful stretch of sandy beachfront. Every hotel offers mountainous buffets, so you never have to worry about going hungry. Entire roast pigs are readily served for the devouring and giant dishes of kelaguin, the Chamorros' special raw meat marinade, is always available and always a delicious experience.
Most hotels have direct access to Tumon Beach, so it only takes a few steps to plunge yourself into the 26°C ocean water to cool off and see some spectacular marine life. You can also rent anything from snorkel equipment, to water bicycles, to windsurfing boards, kayaks and paddle boats. Each hotel is equipped with superb pools, and some additionally offer water slides, spas, banquets, and cultural performances.
When you're ready to leave the hotel, you can choose from several excursions, the most popular of which is a trip to the Chamorro Village in Hagatna. This outdoor mall hosts an unforgettable night market every Wednesday, with dozens of local venders selling native art, clothes, jewelry, remarkable foods and even the coveted coconut wine, Tuba.
The village of Tumon
In addition to being a tropical paradise, Guam holds its own as a haven for shoppers. There's the Tumon Sands Plaza, which caters for high end shoppers, plus the Micronesian Mall and Guam Premier Outlets just a short drive away. For novelty's sake, it's also worth checking out the world's most profitable K-Mart, located in walking distance from many of the hotels.
But if you've come from Japan, more shopping is probably the last thing on your to-do list, so take a trip instead to Guam's spectacular Underwater World Aquarium. There, you can walk 100 metres through one of the world's longest underwater aquarium tunnels and see over 20 sharks, giant stingrays, and over 80 species of other marine life. There's also the charming Zoological, Botanical and Marine Garden, which locals call the Cushing Zoo, where you can see indigenous animals and even feed some of the other exotic critters on show.
The real Guam
After ticking off Tumon Bay's big-ticket items, it's time to experience the real Guam. This will require renting a car, but it'll be well worth the cost and effort. The first place to check out, just a short drive north of Tumon, is Two- Lovers Point – a cliff top lookout with sweeping views of the coastline and glittering Philippine Sea – which got its name from a tragic legend of two star-crossed Chamorro lovers. Keep heading north and you'll eventually hit Ritidian Beach, probably one of the softest and most beautiful beaches you'll ever sink your feet into. Part of a National Wildlife Refuge and far enough away from the populated villages, the beach is often deserted, and can be enjoyed along with the several walks and small museum located in the refuge.
Being such a small island, it won't be long until you find yourself driving down towards Guam's southern tip where you'll find a concentration of scenic lookouts, waterfalls, and historic sites such as the tiny village of Umatac, which is thought to be where Ferdinand Magellan landed in 1521. Finally, no visit to Guam would be complete without a visit to the Talofofo Falls Resort Park. In addition to having one of Guam's most popular waterfalls and a cable car that provides stunning aerial views, Talofofo park is also home to the cave inhabited by Sergeant Yokoi – the Japanese soldier that hid in the jungles of Guam for 28 years. The site's interpretive displays show how the underground structure was supported and how Yokoi eked out a survival from the surrounding forest.
However you've spent the day in Guam, be it enjoying the glitz of Tumon or getting dirty off the beaten track, plan to end it watching a spectacular sunset while you prepare for another perfect day to come.
[box]
When to go
In Guam, the dry season is between December to June, although it feels hot and very humid all year round. The best time to go would be between September and March, with the best months being December and January, as the temperature is more forgiving thanks to breezy days and nights.
Getting there
Many airlines, including Korean Air, United, Delta, and ANA, fly non-stop between KIX and Guam International Airport.
[/box]