Feature
Pitcher this – free baseball!
What draws people from all over Japan to Koshien Stadium every summer? KS bags a seat in the outfield for the biannual high school tournament
The game has already started, and I don't even realize it. A couple of pitches have been thrown while I'm busy trying to get in the shade. I've traveled all the way from Tokyo to see this game but I'm missing all the action. I may as well have slept in!
Then I hear a din of cheers, oohs and ahs forming a crescendo, getting louder and louder. I look up and lo and behold I see a baseball floating in mid-air. A home run, perhaps? Or is gravity going to be cruel? The ball hits the back wall. Gravity is cruel. It's nothing more than a double. I can hear a couple of groans, but this doesn't stop the cheerleaders to my right from congratulating the batter with a nice rendition of 'We Will Rock You' played on their surprisingly loud horns and drums. The next batter bunts towards third base. He is congratulated by those who find honor in the humble bunt. And now there is a runner in scoring position.
With apparent ease, the fourth batter drives in the first run home with a simple single, and already my team is up on the board. To the left of me I can see a sea of blue horns and shirts jumping up and down, supporting their pitcher by shouting a series of chants in perfect unison, like a synchronized swimming team. God only knows how long they've rehearsed that. To my right, a sea of red, doing the exact same thing with a little more enthusiasm. After all, their team did just bring a man home. I breathe in the air. It is filled with dirt and grime, sunshine, and years of sweat and hard work. I exhale. Ah, Koshien. Ah, koukouyakyu! A young lady with an Asahi keg for a backpack walks by. A beer sounds kind of good right now, but it doesn't feel quite right. Should I really be drinking beer at a high school baseball game? Before noon?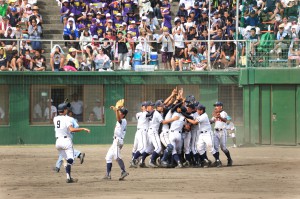 Twice a year there is a national high school baseball tournament held at Koshien Stadium in Hyogo Prefecture. The first tournament is held in the spring, in which 32 teams compete. It's fun. But the second one, the most exciting one, is held in August and hosts 47 teams, one representative from each of the 47 prefectures. It has been held every year since 1915.
Unlike nationals in other countries, all of Japan follows the summer tournament and news sites cover the results like we cover March Madness in the States. I've been told even industrious office workers sometimes sneak out of the office to watch the games on TV. Though, nowadays I imagine they just watch updates on their smartphones. The school that wins will get national recognition and naturally it will help boost their image.
For most high schools, though, a championship is unrealistic. For these teams, the honor of representing their prefecture is good enough. Just having the opportunity to compete in a tournament that takes place in Koshien, a stadium of inexplicably mythic fame, is rewarding enough. Their dream is simply to step out onto the dirt to play ball. And before they go home, they will shove some of that dirt from the stadium's field into their bags as a souvenir, like a bottle of holy water.
For those teams who do have a fighting chance, the stakes couldn't be higher. After all, many of these seniors will not go pro, and some may not even continue playing in college. This is their last chance. The spring tournament was just for practice, but the summer tournament is the grand finale, it is the culmination of their high school careers, for some the best time of their lives, and they need to win. If they lose, they will cry, and if they win, they might also cry. Even if it is only high school baseball, the sheer passion exhibited by these adolescents more than makes up for it as you get to watch some of the best young players in Japan duel it out. This makes it more entertaining than most professional baseball games in Japan.
And most importantly, it is free! You don't even have to make reservations. The only requirement is that you're happy sitting in the outfield. Even with all the hubbub and media attention, there is always free seating in the outfield. This is probably because the tournament is held on weekday mornings and afternoons. Even if it is free, the outfield is unlikely to disappoint, as you will be able to see everything from the overzealous cheerleading squads to Japan's young talent.
[box]
Dates
This year's 95th annual tournament is being held at Koshien Stadium from August 8 to 22. Dates may change according to weather.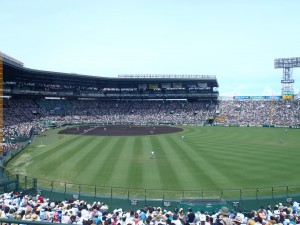 Tickets
Outfield seating requires no ticket and is free. If you want a closer view of the action, tickets behind the home plate (¥1,600), by the infield (¥1,200), and bleacher seating (¥500) can be purchased at Lawson, Circle K, and Family Mart. Alternatively, you can purchase tickets the day of the game at Koshien Stadium if there are any seats available.
Insider tip: Saitama's Strength
The spring tournament is like a warm up to the more coveted summer games. Sometimes spring champions will win both titles, but that rarely happens. In the 85 years that both a spring and summer tournament have been held, only seven teams have taken both titles. Last year's matchup was particularly riveting because the same two teams that faced off in the spring championship met up again in the summer championship.
This year's spring champions, Urawa Gakuin from Saitama, appear to be the team to watch. They destroyed Saibi from Ehime Prefecture in the championship game 17-1! Urawa Gakuin is currently ranked number one nationwide. Saibi is currently ranked thirteenth. However, Urawa Gakuin has not yet qualified for the summer tournament. They will first have to defeat Hanasaki Tokuharu in Saitama Prefecture, who are ranked fourth nationwide. The summer title may prove to be much harder for them to win.
[/box]