Feature
A house with benefits
Fully furnished digs, no key money and ready-made friends. What's not to love about shared housing?
As anybody who has come from overseas knows, moving countries is expensive. You have to move out and get rid of all your furniture, only to buy it all back again when you arrive here. It's time consuming, wasteful and costly, especially if you only need a room for one. But there is a better way – it's called shared housing, and it's one of the hottest accommodation trends in Japan right now.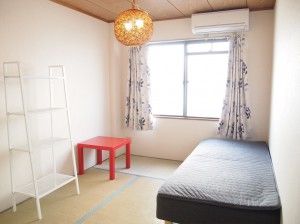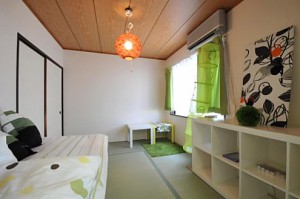 Shared housing in Japan is exactly the same as other countries – everyone gets their own room but they share the use of bathrooms, kitchens and living spaces. There are some 1,300 company-run shared houses operating across Japan, with about 300 of these in Osaka. According to Toshika Fujita from shared housing company Entrance Japan, which operate six houses in Osaka prefecture, this new style of accommodation is rapidly gaining popularity as a fun, hasslefree option. "Sharing accommodation with strangers was never really seen in a good light in Japan," he says. "But the massive success of foreign TV dramas such as Friends has really helped to raise awareness of the shared houses model."
The most obvious benefit of the shared model is its ease and affordability. You don't have to pay that exorbitant "key money" or find somebody to be a hoshounin (guarantor). With Entrance Japan, for example, one need only pay an application fee of ¥15,750 and the first two months rent in advance. Further, the rooms are part-furnished with major appliances and beds, and the company will look after the maintenance and general care of the properties. And it's not just for long-term stayers, Fujita says. "We offer stays as short as one month, which is a really popular option for students."
Not only is share housing easy, it's also a great way to meet locals when you're new in town. "Because most of our residents are Japanese, our accommodation offers a great opportunity for foreigners looking to immerse themselves in the language," says Fujita.
While there is a diverse mix of foreigners – those on working holidays, as students, or here on business – most are between 20 and 30 years old, so there's great potential to make friends. Entrance Japan even goes one step further, holding events to encourage a community spirit within each house. "We regularly have free yoga classes, and last month we held a somen noodle party," says Fujita. "These are benefits you just cannot experience with traditional accommodation."
[box]
Entrance Japan operate shared houses in Settsu, Miyakojima, Awaza, Toyonaka and Sakai. Here's how you can score a place in one of them: Arrange to visit the house, then lodge an application, which assess a guest's suitability for a shared house environment. If it's successful you then sign a contract and pay the initial fees before moving in. For those living overseas, Entrance Japan will send photos and detailed specifics of each house and will accept Paypal payment.
Tel: 06-6136-3330
Email: info@entrance-japan.com
Web: entrance-japan.com
[/box]